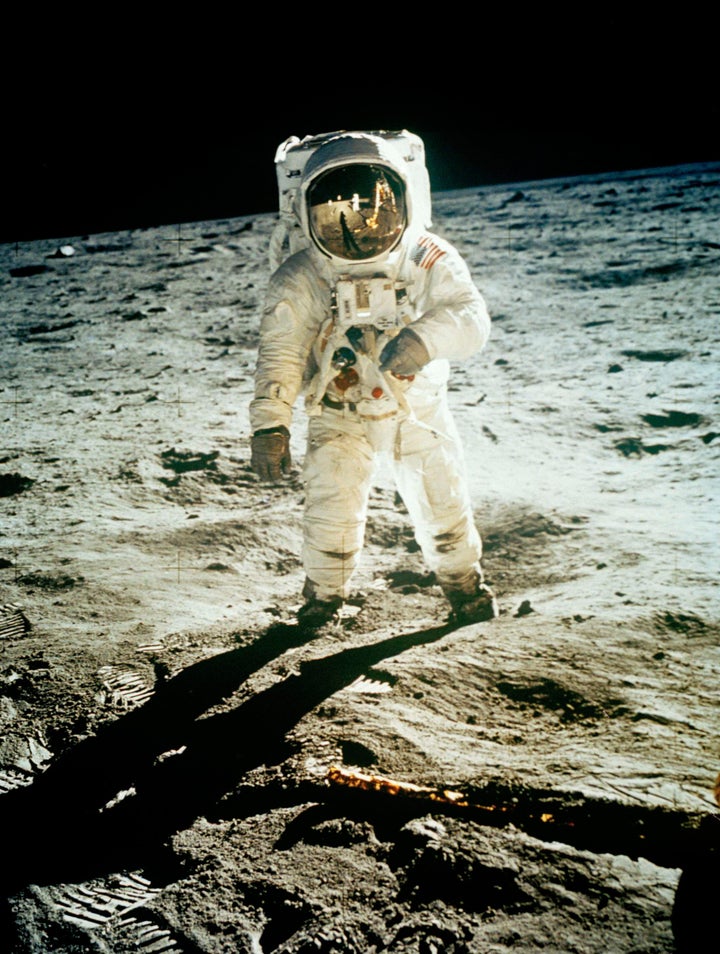 "One Small Step For Man..." Who Is Missing From This Picture?

This week the media memorialized the 40th anniversary of the historic Apollo 11 first manned mission to the moon. Alas, in all the press coverage, I saw no mention of the historic contributions of NASA's women astronauts. Indeed, the July 20, 1969 moon landing was "one small step for man..."
My mission is to give the women's history perspective to today's news events. The three R's are: record, report and remember the milestone achievements and "Female Firsts" often overlooked by the media. It seems a spaced out woman astronaut involved in a love triangle captures mass media attention but a woman astronaut in space does not.
Tenth Anniversary of Eileen Collins, First Woman Shuttle Commander
Hence, to celebrate the tenth anniversary, on July 23, of Eileen Collins becoming the first woman space shuttle commander, I share a brief history of the significant women astronauts the media omitted reporting in relating the NASA narrative.
The Defense Department ended gender-based restrictions in the armed services in 1994. Lt. Col. Eileen Collins was the first woman pilot astronaut selected. She was the first woman shuttle pilot to fly in space in 1995, on the Discovery eight-day mission. Col. Collins was selected for the first flight of the joint Russian-American space program. Mission highlights included a rendezvous with Mir.
The following information is from my "Women in History and Making History Today -- 365-Days-a-Year Database."

Thirteen women, known as the Mercury 13, the top female aviators in the 1950s, successfully passed the same 75 rigorous physical and psychological screening tests as the original Mercury 7 men. However, NASA would not accept qualified women until Astronaut Group 8 in 1978. More than 1,500 women applied for the training program, among 8,000 applicants. Women were not admitted to Air Force training schools, a NASA requirement, until 1976, following legislation accepting women to US service academies.
1963 Valentina Tereshkova, from USSR, became the first woman in space.
1978 NASA chose six women astronaut training candidates: physician Anna Fisher, biochemist Shannon Lucid, electrical engineer Judith Resnik, physicist Sally Ride, surgeon Margaret Rhea Seddon and geophysicist Kathryn Sullivan. In 1979, all six women achieved the full rank of astronaut.
1982 Svetlana Savitskaya, USSR, became the second woman in space.
1983 Sally Ride, 32, became the first American, and third woman in space. The next year, she became the first American woman to go to space twice.
1984 In July, Svetlana Savitskaya, USSR, became the first woman to walk in space.
1984 Judith Resnik became the second American woman in space and the second American woman in orbit.
1984 In October, Kathryn Sullivan, 33, became the first American woman to walk in space. Later that year, Ride and Sullivan were the first women to fly together in a space shuttle.
1984 In August, Anna Fisher, MD, was the first mother in space and the first person to retrieve a malfunctioning satellite.
1986 Judith Resnik and Christa McAuliffe, a teacher, died in Challenger explosion.
1992 Kathryn Thornton became the second woman to walk in space,
1992 Bonnie Dunbar and Ellen Baker were among the first American crew to dock with the Russian space station.
1992 Mae Jemison, a physician and engineer, became the first African American woman selected and the first to fly in space.
1993 Ellen Ochoa, a physicist, became the first Hispanic American woman in space.
Later that year, Frances Anne Cordova was named the first woman chief scientist.
1994 Chiaki Mukai became the first Japanese woman in space.
1995 Eileen Collins became the first women to pilot a space shuttle (night takeoff and night landing) and returned as the pilot on another mission.
1996 Shannon Lucid, a veteran of five space flights, returned from her six months on Mir, the Russian space station, a record for women and Americans She was the first woman awarded the Congressional Space Medal of Honor.
1998 Most of the STS-95 flight control team were women, including the launch commentator, Lisa Malone; the ascent commentator, Eileen Hawley; the flight director, Linda Harm; and the crew to mission control commentator, Susan Still.
1999, July 23 Eileen Collins became the first woman to command a space shuttle. She invited the seven surviving members of the original Mercury 13 women aviators to witness her launch aboard Columbia, thirty years after Neil Armstrong's epochal event.
2003 Kalpana Chawla and Laurel Clark were the second women to die during spaceflight aboard Columbia.
2007-2008 Peggy Whitson and Pamela Ann Melroy were the first women to command missions simultaneously.
More than three dozen American women astronauts have flown on space shuttles since Ride's initial trip. Thirty one space shuttle missions have had more than one woman. Of the 99 active astronauts, 22 are female, including three females among the nine current astronaut candidates.
Lori Garver was confirmed last week as Deputy Administrator of NASA.
Last week, women aviators made history as the second woman pilot of presidental Marine One helicopter, Major Jennifer Grieves, completed her tour of duty with an all-women crew. Major Jennifer Marino was the co-pilot and Sergeant Rachael A. Serhman was crew chief.
For women aviators today, the sky is the limit!
"Celebrate Women Every Day!"
See Beverly Wettenstein's PBS interview on youtube.com.

Herewith, from Beverly Wettenstein's "Women in History and Making History Today -- 365-Days-A-Year Database," are important women leaders and events to honor and remember this week:
July 19, 1848 First Women's Rights Convention in Seneca Falls, NY.
July 19, 1921 Rosalyn Sussman Yalow born. First woman awarded Albert Lasker Medical Research Award in 1976. Second woman to win Nobel Prize for Medicine in 1977 and the sixth woman its it 77-year history.
July 19, 1984 Rep. Geraldine Ferraro named the first woman Vice President nominee of a major political party, at the DNC.
July 20, 1871 Lucy Walken was the first woman to reach the summit of the Matterhorn in Switzerland.
July 20, 1936 Sen. Barbara Mikulski born. First woman senator elected from Maryland, 1987, and the first Democratic woman senator elected in her own right. The only other woman senator serving at that time was Kansas Republican Nancy Landon Kassebaum. The Dean of women senators ranks 18th out of 100 in Senate seniority.
July 20, 1939 Artist Judy Chicago born. "The Dinner Party" is on permanent exhibit at the Elizabeth A. Sackler Center at the Brooklyn Museum in New York.
July 20, 1960 Sirimavo Bandaranaike elected the first woman prime minister in world history, in Ceylon (Sri Lanka).
July 20, 1974 US Passport Office accepted the use of married woman's birth name.
July 21, 1938 Janet Reno born. First woman Attorney General, 1993. Valedictorian of her high school class and debating champion, she earned chemistry degree at Cornell. At Harvard Law Schook, class of 1963, she was one of 16 women in class of 500.
July 21, 1957 Althea Gibson, 30, was the first African American woman to win a major US title, at the first national clay court singles championship. On July 6, she was the first African American woman to win Wimbledon singles title.
See Beverly Wettenstein's tribute to Althea Gibson and pioneer women tennis champions:
huffingtonpost.com/beverly-wettenstein/let-us-remember-alice
July 22, 1849 Emma Lazarus born. American poet wrote the sonnet, "The New Colossus," inscribed on the base of the Statue of Liberty in New York harbor.
July 22, 1860 Mother Marie Butler founded Marymount school system, including three colleges.
July 22, 1943 Sen. Kay Bailey Hutchison born. First woman elected senator from Texas, 1993 to date.
July 22, 1976 Nadia Comaneci, 14, became the first gymnast to score a perfect 10 in Olympic competition. She won three gold medals in Summer Olympics. Time magazine cover.
July 23, 1994 Dr. Chiaki Mukai, the first Japanese woman in space and a heart surgeon, worked then record 15th day on scientific experiments aboard US aircraft.
July 24, 1897 Amelia Earhart born. First woman to fly solo across the Atlantic, 1932 and disappeared on a flight in 1937.
July 24, 1920 Bella Abzug born. Rep., 1971-77. She initiated the Congressional Caucus on Women's issues, along with the 18 women in the House in 1977.
July 26, 1956 Dorothy Hammil born. Olympic gold medal figure skater, 1976. Time magazine cover.
Popular in the Community