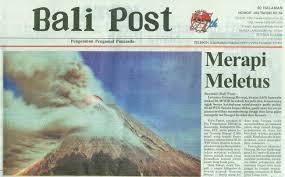 A light bulb, said media theorist Marshall McLuhan, "creates an environment by its own presence." It enables people to see during times that would otherwise be enveloped by darkness. So, too, does media shape society by its very presence. The extent to which an endangered language community has a substantial, and ideally, a digital media presence, is a good indicator of a language's currently vitality and its likelihood of surviving - and perhaps flourishing - going forward.
In this posting, the third in a series on initiatives that can energize endangered languages (note: the first was on school policies, the second on technology), we specifically look at the impact of media on endangered languages and how endangered languages can impact the media. Here are some examples, feel free to add others in the comments below.
Newspapers
Newspapers published in endangered languages are expensive to produce, require literacy, and in some cases, are limited or outright banned by governments concerned with promoting national languages or competing in the global arena. Yet when minority newspapers thrive, whether online or in print, whether as one column per week in a majority-language paper or as a full daily, their presence signals that a language is viable, relevant, and has a certain staying power. This signal is important not only to the speakers of the minority language but to the majority as well. MIDAS, the European Association of Daily Newspapers in Minority and Regional Languages serving 50 million minority speaking people in the European Union, explains that minority language papers "protect and promote marginalized cultures which in turn help to maintain and extend the scope of their written languages." And it's not just the reporting that matters: advertising space in minority papers can provide opportunities to make more connections within and between language communities.
Books and Storytelling
Balinese musician Agung Alit recently developed a series of gorgeous picture books of Balinese folktales written in Balinese but intended for Japanese children to learn about the language and the culture of Bali. Back in Bali, there is a strong tradition of oral storytelling but not of parents reading to children, even with rising literacy rates. A reading and writing cultural is slowly developing in Bali and in other traditionally oral societies - and with it, the need for books written in minority tongues - but meanwhile, storytelling thrives, providing a easy vehicle for the passing on of languages. It's not just parents telling stories to their own children: parents, grandparents, local leaders, shopkeepers, coaches, friends, and children themselves tell stories which suggests the need for multiple touch points when considering how to foster languages within the course of everyday communication. Linguist Leanne Hinton recommends that parents develop language plans to consciously promote minority languages in home and community communication just as schools develop educational language curriculum.
Comic books and Cartoons
Comic books and cartoons can entertain, inform, mock, educate, and "encourage new behaviors." Comic books and cartoons can merely be translated into multiple languages, or like International Digital Emmy award winning Shujaaz, a multimedia cartoon in Sheng (a Kenyan slang that combines Swahili, English, and Kikuyu), cartoons can do more than make Batman multilingual. Comic books and cartoons can make minority languages part of pop culture, turn mythological champions of local folklore into captivating superheroes, address daily concerns of local youth, create a commercially viable new platform for local artists and give visual credibility to languages which otherwise might be considered obscure, out of date, or unimportant. By engaging children in helping Shujaaz's protagonist, DJB, solve problems on the comic's Facebook page, Shujaaz takes comic books and cartoons to even a higher level by providing space for children to actively discuss values and navigate through social issues.
Television
In addition to teaching the language, computer games and television in minority languages - and commercials, like that for an Australian insurance company which features a whirlwind romance between Australian Rhonda and Indonesian speaking Ketut - normalize minority languages "as part of the everyday experience" of majority cultures. Typically, though, the drive for minority language programming comes not from mainstream insurance companies but from the advocates of the minority languages who, absent strong backers, have to underwrite and fight for prime television timeslots.
Whether in print or online, whether in home, schools, or community, media can provide a vehicle to communicate in endangered and threatened languages while shining attention on the need to fortify them. In these days when so much media focuses on what's wrong with the world, there are some strong lights on the minority language front that media is helping to brighten.
REAL LIFE. REAL NEWS. REAL VOICES.
Help us tell more of the stories that matter from voices that too often remain unheard.