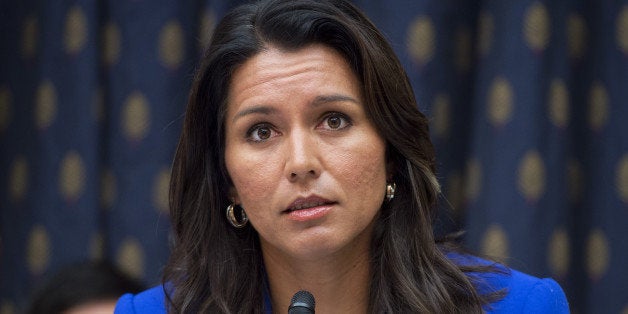 Only in political media could a Congresswoman, who is a war veteran, who gave up her seat in the state legislature to voluntarily go to Iraq, whose first Congressional bill ever introduced was enacted and helped veterans, and who has crisscrossed the Hawaiian islands on a listening tour to hear veterans' personal issues, be smeared as aloof on veterans issues.
Yet, that is exactly what happened this week, when a piece published in a local news outlet made the charge that Hawaii Congresswoman, and Iraq War Veteran, Tulsi Gabbard, cares more about enjoying herself in the surf than she does about our veterans.
The "evidence" to support their claim is that Congresswoman Gabbard did not attend a U.S. Senate field hearing on veteran affairs, falsely claiming that she was "supposed to attend," (despite the fact that she's not a U.S. Senator), and "scheduled to attend," (despite the fact that no public schedule had her attending). Instead, the story charges, she chose to surf with a reporter.
The fact is, prior to the hearing being scheduled by Senator Mazie Hirono, Congresswoman Gabbard had already committed to do an interview with Yahoo News, where she would have the opportunity to speak on the importance of protecting Hawaii's ocean and environment, as well as advocate for the change necessary to serve our nation's veterans -- a cause that is deeply a part of who she is.
Congresswoman Gabbard's love and concern for her fellow troops was first exemplified at the age of 23 when she voluntarily left her seat in the State House of Representatives to deploy with her fellow troops, who had been called up to serve in Iraq without her. Congresswoman Gabbard could have stayed home in a cushy job as a state legislator (and surfed whenever she wanted), but instead she chose to spend close to two years of her life in the combat zones of the Middle East, on two separate deployments.
"There was no way I could stay home and watch my brothers and sisters in uniform march off to Iraq without me," she said.
Does this sound like a person who would put aside the well-being of her fellow veterans to go surfing?
The fact is, Congresswoman Gabbard was simply trying to do too many things in a day, which so many of us do. The Yahoo News crew had flown to Hawaii for the scheduled interview and Tulsi used that opportunity to advocate for veterans and environmental protection. She said she had hoped to attend the Senate field hearing, but the interview got started late, her schedule got backed up, and she simply was not able to get there in time.
This whole thing was a simple case of over-scheduling.
But, what this isn't -- what is patently false to charge -- is that this is a Congresswoman who cares more about surfing than she does about her fellow veterans.
The whole episode is a microcosm of what is wrong with politics in America, right now. While many on the left blame the Tea Party, or the Koch Brothers, for the degradation of our politics, and those on the right blame President Obama, the media is just as culpable.
One reporter writes a sensationalist story, getting important details wrong, and working from an entirely false premise. The rest of the media pick it up, without corroborating it, and blow it out of proportion into a top news story in dozens of outlets, locally and nationally.
No matter that her schedule, which I have obtained, has included 40 veterans events, meetings, and town halls, in Hawaii, in her short time in office. No matter that she successfully fought for allowing eligible veterans access to private healthcare. Congresswoman Gabbard -- only one of two female war veterans in Congress and champion of veterans issues -- is falsely and wrongly smeared, harming her reputation, and therefore making her job that much tougher when it comes to all she is trying to do for veterans.
Those are serious issues that deserve the real media attention. But it isn't just a champion for veterans, like Tulsi Gabbard, that the media's insatiable appetite for hype has hurt. It has hurt the millions of veterans who rely on media to do their jobs, and report on their stories.
And so, I'd say to the media who think the state of our politics are becoming more corrosive, don't just look towards this group or that group, or this donor or that donor. Look in the mirror. Because, as this story has proved, you're contributing to it, too.
REAL LIFE. REAL NEWS. REAL VOICES.
Help us tell more of the stories that matter from voices that too often remain unheard.