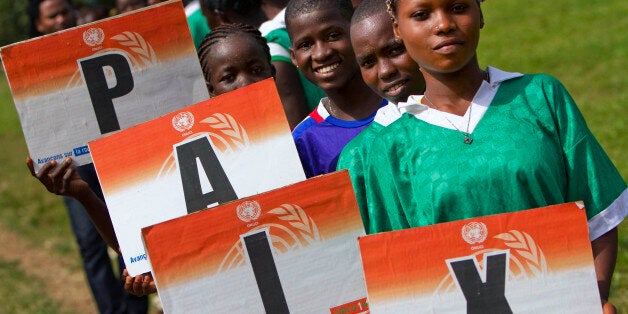 We're closing the books on a year that has brought successes for diplomacy but also horrible reminders of its failures. Persistent and patient negotiations resulted in an agreement on the nuclear issue between the so called EU3+3 and Iran. The peace process in Colombia shows great promise for ending decades of conflict. Meanwhile, and despite recent diplomatic efforts, the war in Syria rages on and has left a few hundreds of thousands dead and millions displaced. The UN has launched an appeal to assist almost 90 million people across 37 countries, most of which are in conflict.
If there is one clear conclusion to draw, it is this: it is possible to prevent violent conflicts, yet most of the time we fail. We have spent hours in the past negotiating responses, but we have mostly been unable to put the same enduring effort into prevention. The consequences are disastrous. This needs to change. We must recommit to mediation.
First, stronger UN. Mediation is a core task of the United Nations. The UN is the most significant global-mediation actor, and often the only one seen as impartial and entrusted to work in conflict situations. Both the Security Council and the General Assembly have committed to strengthen the UN's mediation capacity, but somehow this has not translated into action.
As the UN is now reviewing its peace and security agenda, it is crucial that it shows genuine leadership and sends a clear signal that persistent mediation, conflict prevention and peace building are genuine priorities. With Finland as co-chair of the UN Group of Friends of Mediation and Sweden as the chair of the UN Peacebuilding Commission, we have solid platforms, from which we are working hard to make sure that mediation gets the recognition and resources it needs.
There is an increasing understanding among the UN member states that mediation is an efficient way to prevent conflicts. It is far less costly than trying to fix what has once been broken, it safeguards development gains and -- most importantly -- it saves lives.
Second, more women -- more peace. Promoting peaceful and secure societies for all cannot be done with the participation of just a selected few. For peace agreements to be sustainable, more women must contribute to peace negotiations. Recent research highlights the positive link between women's meaningful participation in peace processes and the likelihood of peace agreements being reached and sustained.
Sweden and Finland are supporting initiatives to train women for peace processes and to strengthen gender expertise and capacity in UN mediation. In Iraq, for example, where women have suffered tremendously from recent violence, Sweden has taken an active role in supporting local women peace builders and women human-rights activists. Finland is supporting civil society, including women's organizations, and efforts enabling local ceasefires and peace-making in Syria. Together with other Nordic countries, we have formed a Nordic Women Mediators' Network, as one response to the need to increase women mediators in the field and to strengthen women as agents for peace. Inclusion has other dimensions, as well. Civil society and local communities must be taken aboard in peacemaking.
Questions relating to religion have to be included when searching for solutions through mediation. Intercultural and interfaith dialogues can be part of this process. We welcome the work of the global Network for Religious and traditional peacemakers in helping the UN in its comprehensive work for peace.
Third, states and regional organizations need to take responsibility. A more able UN is also a UN working in tandem with regional organizations. We welcome the close cooperation with the African Union, as well as with other regional and sub-regional organizations that might be the first to sense and understand early warning signals. The European Institute of Peace, launched last year at the initiative of Sweden and Finland, aims at augmenting the global peace agenda of the EU, through mediation and dialogue. We encourage other initiatives to strengthen our collective capacity for mediation. In a world as insecure, volatile and vulnerable as today, all hands are needed on deck.
The book on 2015 will be a rather gruesome reading. We must at least show that we've learnt the lessons it tells: to make mediation and conflict prevention a genuine priority. There are no alternatives.
Calling all HuffPost superfans!
Sign up for membership to become a founding member and help shape HuffPost's next chapter