The 60-year-old former traveling hospice nurse describes her health as generally "average," but she has a few complaints, including a prolapsed bladder. It sometimes protrudes outside her body when she picks up something heavy -- like the saddles she used to lift when she rode horses. She can't afford the surgery to treat it.
TwarDokus lives in Quinlan, Texas, a small town east of Dallas. Her husband, at age 71, is retired and covered by Medicare. But she's been uninsured since her nursing contracts dried up in the aftermath of the economic collapse, leaving her unemployed.
"When the website opened, I thought, 'OK, let's find out. Maybe there's something there for me,'" she said. With only her husband's monthly Social Security check of $850 for income, however, she couldn't afford the cheapest plan she could find, which cost $567 a month.
The Affordable Care Act was supposed to make sure that lower-income people like TwarDokus could access health insurance. But because many states refused to implement a key ACA benefit, there's a gap in the coverage.
For people making between 100 percent and 400 percent of the federal poverty level, the health care law provides tax credits to help pay for private insurance. TwarDokus and her husband don't qualify for that aid because their income is significantly less than 100 percent of the poverty level for two people.
The ACA was designed with an answer for that: It provides federal funding to expand Medicaid to adults making 133 percent or less of the federal poverty guideline. The federal government promised to pick up the full tab for the program until 2016, with states contributing 10 percent by 2020. The Supreme Court, however, ruled that the Medicaid expansion was optional. Twenty-four states, mainly driven by Republican political leaders, have chosen not to adopt it, with those GOP leaders expressing fears that the costs would be too heavy.
Under their unimproved Medicaid programs, many of those states, including Texas, set severe restrictions on which adults can qualify for Medicaid, generally excluding those without children or disabilities and setting income limits well below the federal poverty level for others.
"I'm thankful that I have not been ill other than the colds and the sniffles, but I need that bladder looked at. It's bad," TwarDokus said. "But I don't qualify. Going to the website was like pounding my head into a wall."
With little hope of finding a new job in her area, she's resigned herself to wait the five years until she qualifies for Medicare, depending on her own medical knowledge to notice early signs of infection and drinking plenty of cranberry juice.
TwarDokus is among an estimated 5.7 million Americans stuck in a coverage gap: making too little to qualify for a subsidy that helps pay for private insurance, but too much to qualify for Medicaid in states that chose not to expand their programs.
Earlier this year, HuffPost invited readers who fall into that gap to share their stories. Across the nation, they revealed medical problems left to fester amidst the political bickering over Obamacare. A Florida woman recounted borrowing thyroid medication from her mother to manage an illness she can't afford to treat. A young North Carolina woman described any medical care as a "debt sentence" for her and her boyfriend, neither of whom can afford to treat wisdom teeth abscesses or cavities. A Wisconsin waitress who's been putting off a hysterectomy and back surgery says she's no longer able to lift trays at work.
More than a fifth of the Americans who fall into the coverage gap, like TwarDokus, live in Texas, where non-disabled adults without dependents aren't eligible for Medicaid no matter how little they make, and parents must earn less than 19 percent of the poverty level to get that help. The Kaiser Family Foundation estimates more than a million Texans are stuck in the gap.
When she worked as a hospice nurse, TwarDokus saw the harm lack of insurance could do, tending to terminally ill patients who hadn't received medical care until it was too late.
"I see the dying part of it," she said. "They come in mostly as charity cases. ... Those who need the help desperately will die before they get it."
Among them is Kelly Beckwith, a 32-year-old mother of three who works from home in Concord, N.C. She started trying to sign up for health insurance last October, but wasn't able to complete an application. By the time she was able to apply in December, her husband had lost his job. Even without his income, she and her husband still exceeded the Medicaid limits in their state, but they no longer made enough to qualify for an ACA subsidy. Beckwith applied as though he were still employed.
"The health insurance we have with the subsidy is much better than what we had with my previous employer, and it doesn't cost as much," Beckwith said. "But the fact that I had to lie to even get it, tell them that I made more money than we actually make right now?"
Beckwith hopes that her husband will find a job soon, raising their income or, ideally, giving them employer-sponsored health insurance. Her family could face consequences for lying about their income and may be forced to repay the government for the subsidy -- but with thousands of dollars in unpaid medical bills and a husband with Type 1 diabetes, she sees little alternative. "I feel like it's the state's fault, because the state had the option to take the Medicaid expansion and it didn't," she said.
North Carolina's Republican governor, Pat McCrory, isn't up for reelection until 2016, but Medicaid expansion could become an issue in other races. The campaign for embattled Sen. Kay Hagan (D-N.C.) says it plans to link challenger Thom Tillis' opposition to the expansion with his backing from the Koch brothers-founded Americans for Prosperity.
State-level political fights over the issue are common. It has become a flashpoint within the Republican Party, with tea party groups challenging GOP politicians, like Ohio Gov. John Kasich and Michigan Gov. Rick Snyder, who backed some form of Medicaid expansion.
In late March, Virginia Gov. Terry McAuliffe (D), who made expanding Medicaid a plank of his 2013 campaign, failed to reach an agreement with the state's Republican-controlled House of Delegates for a two-year expansion to cover the nearly 200,000 Virginia residents who fall in the gap. Republicans in the state say they fear the federal government will renege on its promise to cover the expansion, leaving the state responsible for costs it can ill afford. Virginia's Democratic-controlled Senate has since passed a budget that includes the expansion, but the House is unlikely to follow suit.
As the politicians argue, Sara Philbrook, a 31-year-old from Collinsville, Va., has watched her medical bills mount. She qualified for Medicaid while pregnant with her second child last year, allowing her to finally get her asthma under control. But six weeks after giving birth in September, she was cut off. In Virginia, pregnant women are eligible for Medicaid if they live in households with incomes up to 143 percent of the poverty rate, but parents living with minor children qualify with incomes only up to 33 percent of the poverty rate. Her husband's part-time job, working with at-risk children, put them over the line for Medicaid, but beneath the level needed for a ACA tax credit. Although Philbrook's two children are still covered by Medicaid, she is going without insurance.
The loss of her coverage, however, came at an unfortunate time. She spent most of the winter suffering from kidney issues and a severe allergic reaction that led to several hospitalizations and more than $30,000 in medical bills. Her family is helping to pay some of the bills, but she isn't sure how she'll handle the rest.
"It's tough. I feel guilty. On the other hand, going to the ER also was lifesaving," Philbrook said.
Doctors urged her to apply for insurance through the new health care exchange site. When she received a card in the mail, she thought she'd qualified, but after attempting to use it at a doctor's appointment, she got a call from the office informing her that she was actually signed up for Plan First, a separate program covering only family planning services.
"It was embarrassing," Philbrook said. "I haven't had the easiest time having kids. We wanted at least another one or two kids, and it's just a slap in the face to me."
She and her husband, both from the Northeast, are considering a move back to find better jobs or at least better benefits.
"I push to keep healthy. Just bad luck and bad timing for illnesses," she said. "To be able to get Medicaid would help so much. I'm already in debt. I will probably die before my debts are paid off. I just want to see my girls grow up."
HuffPost Readers: If you tried to sign up for health insurance coverage, but were told that you're not eligible for Medicaid because your state didn't adopt the program expansion, but you make too little to qualify for help paying for private insurance, we want to hear from you. If you're willing to discuss your health care with a reporter, email us here, and tell us if you're facing any medical issues, what your current coverage situation is, and what Medicaid coverage would have meant for you. Please let us know the following information: your name, your age, your city, and whether we have permission to quote you by name. Please enclose a photo if you're willing to have one published.
Before You Go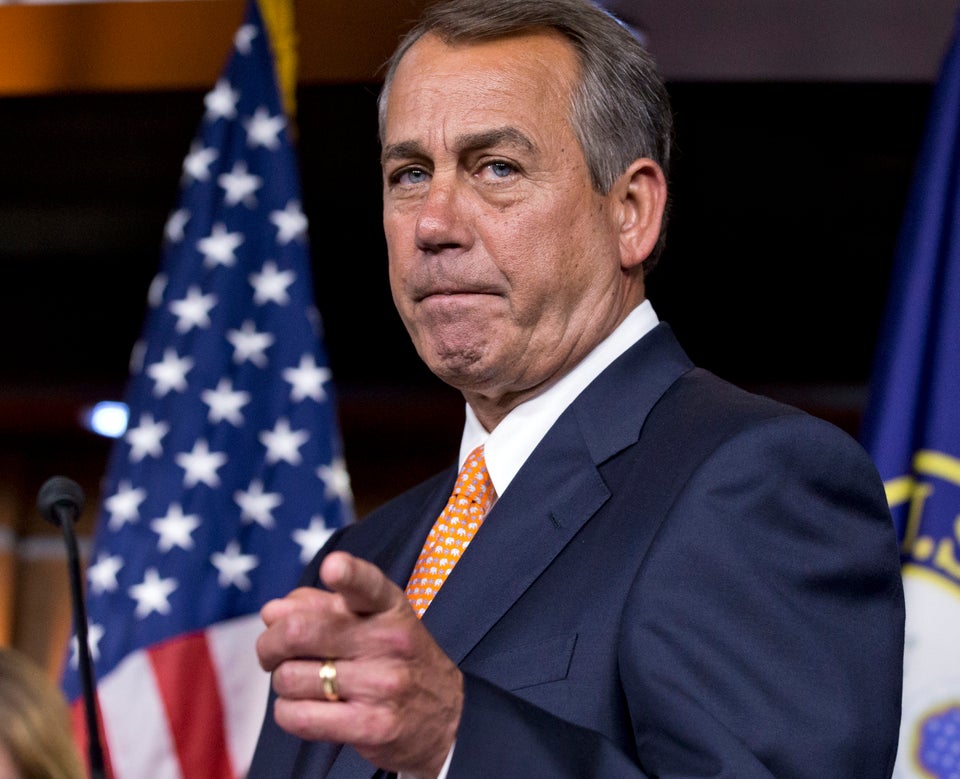 Conservatives Pointing Fingers
Popular in the Community