In the Florida House session day last week on Thursday, April 25, as the House Healthcare Bill was to be debated, one lawmaker quoted those sages known as the Rolling Stones by stating, "You can't always get what you want." That may be so, but we are trying, so can we get what we need?
Its crunch time in the Florida legislative session, in the final days before the handkerchief is dropped and they all go home. But first there are quite a few items to be resolved.
The 800-pound gorilla in the room is the decision regarding the Supreme-Court-ruled-optional Medicaid Expansion. After months of committee meetings and testimony of citizens, hospitals, business lobbies, data wonks and political shills, the House and the Senate came up with two separate but far from equal plans.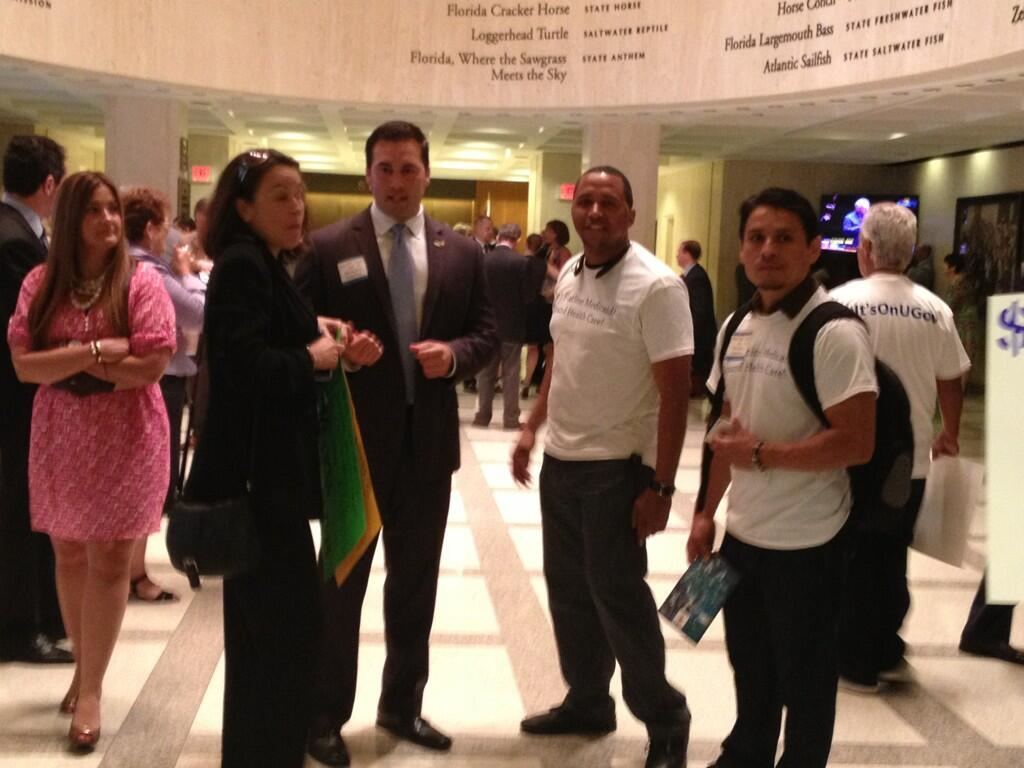 Concerned health care organizers from SEIU1199, FloridaCHAIN and Florida Consumer Action Network (FCAN) brought over 50 individuals from across the state to persuade lawmakers to pass the Negron Bill. (Photo by Gary J Stein)
In the Senate, is the Negron "Healthy Florida" plan, which takes the federal funds that were offered to expand Medicaid to all individuals at or less than 138% of the Federal Poverty line and puts them into private insurance plans managed by the Healthy Kids organization, which has been managing the Title XXI SCHIPs plans for Florida's kids for over 14 years.
A second Senate plan, offered by Sen. Aaron Bean (R-Jacksonville) was eventually turned down in favor of an amendment to the Negron plan that gives $900k to Florida Healthy Choice, which was created in 2008 to offer small businesses a type of state-run insurance marketplace using plans contracted by FHC, but has yet to be fully implemented. Sen. Bean was set in charge of FHC since its inception, and his plan was going to utilize it to cover a fraction of the population that the Negron bill would have covered, but did not take the federal funds. To many, the Senate had a clear choice, and they all ended fairly happy with the outcome, except those who felt that the Federal funds are a cross between heroin(addictive) and one of those tricks where someone attaches a string to a dollar bill, lays it down on the street and yanks it away when anyone tries to grab it.
In the House, they decided not to offer any plan that would accept federal funds. Rep, Richard Corcoran (R-Lutz) and Rep. Travis Cummings (R-Orange Park) gave us the Florida Healthy Choices Plus plan that offers approximately 115,000 lucky people at 100% and below FPL who have dependents a chance at private insurance, utilizing the Florida Healthy Choice group that the Senate opted not to use and offers plans that holders won't be able to afford to use, due to high deductibles($2,500 individual and $7,500 family).
Rep, Dwight Dudley (D-St. Petersburg) expressed his feeling on the bill this way:
"This bill falls woefully short of what we need in the state of Florida. Their proposal would only provide individuals with $2000 a year to pay for health coverage and it would cost taxpayers and additional $237 million. During debate in committee last Monday, I heard President Kennedy's name invoked, and this ill-conceived plan was even compared to the moon landing. While the bill may be from outer space, it has less in common with the moon landing than it does with NASA's early attempts to launch chimpanzees into orbit."
Rep. Richard Corcoran (R-Lutz) saw this plan as a "free-market approach" to health care, and one that would put competitive pricing back into the system to drive down prices. The bill even includes the use of "Groupon-style" coupons to allow plan holders to access discounted procedures -- hence the name I gave the plan: "Grouponcare."
I see two problems with this approach. Groupons are advertisements made by goods or service providers to bring in customers on a loss-leader basis, using a limited number of coupons offered that can only be used one time. Health care doesn't work that way. Providers are already complaining that Medicaid's 38% reimbursement rate is bringing in patients at below cost, and preventing them from covering staff salaries and overhead. Why would they put out coupons that do the same thing, especially for any patient that may need to be seen more than once? I can just picture the type of coupons offered -- "Buy one colonoscopy, get the enema free."
Rep. Corcoran spoke of a situation where someone needed a procedure, such as Lasik, that was going to cost $15,000, but found a local clinic that offered the procedure for $7,500, so the doctor he was seeing offered to match that price. That may work for h.h, Gregg Appliances or Best Buy, but it doesn't work for health care providers. Lasik, of course is elective surgery. (I can imagine a patient about to go into open-heart surgery, saying to the doctor, "Hold off, let me make some calls. I think I can go cheaper. I may even have a coupon. Where are my pants?") Discount surgery or any health care procedure, doesn't have the same appeal as getting 30% off a flat-screen television in the scratch-and-dent section.
1.As Rep. Dudley pointed out, the Negron plan would bring in billions ($5 Billion per year for the first three years) and even has a trigger that stops the program should the Feds ever attempt to renege on their promise-to-pay. The Corcoran-Cummings bills would cost $237 million a year out of the already beleaguered State budget, and not even be matched by the feds as they do now with Medicaid, and as they have done without fail since 1965.
2.The Negron plan will cover approximately 1.1 million citizens in Florida with incomes under 138% of FPL. These are mostly working individuals or people in families with working individuals (they have been calling them "able-bodied" in the house and senate. I call them the working poor). The Corcoran-Cummings bill will only cover approximately 115,000 citizens, and deny coverage to childless adults in that economic stratum.
3.As Rep. Mike Fasano (R-New Port Richey) pointed out, the plan only pays for $2000 of the premiums for these high-deductible plans, and the users will still have to kick in at least $25 a month, whether they use the plan or not. Since they are at 100% FPL, they earn a maximum of $11,500 for one person, $15,500 for two people and $19,500 for a family of three. That makes it extremely hard for them to meet the $2,500/$7,500 yearly deductible before the insurance actually pays for anything. This is pretty difficult for that family, even if they do get a coupon for 25% off a foot cast when you buy one at regular price.
Before the House voted on their bill, Rep. Fasano stated:
"I am advocating for the expansion of Medicaid through the acceptance of federal dollars because it is both morally right, and fiscally sound. For three years the federal government will cover 100% of the cost of the Medicaid expansion. Much of these are tax dollars that Florida has already sent to Washington. About one million people may get the coverage they currently lack. It is hard to gauge how many lives could be saved but I am certain some will." He continued, "I attempted to amend the House package with a plan similar to what Senator Joe Negron has proposed, but it was not accepted. With over two weeks left in the legislative session there is still time to work on this issue. I will continue to advocate for the expansion until the final vote is taken."
Rep. Fasano did his level best to amend the house bill to approximate the Senate bill, but to no avail. It was defeated 45-74 during the first attempt and 45-71 on the second and last attempt when the amendment went to the House floor. The math here was 44 Democratic Representatives plus Rep. Fasano, against all the Republicans.
With only days to go, the "buzz" is that the Senate bill may be put aside on the last day(since they are far too different to be reconciled), and the House bill will be sent to the Governor for signing. Governor Rick Scott was a vehement opponent to Obamacare and all that it stood for until just before the session started, when he shocked his supporters and detractors alike by stating that he had an epiphany of conscience, and he could not turn the federal dollars away that could cover those 1.2 million Floridians, in a state that has over four million uninsured people, the third worst in the country. With that stance, what do you think he will do if/when the House bill hits his desk, right next to the veto stamper?
If vetoed, it could mean:
a) a special session in a few months,
b) no decision, and the state of Florida will still have four million uninsured that may end up in the emergency room for treatment, even though the federal funds that could help cover charitable care won't be there to cover it, or;
c) maybe, even though we wanted Medicaid expansion, we get the Negron plan, and we get what we need.
Popular in the Community