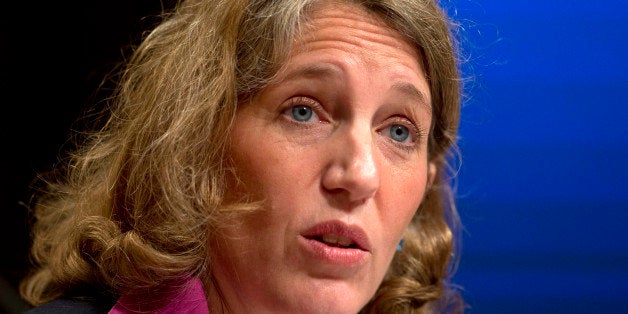 States that refuse to accept Obamacare's Medicaid expansion aren't just leaving behind poor residents, they're also hurting hospitals' bottom lines.
Because the Affordable Care Act cut the number of people with no health insurance this year, hospitals across the country will see $5.7 billion less in unpaid bills, according to a report issued by the Department of Health and Human Services Wednesday.
But the difference in states that have expanded Medicaid versus those that haven't is stark, the report shows. Hospitals in the 25 states that already have made Medicaid available to more poor residents and the District of Columbia will see $4.2 billion less in unpaid bills and charity care, a decrease of one-quarter. In the other states, the decline will be just $1.5 billion, or 9 percent.
In other words, the reduction in the uninsured brought about by Obamacare has predictably led to a decrease in the number of people turning up at hospitals with no health insurance and no means to pay for their medical care. And that decrease is more substantial in states that allowed their poorest residents access to Medicaid coverage.
"It's actually showing that this provides benefits to states," Health and Human Services Secretary Sylvia Mathews Burwell said at a briefing with reporters prior to the report's release Wednesday.
The Democrats who wrote the Affordable Care Act intended to expand Medicaid nationwide to anyone earning up to 133 percent of the poverty level, or about $15,300 for a single person. But the Supreme Court ruled in 2012 that states could opt out, enabling Republican governors and state legislators -- mostly in the South -- to refuse generous federal funding to cover low-income residents.
The failure to expand Medicaid in those states has left 4.8 million people who would have been eligible without coverage, according to the Henry J. Kaiser Family Foundation.
The American Hospital Association, along with other national state hospital groups, endorsed the Affordable Care Act precisely because they wanted more people covered and fewer patients unable to pay for care. That's even though the law also cuts Medicare and Medicaid funding hospitals receive.
In states that haven't expanded Medicaid, hospitals are enduring the funding reductions without the increase in insured patients, though. When the Supreme Court ruling came down, hospital groups in states like Texas and Florida unsuccessfully lobbied in favor of the Medicaid expansion. The figures released by HHS show why they tried.
"Many of the hospitals in these communities feel it already, but I think the data and information will help them make their case more strongly with regard to the importance to their bottom line," Burwell said.
A growing number of states that initially didn't expand Medicaid are signing on, most recently Pennsylvania and New Hampshire, bringing the total up to 27 plus Washington, D.C. Burwell is in discussions with other states, including Utah, about bringing them aboard. "The more that we are able to attract conservative Republican governors, the more that those who have very strong feelings will perhaps listen," she said.
HHS based its analysis on financial reports from hospital chains such as HCA Holdings and LifePoint and on surveys by state-based hospital trade associations. The consulting firm PricewaterhouseCoopers published a similar report this month, and its findings are consistent with HHS's.
Related
Popular in the Community