 A game is being played out in the halls of the Florida State Capital.

Sometimes it's dodge ball, with some legislators trying to find any reason to avoid having to accept federal dollars, even if it means that almost a million of Floridians may be without an affordable safety net.
Sometimes it's risk, with pro-Medicaid forces gathering many citizens, consumer advocacy groups like Florida CHAIN(Consumer Health Action Information Network), SEIU 1199 and FCAN(Florida Consumer Action Network, faith-based organizations, and both large and small health care providers, including the 20-facility Florida Hospital Association, and even the largest business lobby, Associated Industries of Florida to verbally and intellectually battle the forces that would block the expansion.
Sometimes, it's King of the Hill, with a governor who changed his mind in mid-stream after years of opposition to any and all aspects of the Patient Protection and Affordable Care Act (PPACA), also known infamously and now lovingly, at times, as Obamacare. The governor unexpectedly came out in favor of the Medicaid Expansion, which brought cheers from many Democrats, many of whom are still leery of Rick Scott's embrace of a Medicaid Reform package turning all recipients into members of a Managed Care Plan. From many but not all of the GOP members of the legislature, it brought great wailing and gnashing of teeth, led by the charismatic new Speaker of the House, Will Weatherford. His released statement conveyed his views:
I am proud of the thoughtful, thorough and deliberative approach that our Select Committee took on the important issues related to Medicaid expansion and health exchanges. I received their recommendations and agree that expanding Medicaid and setting up a state exchange is not in the best interest of our state. We simply cannot count on the federal government to pay 100 percent of the cost for expansion. The facts show that healthcare costs will go up for many Floridians, while access to and quality of healthcare will go down. The 'all or nothing' approach that the Obama administration is offering will not work for our state. I know there will be continued discussion about this matter, and I look forward to exploring better policies for our state.
This puts many of the GOP members of the House and Senate Committees on PPACA, as one staffer stated to me, between a Speaker and a hard place.
It has split the Republican members of both houses, which creates an interesting dynamic in a legislature which is almost two-to-one GOP, with the Democrats solidly in favor of the expansion. The republican Chairman of the Select House Committee on the PPACA, Rep. Richard Corcoran, has brought out the arguments that he feels Medicaid is a poor system at best, and expanding it would only makes things worse. Based on a pending agreement with HHS and the state of Arkansas, he favors the idea of using federal dollars to subsidize the private insurance plan brought to consumers thru the insurance exchange or marketplace. As he stated to me, "We need to get as many people as possible on private insurance so that we can be sure that we get the great health outcomes that we know come with it."
Both houses have agreed to waive full or partial state control of the marketplace, in favor of the federally run program, which was practically a moot point since Florida missed all the deadlines to set up their own over the last two years, passing up the million dollar grant from the feds to put it together.
Vice Chair of the Committee, Rep. Matt Hudson of Naples (one of the wealthiest and coincidentally healthiest cities in Florida) is adamant in his opposition to the Medicaid expansion and formed his opinion long before the committee decided not to draft legislation to allow the House to vote on the expansion. He does not trust the federal government to make good on their 10-year commitment to the expansion, citing the current congressional stagnation and stalemates, and felt that "even an adjustment of a percentage over the 10 years could be devastating to the state." He is also not sure that HHS even has the ability to endorse and implement the Arkansas plan, and is greatly concerned over the dire predictions brought forth to his committee from Arizona and Maine. Those two states were two of 18 states that attempted their own Medicaid expansion program in the past, and the only two that reported failure.
Arizona's governor, Janet Brewer, has reversed her previous views, like Governor Scott and six others, and come out in favor of the Medicaid expansion. Maine maintains their reticence against it. They also stated that a great number of eligible citizens dropped their private insurance in favor of the Medicaid system that the Florida Speaker and House Republicans claim is too flawed. Both Maine and Arizona dealt with mitigating factors during their programs, such as the great recession of 2008. Arizona also claims that a large percentage of the eligible population ran to enroll in the plan, pointing to the possibility of a greatly underestimated eligible group, which could have doomed the plan to failure without a larger up-front investment. However, Rep. Hudson's review of the data and footnoted sources still greatly impacted his view of the two failed programs and influenced his decision against the Expansion.
But not all is lock-step with the Florida Republicans on this issue. Chairman of the Senate committee on the PPACA , Sen. Joe Negron stated in a Joint session of the two committees, that " I think there's a very legitimate issue on how to do it. And that's what we're wrestling with. But I don't buy this idea that we don't have the capacity and ability to provide healthcare to people in our state who need it." IN his closing statements he added, "We must be bold."
Despite the Senate Committee Chairman's apparent statements in favor of the Expansion, Senate President Don Gaetz stated that the House committee, "shut the lights out" on the possibility of its acceptance and implementation.
Another House Republican and former State Senator, Mike Fasano, loudly decried his dismay at the decision. "By voting to turn back these dollars," he stated, "this committee has, in essence, told millions of Floridians that they are not worthy of having access to primary health care services.... Our office receives untold numbers of calls from single women, single mothers and others who may be living on the edge, that they cannot see a doctor because they do not qualify for Medicaid under existing criteria." He also feels that the House is being irresponsible for turning down the federal dollars being offered to fund the Expansion. "Florida's taxpayers are donors to the federal government," he noted. "The dollars that the federal government offered to the state are dollars that Florida has already sent to Washington. By not accepting these dollars, Florida is not only guaranteeing that people will not get the coverage they need, they are also guaranteeing that those dollars will go to some other state which will gladly accept and use them for their own residents."
State Economist Amy Baker stated in her presentation to Joint Committee session that morning that the federal funds were vital to covering the expenses of all of the mandatory aspects of the Affordable Care Act.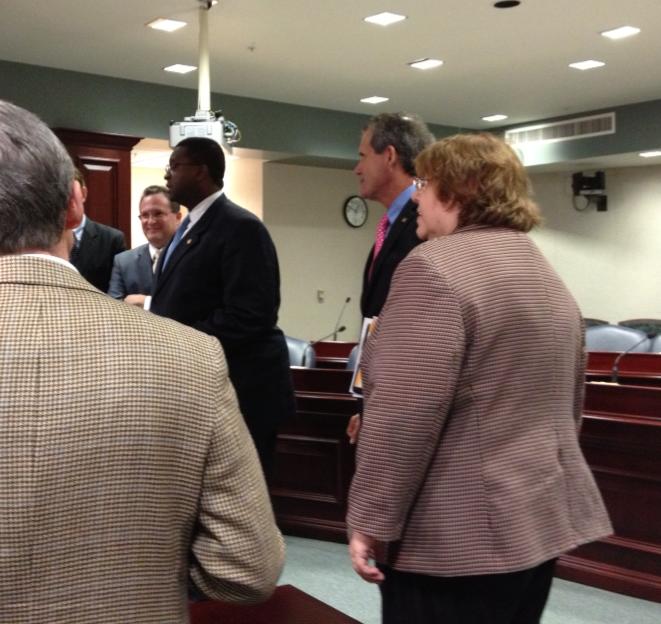 Democratic Representatives Mark Pafford, Perry Thurston, Jr, Dwight Dudley and Elaine Schwartz confront the media after the Republican party-line rejection of Medicaid Expansion.
House Democrats are miffed but not deterred. Rep. Dwight Dudley of St. Petersburg called the Republican justification, "Ludicrous!" He added, "You didn't hear any solutions, you didn't hear any alternative ideas or plans. That's pretty appalling considering they're willing to kill this, something that is a plan, something real that people can access and have."
Minority Leader Perry E. Thurston Jr. of Ft. Lauderdale called the Republican's position "morally reprehensible," and added that "we're talking about peoples' lives here. We're at the bottom of the barrel for people who need these services."
Rep. Elaine Schwartz of Hollywood, FL stated to me in an interview, "This is not over." She added,
The idea that the Federal Government will welch on the deal is ridiculous because they've never welched on the match for Medicaid and they've never not matched in the past. If you're going to argue that the federal government has these debts, and that its going to be so terrible so that won't be able to match it, you have to remember that what happened after World War II and the New Deal was that there was such a vibrant economy and increase that no one even though about the debt. It kind of got paid off. You didn't have a problem in the fifties and there was prosperity. That's what will happen now including all the jobs that will be created with Medicaid, with Medicaid expansion and all of the uninsured people that will now be insured. That whole industry will be wonderful." She was appalled at the Republican's reasoning. "I find that to be so short-sided that there has to be some other reason that they're thinking of doing this. It may be partially ideological. They want to stick their finger in Obama's eye. They don't want to just take it lying down. That's the only thing I can think of.
On the Senate side, many committee members find themselves torn. A staff member of Senator John Legg of Lutz, stated that he is divided on his ultimate decision. His low-income background understands the insurance needs for proper health care of the underserved, but is concerned about making a fiscally conservative decision that will help his constituents without negatively impacting the state that would affect its ability to maintain funding other needs.
The Senate committee postponed their decision that was supposed to be the same day as the House decision, but opted to hold off until state economists can up with the final cost estimates of implementing all of the PPACA initiatives, which was to be released on Friday, March 8.
According to Jim Saunders of the News Service of Florida, the PPACA will cost $5.2 billion over the next 10 years, with $3.5 billion coming from the state output for the Medicaid expansion, which is a fraction of the $55 billion overall cost, with the vast majority being paid by the federal government, very close to the Florida Center for Fiscal and Economic Policy's estimate of $9.51 of leverage from the feds for every state dollar spent.
The Senate Committee is scheduled to convene on Monday, March 11.
It is very possible for the game to change to Monopoly, and last a very long time looking for a winner-take all ending; unless a creative compromise or concession can be reached. Don't worry legislators -- only a million or so lives are at stake, at least.
Calling all HuffPost superfans!
Sign up for membership to become a founding member and help shape HuffPost's next chapter