 Amid all the political posturing over the Medicaid expansion that's part of President Barack Obama's health care reform plan, it can be easy to lose sight of what's at stake here for a vulnerable portion of the U.S. population.
These are the consequences of this situation, as broken down by Caroline Pearson, a director at the Washington-based consulting firm Avalere Health, on Twitter Friday:
In other words, Pearson explained in an email to the Huffington Post, a nationwide Medicaid expansion would have provided health coverage to 10.7 million people. If 26 states refuse to expand the program for next year -- which increasingly appears likely -- 5.3 million fewer people will join the program. A portion of those people, estimated by Avalere health to be 1.9 million, would be able to get subsidized private health insurance instead.
That leaves 3.4 million poor people uninsured because politicians in their home states decided to reject full federal funding for the expansion from 2014 through 2016 and at least 90 percent in perpetuity.
Avalere Health created a handy map with its assessments on what states are likely to do about the Medicaid expansion.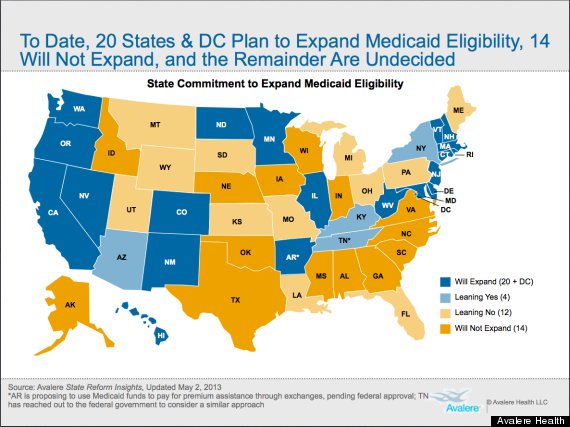 Source: Avalere Health
(One can quibble with a few of Avalere Health's guesses. New York, which has one of the nation's most generous Medicaid programs, seems like an obvious candidate for an expansion and the big federal money it brings, for example. And while Republican Tennessee Gov. Bill Haslam concocted a Medicaid expansion plan, he declined to actually introduce it to the state legislature.)
Looking at the map, it's clear that the distribution of those who could've gotten Medicaid benefits won't be equal across the country. The states that won't expand Medicaid are concentrated in the south, for one thing. What's more, those states include some of those with the highest rates of uninsurance.
Texas has the highest uninsured rate in the U.S., with 24 percent of the population -- that's 6.1 million people -- uninsured in 2011, according to census data. Florida, with 3.8 million uninsured, and Lousiana, with 906,000, each have 20 percent of their residents without health insurance, tying them for fourth-worst with with South Carolina, Georgia, and California. Among those state, only California plans to expand Medicaid.
The polling firm Gallup, whose figures are slightly different from the census, starkly illustrates the sad reality in this map (h/t the Atlantic Cities):
Popular in the Community