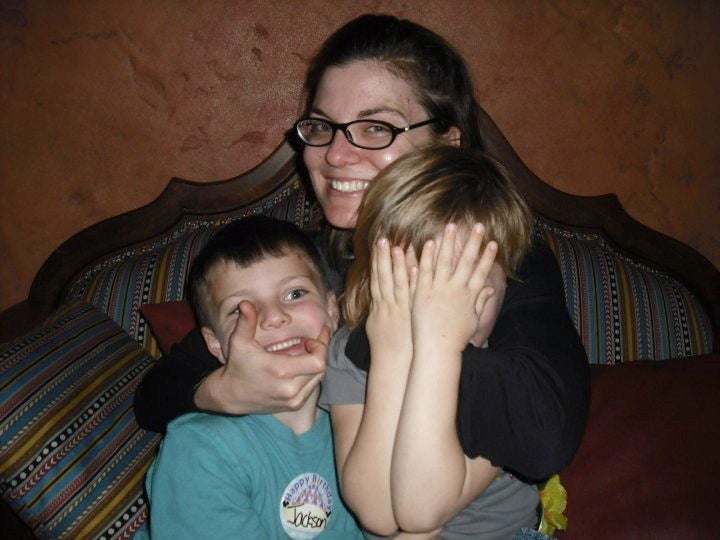 Fowler, 35, has struggled since becoming pregnant with her 8-year-old son to get, and hold onto, the Medicaid health benefits to which he and his seven-year-old sister are entitled. They've been dropped by the state, and she's fought with agencies and their private contractors about lost applications, multiple requests for the same documentation and conflicting information about whether her kids were even covered.
The Fowlers are exactly the sort of people Medicaid was created to help: a single mother with a low income, and her children. Children in poor families and their parents make up more than three-quarters of people on Medicaid, which also serves many pregnant women. But the Fowler family had to overcome bureaucratic obstacles, poor outreach and services and an emphasis on preventing fraud that also places barriers in front of people in legitimate need. When Gracie Fowler was at her wit's end, she had to march into a state legislator's office to get her problems fixed.
The political debate of the moment is focused on whether Medicaid, which is jointly funded and managed by the federal and state governments, should be expanded or shrunken -- but this mostly ignores the fact that the program today leaves out millions of needy people who already are eligible for health care and aren't getting it.
That's because actually covering people under Medicaid, not just offering the benefits, costs money. When states do a good job of reaching out to the needy, it drives up the number of people getting benefits, which increases spending. Politicians react by saying, "'Oh my god, people are actually signing up! We can't afford this!'" said Carol Brady, the executive director of the Northeast Florida Healthy Start Coalition in Jacksonville, Fla. That's when the cutbacks start.
Fowler succeeded in navigating the system, but others aren't as fortunate. They or their children remain uninsured for no good reason. The bureaucratic barriers to Medicaid aren't just unintended consequences of the program's complexity, said Laura Goodhue, the executive director of the Florida Community Health Access Information Network (CHAIN), an advocacy organization based in Jupiter, Fla. "There's always been efforts to make it difficult to enroll in programs which people are already eligible for," Goodhue said.
"I wish it wasn't so difficult," said Fowler, who makes $11 an hour as a mortgage title processor. Apart from receiving Medicaid coverage during and immediately after her pregnancies, she was uninsured for most of the last decade before gaining workplace health benefits earlier this year. "When it works, it's so nice and helpful," she said of Florida KidCare, the state's Medicaid program for children. Now her kids have access to regular pediatrician visits instead of the emergency room where she had to take them, at a cost of thousands of dollars she still owes, because their Medicaid lapsed for a while when they were toddlers.
The reasons people don't get the benefits they could are myriad and vary from state to state, but mainly fall into two categories.
Budget-cutting across safety-net programs, red tape and rules designed to stop people from scamming the program have the effect of blocking people -- often mothers and children in poor families -- who are legally entitled to coverage under Medicaid and a related benefit, the Children's Health Insurance Program, also known as CHIP.
The paperwork requirements can be overwhelming for low-income workers who may have multiple jobs or change employment frequently, making it harder to prove their earnings are low enough. Poor people who move often in search of work or because of housing costs can have trouble proving they reside in the state where they're seeking assistance. "It's the equivalent of applying for a mortgage. Just think about that level of paperwork," said Anthony Wright, the executive director Health Access California, a Sacramento-based advocacy organization.
In addition, the poorest people can be the hardest to reach and to help. "Your priorities are day-by-day whereas insurance is sort of a longer-term outlook," Wright said. "If you're thinking about food on the table [and] making rent, then health insurance is something that is just not on the same level." Poor people also are more likely to lack transportation to government offices and have work schedules that are incompatible with the hours those offices are open, he said.
There's also a stigma attached to programs people wrongly associate with welfare and a feeling that Medicaid is meant only for the most destitute, said Alice Weiss, who directs a program to help maximize enrollment in health benefits at the National Academy for State Health Policy in Washington, D.C.
"Many individuals falsely believe that these programs are only for quote-unquote truly needy and they don't think of themselves in that category," Weiss said. "You have a lot of low-income working families who think it's for those other people who are poor but not me."
This reflects a failure on the part of federal and state authorities to educate and find the people who could benefit from Medicaid and CHIP, said Anne Swerlick, the deputy director of advocacy for Florida Legal Services in Tallahassee, Fla., which assists people applying for benefits. "We put pretty minimal amounts of investment in outreach," Swerlick said.
So people looking for help are dependent on outside organizations to guide them through the process. "You have to be persistent in making sure that your application is accepted," Florida CHAIN's Goodhue said. "We have a fragmented system that relies heavily on overburdened case managers, social workers, providers, [and] hospitals that do this work." Florida CHAIN arranged for Gracie Fowler's interview with The Huffington Post.
The health care reform law aims to ease the path to health care coverage under Medicaid and CHIP in several ways, Wright of Health Access California, said.
For one thing, he said, the law "streamlines" the application process and reduces the amount of documentation people need to provide. For another, the law's nationwide effort to enroll as many as 30 million people into Medicaid or private health insurance will include outreach to those currently eligible but not receiving Medicaid and CHIP, he said. In addition, the law's health insurance "exchange" marketplaces are intended to make make it easier for people to find out what assistance is available, and the individual mandate that nearly everyone obtain health benefits is supposed to push people to seek coverage.
Popular in the Community