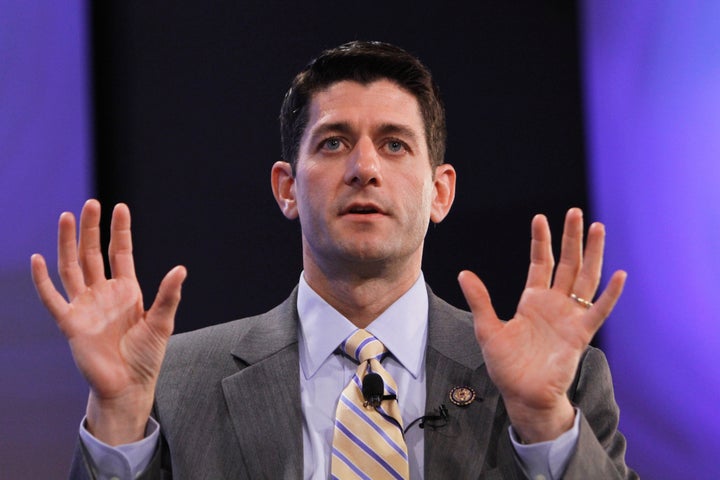 The Kaiser poll finds that 60 percent of respondents would prefer to keeping the government health insurance program for low-income and disabled Americans as it is now, "with the federal government guaranteeing coverage and setting minimum standards for benefits and eligibility."
Only 35 percent would support changing the program "so that the federal government gives states a fixed amount of money and each state decides who to cover and what services to pay for." That suggestion is part of Wisconsin Republican Paul Ryan's proposed 2012 budget, which passed in the House with overwhelming support from GOP Reps.
Republican voters are also more in favor of the Ryan plan's changes to Medicaid. While 57 percent of self-identified Republican voters said they would support changing it into a block-grant program, majorities of both independents (60 percent) and Democrats (79 percent) in the poll said they support keeping Medicaid as is.
The survey suggests the Republican Party might make some inroads in changing public opinion, but likely not enough to attain majority backing. When researchers explained to respondents supportive of keep Medicaid as it it now that "those who favor this change say it will help reduce the federal budget deficit and give states greater flexibility to tailor their Medicaid programs to match their residents' needs and their own state budgets," 14 percent of them said they would change their minds and support the switch to block grants. That tipped the group's balance of support to 49 percent in favor of maintaining Medicaid versus 44 percent in favor of changing it.
However, an even larger percentage of those who initially said they would favor the changes said they would be swayed to keep Medicaid in its present form by a potential Democratic argument. When told that "[o]pponents of this change say it will increase the number of uninsured, increase financial pressure on states and health care providers, and cause more low-income people to go without health care and long-term care services, particularly during tough economic times," 26 percent of those initially in favor of the change said they would now be opposed, for a total of 25 percent in favor of block grants to states and 69 percent opposed.
Of course, neither argument is likely to be made in a vacuum (or even to reach everyone whose mind might be changed), making it less likely that an argument in either direction would have that great an impact.
More generally, the survey finds that cuts to funding for either Medicaid or Medicare as a part of a federal debt reduction plan would be very unpopular.
Only 13 percent of respondents said they would support major reductions to Medicaid and 20 percent would support minor reductions, but 53 percent said they would not support any cuts at all to the low-income and disability health program.
On Medicare, 59 percent said they would not support reductions, while only 10 percent said they would support major reductions and 29 percent would support minor reductions to the elder health insurance scheme.
The survey also hints at the possibility that at least a handful of respondents could have confused Medicaid with Medicare.
Although 65 percent of respondents correctly identified Medicare as "the primary source of health insurance for people over age 65 regardless of their income," 21 percent said that program was Medicaid.
Meanwhile, 56 percent of respondents said Medicaid was "the primary source of health insurance coverage for many low-income families regardless of age," but 20 percent thought it was Medicare. However, in the questions noted above Kaiser did explain that Medicaid was the program for low-income individuals.
The Kaiser poll was conducted May 12-17 among 1,203 adults by Princeton Survey Research Associates, and had a margin of error of 3 percentage points.
Popular in the Community