SPECIAL FROM Next Avenue
Science's latest wonders, from a telescopic eye implant to artificial joints with microchip monitors
Nine years ago, Ed Nungesser lived in a virtual prison — and he was desperate to find a way out of his cell.
Age-related macular degeneration had destroyed much of his vision, and Nungesser's world — his ability to drive, watch ballgames, even to see his family's faces — was gone.

"I was willing to do anything," said Nungesser, 74, a retired chemical operator from Philadelphia. "I couldn't read. To watch TV was very difficult. I couldn't write on a straight line."

There is no cure or proven effective treatment for AMD, a condition that affects 1.6 million Americans 50 and older, according to the Centers for Disease Control and Prevention. Nungesser, however, did find one doctor who proposed a radical intervention: a tiny telescope, implanted in one of his eyes.

It took a surgeon at the Wills Eye Institute in Philadelphia about an hour to replace one lens with the implant, called CentraSight, from VisionCare Ophthalmic Technologies Inc. (Because the implant causes loss of peripheral vision in the eye it's placed, there's only one implant, allowing the patient to retain peripheral vision in the other eye.)
Even before Nungesser was finished using the three-week supply of drops his doctor prescribed after the surgery, his world came roaring back. The telescope more than doubled the size of his field of vision. He was back to watching sports on TV and at the field. Best of all, Nungesser says, "I was able to see my granddaughter for the first time."

His only regret: not getting the surgery sooner. "The week I had it done, I had just come back from a cruise in Alaska," Nungesser says. "I wished I had it done before, because I could have seen a lot more."

Nungesser is among a growing number of bionic Americans whose implants have helped compensate for damage attributed to aging and disease.

Implants are not new, of course. But thanks to innovations they are turning up in the bodies of more Americans over 40. Defibrillator-like devices from Medtronic Inc., for example, which deliver electrical impulses, can improve bladder function and help manage chronic pain. And soon, implants will deliver drugs, alert doctors to the presence of infections and even send notifications if the device has been recalled.

(More: Mobile Fitness Devices Hit Their Stride)
Medtronic has discovered that implants similar to its flagship cardiac defibrillator can give a boost to other malfunctioning organs. These neuromodulation systems can be programmed by doctors to improve bladder and bowel control. Implanted in the lower back, the devices can also block pain signals shooting toward the brain, when they detect a patient is making a move that once created agony.

Proponents of the pain-intercepting neuromodulation devices say they can curb patients' need for pain medications.
A Microchip to Monitor Artificial Joints
Soon, implants will deliver drugs, alert doctors to the presence of infections and even send notifications if the device has been recalled.
Earlier this year, MicroChips Inc., announced that seven patients received daily doses of an osteoporosis drug through the company's microchip implant, rather than injections. The company reported that the levels of the drug in the patients' bloodstreams was similar to that observed from injections.

Artificial joints in the future are likely to come with microchips. Although getting a new knee or hip might seem like a rite of passage, even routine surgery comes with the risk of complications, and implants can be recalled at any time.

Enter the Ortho-tag, a radio frequency identification (RFID) tag with an antenna that's being developed by researchers at the University of Pittsburgh. The microchip — embedded in an orthopedic implant, like an artificial knee or hip — has sensors that detect bacteria or increased temperature, making it possible to diagnose infections early.

Surgeons and clinicians can add to the Ortho-tag such data as the time and date of the original surgery, as well as updates on a patient's progress — a handy feature for patients who split their time between Minneapolis and Palm Springs, Calif., for example, and have doctors in each city.

"It's like an information superhighway in and out of the body," says the Ortho-tag's inventor, orthopedic surgeon Lee Berger.

If that sounds like a lot of personal data, which some clever hacker might want to pluck from a wireless transmission, the Ortho-tag system is secure, Berger says. The Ortho-tag Touch Probe — the only reader device that can read the tag — must be in contact with the patient's skin, near the implant site, to send and receive data.

Not all implanted devices, of course, rest entirely inside the body.
What's New for Hearing Loss

Cochlear implants, which you might have seen if you have ever noticed a disc and cable attached to the skull behind someone's ear, are likely to become a more common sight at restaurants and theaters.

The devices, which have both internal and external components, were once reserved for people suffering from profound hearing loss. Now patients with less severe damage are also showing up at audiologists' offices, says Teresa Zwolan, director of the Cochlear Implant Program for the University of Michigan Health System.

That has manufacturers striving to develop more discreet options for consumers. "The demand from people with moderate hearing loss pushes our envelope," Zwolan says.

Zwolan notes that implant maker Cochlear Ltd., is working on a new model without an external processor, which should make the device more appealing to patients who might otherwise balk at the hearing aid's appearance.

But Ed Nungesser, the CentraSight recipient, insists he doesn't mind that his implanted telescope is noticeable. "People say it's like I have a twinkle in my eye," he says.
Mark Baard is a Boston-based science and technology reporter who focuses on the future. You can follow him on Twitter @futuretripping.
EARLIER ON HUFF/POST50: Ocular Nutrition Society's Survey Findings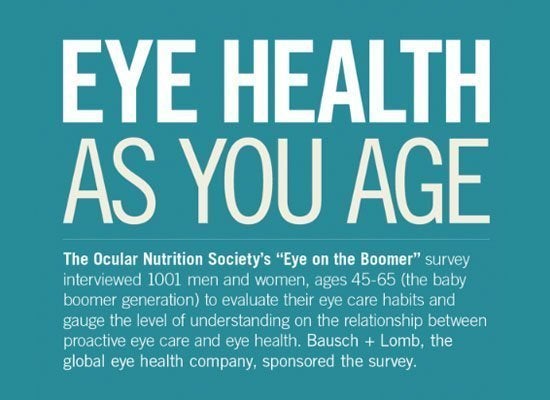 Ocular Nutrition Society's Survey Findings
Popular in the Community