Back in the early 1980s, when AIDS was making its first cruel advances through the population, many of us felt an overwhelming sense of hopelessness and helplessness as one friend after another succumbed to the disease. At that time people lacked any hard data about the disease and were grasping for straws as their friends' faces started to show evidence of Kaposi's sarcoma lesions.
Many a healthy-looking man would ask "With a body like this, how could I be sick?" -- only to disappear from the gym several weeks later and, within months, die of Pneumocystis carinii pneumonia. During the Reagan administration, the mass media -- filled with editors who didn't want to write about an unpopular minority -- didn't want to touch the story. And yet, three decades after what was initially called GRID (Gay Related Immune Deficiency) entered our lives, a substantial number of plays, films, and musicals have been inspired by AIDS:
In 1985, William M. Hoffmann's As Is won the Drama Desk Award for Outstanding New Play.
That same year Larry Kramer shocked audiences with The Normal Heart.
In 1985, Aidan Quinn and Gena Rowlands starred in one of the first films about the AIDS epidemic: An Early Frost.
In 1987, Harvey Fierstein's Safe Sex had a brief run at the Lyceum Theatre.
In 1988, Lanford Wilson's A Poster of the Cosmos became one of the first plays to deal with AIDS affecting athletes.
In 1990, Longtime Companion (a film written by Craig Lucas), showed how AIDS affected a group of friends.
Tony Kushner's Angels in America won the Pulitzer Prize for Drama in 1991
That same year, Our Sons starred Ann Margaret and Julie Andrews as two mothers whose sons had AIDS
The Way We Live Now was a short piece of fiction written by Susan Sontag in 1991.
John Greyson's film, Zero Patience, was released in 1993.
Philadelphia (starring Tom Hanks, Antonio Banderas, and Denzel Washington) was one of the most controversial films of 1993.
Based on the book by Randy Shilts, And The Band Played On was transformed into a television movie in 1993.
Terrence McNally's Love! Valour! Compassion had its stage premiere in 1994.
The Cure was a 1995 film about two young boys searching for a cure for AIDS.
In 1995, Paul Rudnick's Jeffrey focused on a gay man who, terrified of AIDS, vowed to give up sex.
In 1996, Rent offered an updated version of Puccini's La Boheme in which Mimi was dying of AIDS rather than tuberculosis.
That same year It's My Party dealt with the topic of AIDS patients planning a festive farewell to their friends before committing suicide.
In 2003, The Event took a slightly different approach to the same topic.
In 2004, A Conspiracy of Silence dealt with the death of an Irish priest who had AIDS.
In 2010, Jim Carrey and Ewan McGregor starred in I Love You Philip Morris, based on a real-life story about a Texas con artist who faked AIDS symptoms in order to escape from prison.
Throughout the course of the AIDS epidemic all of these dramas (in addition to a wealth of documentaries) tried to educate audiences about AIDS while entertaining them by probing the humanity at the center of the epidemic. Television series such as The Real World: San Francisco, Noah's Arc, Queer as Folk, Brothers and Sisters, and Six Feet Under all had AIDS-related subplots.
Because AIDS took such a shocking toll on the creative community, many artists were inspired to express themselves and address the impact of AIDS on our society. Alas, there are other diseases, which, although equally frustrating, receive far less attention from filmmakers. When a medical documentary can put a human face on a mystifying disease -- and offer a ray of hope to those who suffer from its symptoms -- the filmmaker's art goes a long way toward helping people understand a confusing and debilitating phenomenon.
When I first started seeing trailers for a film about autism by Michel Orion Scott and Rupert Isaacson (journalist, founder and director of the Indigenous Land Rights Fund, producer of The Horse Boy, and father of Rowan Isaacson), I was eager to see it. Months later, as I watched a press screening of this movie, which documents a family's expedition to Mongolia in the hope that modern-day shamans might be able to help their autistic son, I couldn't help but wonder: How the hell does a family with an autistic child pay for this kind of extravagance, much less secure the underwriting to fund a major documentary?
The answer to my question was found in a rather long-winded director's statement from Mr. Scott:
"I first met Rupert Isaacson at a book talk he gave on the Kalahari Bushmen of Botswana. Rupert spoke passionately about the past, present, and future of a people who many anthropologists believe to be the first human society, and who are now on the brink of extinction. Immediately, I felt a stirring to help. I had just finished working on a large-scale Hollywood film shot in Austin, Texas, and was burned out by the frantic pace of the previous three months. I wanted desperately to spend more time with nature and to work for a cause I believed in. I took a bold step forward and told Rupert, 'I want to help. I work in film and want to offer my services to the cause, paid or not.' We began to talk about the possibility of creating a film about the Bushmen, one that would help them in their fight for survival."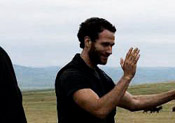 Filmmaker Michel Orion Scott

"A few months into pre-production, I was sitting with Rupert in his kitchen. Our conversation paused for a moment and then he said, 'Michel, there is something else I would like you to consider.' Rupert told me about his son Rowan, who had been diagnosed with autism two years earlier. He and his wife (Kristin Neff) had tried virtually every form of treatment known to either traditional or alternative medicine. All of them produced disappointing results. Finally, Rupert had decided to take Rowan to Mongolia and travel on horseback throughout the country in search of the mysterious shamans he was somehow sure could help heal his son. He asked me to come with them and record their trip. With a gulp, I said 'Yes, of course.' How could I pass up such an opportunity? The Horse Boy, the account of the Isaacsons' incredible journey, is a piece of real life magical realism. It has been my dream as a filmmaker to be able to work with such material. At the same time, because the concept of the film was so powerful, I spent many nervous moments wondering how I was going to capture the real story."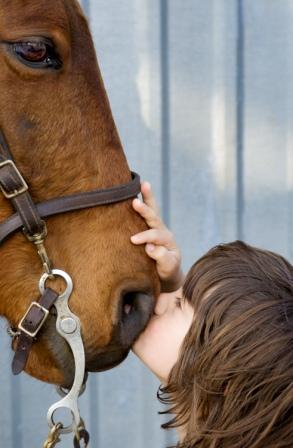 Photo: O. Rufus Lovett

"Just the logistics of the shoot seemed overwhelming. Would I be able to ride with a camera in one hand and reins in the other across the rugged and isolated Mongolian landscape? How, on our shoestring budget, would we manage to put together a film as inspiring and beautiful as the idea for the journey itself? I would also be taking on the responsibility of exploring one of the most challenging medical issues of our time, the complex and puzzling disorder that is autism. What a task: to try to explain what seems unexplainable even to the experts in the field! To say that I didn't know what to anticipate is an understatement but, of course, no one could.

So off we went (Rowan, Rupert, Kristin, our crew members Jeremy Bailey and Justin Hennard, and I) into the magnificent, unknowable land of Genghis Khan, where horseback riding started, where the word Shaman ("one who knows") originated, and where shamanism is -- even today -- the official state religion. As I galloped across the countryside, lurching from side to side and back to front, attempting to keep up with the family while holding the camera as steady as I could, it all seemed surreal and impossible. I was thrown from my horse, contracted giardia and faced each day with a level of aching soreness beyond what I had ever experienced. And all of this for a film? Yes, but even more for the sake of an autistic boy whose parents were willing to go literally to the ends of the earth to find healing for their son. To me, this is the true beauty of the story. The mysterious shamans, incredible landscapes, and harrowing ascents on nearly wild horses are all a backdrop for the story of a family willing to transcend logic and science in order to find a way into their son's world."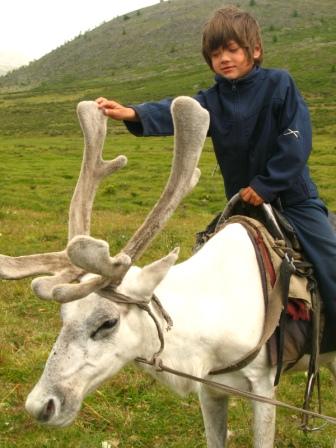 Photo: O. Rufus Lovett

"As I realized when the Isaacson family took their first step onto that plane bound for Mongolia, this was the most important message that we could share with the world -- no matter what the outcome of our trip. That knowledge allowed me to relax and let the story unfold as it would and did, in ways that I would never have predicted. As I reflect on the night that Rupert and I first spoke about traveling to Mongolia, it still amazes me that this profound and transformative journey all started in a kitchen, with a little boy who seemed beyond help, and his father's gut feeling."
No matter how many films one sees about childhood illnesses, nothing creates a knot in one's stomach like the sight of an autistic child caught in a tantrum with no end in sight. With more children diagnosed each year than with cancer, diabetes, Down syndrome and AIDS combined, current estimates are that nearly 4 million children in the United States could be diagnosed with autism in the next 10 years.
While this documentary goes to great length to include input from experts in the field of autism, it was Isaacson's previous experience as a horse trainer that caused him to notice a most unusual interaction between his autistic son and a grumpy old mare named Betsy. Rowan's uncanny ability to communicate with animals proved to be an important key that would eventually allow the boy to communicate with people.
As a result of what was learned from Rowan's interaction with horses, Isaacson helped create The Horse Boy Foundation, which runs a small learning and equestrian center near Elgin, Texas whose credo is as follows:
"Our mission is to bring horses and the children that need them together. Pure and simple. We bring special needs children (mainly kids on the autism spectrum) and 'neuro-typical' (i.e. 'normal') children together, using the horse as a social nexus. We have no specific program -- each child is catered to according to their own needs. Our horses are highly adaptable. We believe strongly that special needs kids, and kids on the autism spectrum, can go way beyond mere equine therapy. We believe they can truly ride and should have the opportunity to do so."
While The Horse Boy provides many wonderful moments, it doesn't hide the anguish of having an autistic child, the constant hope for accomplishing something as simple as potty training, or the rigors of traveling around the Mongolian steppes in search of the reindeer herders who live in the high country. The documentary forces science to confront the healing powers of shamanism head on and accept the fact that strange and wonderful things can happen outside the scope of Western medicine.
An intensely emotional documentary filled with moments of insight, flashes of sick and twisted humor, and some passages that may leave the greatest cynic dumbstruck with wonder, The Horse Boy cuts to the quick without any of the usual authoritarianism found in so many other medical documentaries. Here's the trailer:
Director, and cinematographer Andy Abrahams Wilson is a triple threat filmmaker. The recipient of a Pew Charitable Trust Fellowship in Dance/Media, Wilson was recognized by the Marin Arts Council as an Outstanding Artist of 2003. He has produced films about dance and dancers and has been nominated for an Emmy award. Wilson currently teaches video as art and discovery at Sausalito's Open Eye Pictures (which he founded in 1994). The studio's mission statement reads as follows:
"Open Eye Pictures is an award-winning, nonprofit production company specializing in creative, educational media. Taking a unique, humanistic approach, we open the eyes of viewers to see the extraordinary in the ordinary and the bigness in the littlest of things. We turn the lens on places where worlds and assumptions collide, illuminating the new life that springs forth. Telling stories through rich and poetic imagery, Open Eye Pictures moves its audience in unexpected ways."

If I stress Wilson's artistic achievements it is because he has done a remarkable job of making a documentary -- that looks absolutely gorgeous -- about a truly depressing disease that has reached epidemic proportions in America. Part of Wilson's motivation for making Under Our Skin was personal: His twin sister and another close friend had both been diagnosed with Lyme disease. Over a period of four years, the filmmaker amassed 375 hours of footage for his documentary.
Under Our Skin, which focuses on patients struggling with Lyme disease, is that rare documentary that can hold a cruel mirror up to the insurance companies and other power players within the medical field and contrast their shallowness and deceptive practices with the real life pain being experienced by patients who are routinely denied coverage for their illness.
Connecticut's former Attorney General, Richard Blumenthal, investigated allegations that serious flaws were to be found in the Infectious Diseases Society of America's process for writing its 2006 Lyme disease guidelines. Blumenthal charged that IDSA's board of directors had financial interests that compromised their ethics, causing them to advocate against the use of long-term antibiotic treatment for patients with Lyme. Under Our Skin takes aim at the hypocrisy of the IDSA's position.
Wilson's documentary also outlines the insurance industry's systematic attempts to discredit physicians who have specialized in treating patients with Lyme and relates how insurance companies have worked behind the scenes to have some doctors' medical licenses suspended so that they could then turn around and sue those very same physicians to recover the costs incurred from unauthorized treatment protocols.
In the following video, Dr. Joseph Jemsek (whose license was suspended for one year by the North Carolina Medical Board) describes how insurance companies pursue their insidious goals while attempting to jack up their profits.
As an infectious process that attacks the immune system, the spread of Lyme disease has eerie parallels to the history of HIV/AIDS. Both diseases started to ravage patients around 1980 (at about the same time that managed care started to become a dominant force in the medical field). In the early years of both epidemics, it was the patients who were often educating their physicians about the disease.
However, AIDS hit a minority population with a long history of political protests as well as its own media -- the newly-formed Gay Press Association. While word of a deadly new disease spread quickly through the gay population, patients with Lyme were often misdiagnosed or unable to find a physician who knew how to treat someone with Lyme.
Part of the problem is that Lyme can easily mimic symptoms of such chronic diseases as syphilis, Alzheimer's, multiple sclerosis, systemic lupus erythematosus, ADHD, fibromyalgia, amyotrophic lateral sclerosis (Lou Gehrig's disease), chronic fatigue syndrome, anxiety, depression, and Parkinson's disease. Some physicians still refuse to issue a diagnosis of Lyme disease or even admit that it exists. The disease, however, does manage to find its way onto a death certificate.
Because a new law in the early 1980s made it possible for patents to be issued for living organisms, many of the researchers working on Lyme disease were quick to secure patents which might prove profitable, even if they prevented a great deal of research from being shared. A recent breakthrough, which points to Lyme having the physical characteristics of a biofilm, has offered new insights into the chronic nature of the disease.
Whether or not you know anyone who suffers from Lyme disease, Under Our Skin is an excellent teaching tool for people who have been brainwashed by the health insurance industry. If you want to give a conservative acquaintance a strong consciousness-raising session, I highly recommend Wilson's documentary. Here's the trailer:
Related
Popular in the Community