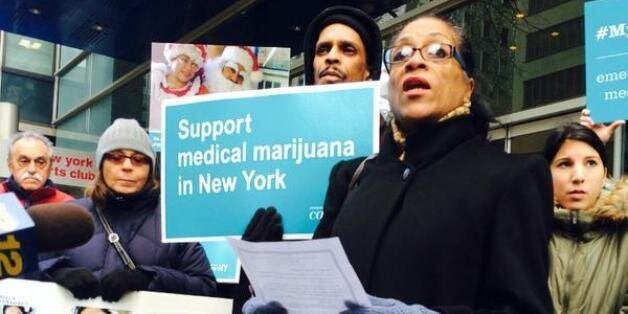 Patients, advocates and family members of sick children staged a rally outside New York Gov. Andrew Cuomo's Manhattan office Friday to demand that the Democrat establish an emergency-access medical marijuana program for the state, one week after an 8-year-old from Niagara Falls died from brain cancer.
"More than five months after Governor Cuomo signed a bill into law that was meant to bring vital treatment to our family, my daughter Donella is dead," Nate Nocera, whose daughter died Dec. 12, said at the event. "Governor Cuomo, I know you cannot turn back time to get us the medical marijuana that could have slowed the aggressive growth of the tumor in her brain ... but you have the power to end the needless suffering of so many New York families."
Cuomo signed New York's medical marijuana bill into law in July after months of deliberation and negotiations. But the legislation as written is among the strictest in the nation, and the measure won't be fully implemented until 2016 at the earliest. An early draft of the law's regulations, released Thursday, doesn't mention anything about an emergency access program for patients in urgent need of treatment.
In the meantime, several other sick children whose families were hoping to use cannabis to treat their chronic conditions have died, including 9-year-old Anna Conte, who suffered from a debilitating seizure disorder and died over the summer. Her family helped pass New York's medical marijuana bill.
Recent studies have shown that certain strains of marijuana can effectively treat both seizure disorders and brain tumors without producing a "high" feeling.
On Friday, rally attendees urged Cuomo to do more to help patients with chronic illnesses get access to medical cannabis before the law officially takes effect in 2016.
"As a parent with a sick child who could benefit from medical cannabis, my heart goes out to Nate Nocera and the other families who have lost children waiting for emergency access," said Dr. Amy Piperato, whose child has a treatment-resistant form of epilepsy. "And as a physician, I cannot understand why critically ill New Yorkers don't have access to this safe and effective medication. Governor Cuomo needs to create access to this medication now before more lives are lost."
Cuomo's office did not respond to HuffPost's request for comment.
Although 23 states and the District of Columbia have legalized marijuana for medical purposes, the federal government still considers cannabis an illegal substance with no medicinal value. Deputy Attorney General James Cole in 2013 listed eight priorities federal prosecutors would consider when enforcing marijuana laws, and one specifically dealt with "the diversion of marijuana from states where it is legal under state law in some form to other states." It's unclear whether that priority extends to instances where, as in New York, the pot would be transferred between states where medical marijuana is legal.
And advocates say little has changed since Cuomo's September letter, even though experts argue there's more the governor can do.
For example, Cuomo has the authority to allow specific local producers to bypass the permitting process and begin cultivating medical marijuana, Gabriel Sayegh, a managing director for the Drug Policy Alliance, told HuffPost in September. Moreover, the governor has the power to call a special session of the state legislature to add the original emergency access provision back into the law.
Following Cuomo's letter, the Justice Department faced additional pressure from U.S. Sens. Kirsten Gillibrand (D-N.Y.) and Chuck Schumer (D-N.Y.), who sent a memo echoing the governor's request. "As Members of Congress whose constituents suffer from these illnesses, we feel that the federal government ought to do what it can to help these children," the senators wrote. "This measure is a healthcare imperative."
The spending bill Congress passed earlier this month contains a provision that prohibits the federal government from using government funds to go after state-legal marijuana operations altogether.
The Drug Policy Alliance organized Friday's rally as part of a larger campaign called #MyHolidayWish in which families of sick people throughout New York state are asking the governor to "grant their holiday wish" of emergency access.
"The death of little Donella Nocera is a tragic and grim reminder of what's at stake here," Sayegh said in a statement Friday. "This holiday season, we are asking Cuomo to do the right thing and grant suffering New Yorkers the relief they need."
Calling all HuffPost superfans!
Sign up for membership to become a founding member and help shape HuffPost's next chapter
BEFORE YOU GO
PHOTO GALLERY
Sick Children Treated With Cannabis