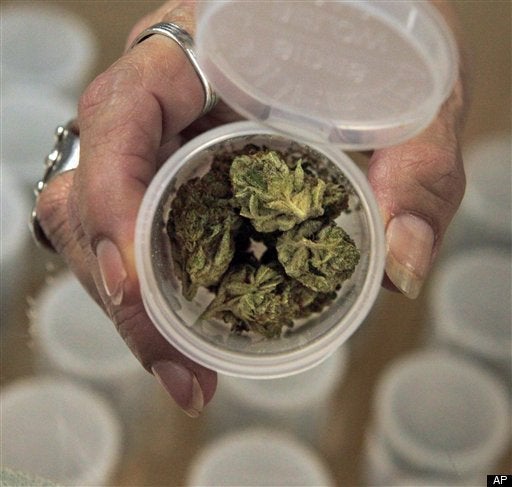 The Maryland Senate voted on Saturday to allow patients access to medical marijuana at state-licensed dispensaries. The bill now moves to the state's lower chamber.
The bill was approved overwhelmingly, with bipartisan support and without objections or discussion, by a 35-12 margin.
Maryland would join 14 other states in legalizing medical marijuana. The neighboring District of Columbia legalized it in a 1998 referendum that was only recently allowed by Congress to go into effect. The District's city council is writing rules to establish the city's medical marijuana policy.
Current Maryland law allows defendants charged with pot possession to cite a medical necessity defense. If a judge deems the drug to be beneficial, a maximum hundred dollar civil fine is imposed.
Lawmakers and advocates argued that the law unfairly forced patients to obtain marijuana in the black market. The new law would bring transparency and regulation to the industry.
"I'm very proud of my Senate colleagues today for voting to provide some of our most vulnerable residents with the compassion and care that they deserve," said Sen. David Brinkley (R-Frederick), the bill's sponsor and a two-time cancer survivor. "Anyone who has watched a loved one suffer from a debilitating illness would agree that we should not stand between doctors and patients, or deprive seriously ill people safe access to a legitimate medicine if it can help them cope with their illness."
Maryland State Senator Jamie Raskin (D-Silver Spring), often cited as one of the most talented state legislators in the nation, cosponsored the measure. "We think this bill offers the most carefully crafted medical marijuana law in the country," said Raskin. "It offers legal protection and safe medical access to patients who are desperately in need and takes every possible measure to prevent abuse. I'm hopeful that our colleagues in the House will give this proposal serious consideration, and make Maryland's medical marijuana law a national model for how to promote medical privacy, social compassion, and security in administration."
The medical marijuana movement is surging across the country. This year, more than a dozen other states, including New York, Illinois, Delaware, South Dakota, Arizona and Kansas, are considering medical marijuana laws. If present trends continue, more than half the population will soon live in states where medical marijuana is legal.
Meanwhile, California voters will be asked in November whether to legalize it for all adults, rather than just the ill. Oregon and Washington state may also see similar ballot questions if organizers obtain enough signatures.
Throughout the 1980s and 1990s, Democrats strongly backed the War on Drugs, frightened of being labeled as "soft on crime." Progressives, however, are now pushing for the party to rethink its approach.
Popular in the Community