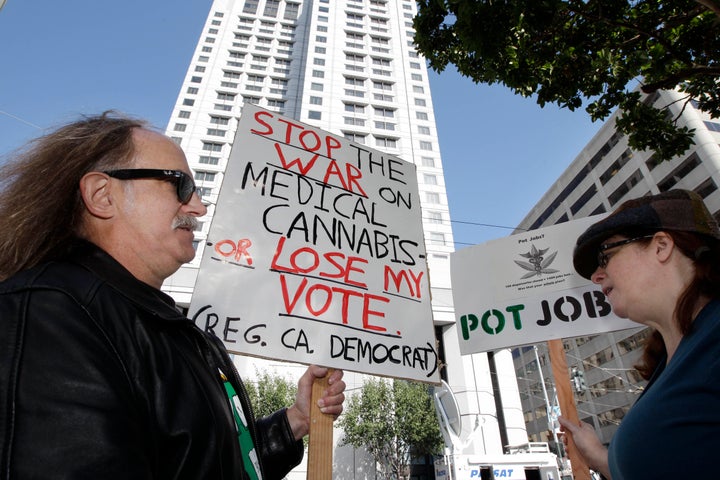 WASHINGTON -- Members of Congress are calling on the Obama administration to end the federal crackdown on marijuana dispensaries in California, citing Attorney General Eric Holder's past promise to maintain a hands-off approach toward pot clinics operating in compliance with state law.
Although most of the nine signatories on a Friday letter to the White House were California Democrats -- including Reps. Barbara Lee, Pete Stark, Lynn Woolsey and Sam Farr -- the group also contained a California Republican, Rep. Dana Rohrabacher, who is an outspoken medical marijuana advocate, and a Tennessee Democrat, Rep. Steve Cohen.
"We write to express our concern with the recent activity by the Department of Justice against legitimate medical cannabis dispensaries in California that are operating legally under state law," the lawmakers said.
Federal prosecutors targeted medical marijuana dispensary owners in California on Oct. 7, vowing to shutter state-licensed businesses and threatening landlords with property seizures for violating federal drug laws. Now these House members are pushing back.
"It is our strong position that local and state governments must be allowed to develop, implement and enforce their own public health laws with regard to medical cannabis," the letter stated.
But the scope of Friday's letter stretched beyond California. The threatening notices sent to landlords by California's four U.S. attorneys follow many months of federal interference in other states that permit medical cannabis, with aggressive federal raids in at least seven, the representatives noted.
They called on the White House to reclassify marijuana as a legitimate controlled substance for medicinal purposes and to adopt the States' Medical Marijuana Patient Protection Act, legislation introduced by Rep. Barney Frank (D-Mass.) that would prohibit federal interference in state-run medical marijuana clinics.
"By pursuing the same harsh policies that have been in place for years, we fear that the federal government will push legitimate patients back into the uncertainly and danger of the illicit market," the letter continued.
The White House did not immediately respond to a query about the letter sent by HuffPost after business hours; another to the Justice Department also went unreturned over the weekend.
"Like many, we are interested in the potential marijuana may have in providing relief to individuals diagnosed with certain serious illnesses," the White House wrote in its official response. "That is why we ardently support ongoing research into determining what components of the marijuana plant can be used as medicine. To date, however, neither the FDA nor the Institute of Medicine have found smoked marijuana to meet the modern standard for safe or effective medicine for any condition."

Popular in the Community