There are currently only seven people in the U.S. that can legally use marijuana under federal law, and they all receive cannabis cigarettes direct from the Federal government.
Those seven are the benefactors of a lawsuit filed by Robert Randall in 1978 when he sued the Federal government a second time for using cannabis to treat his glaucoma. A Federal judge twice ruled in favor of Randall and directed the Food and Drug Administration to set up a program at the University of Mississippi to grow and distribute 300 cannabis cigarettes a month to him.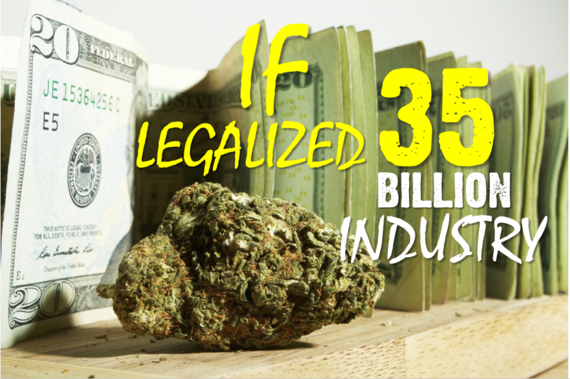 The Federal government's medical marijuana program continued until 1992 when President Bush discontinued it over concerns the program would need to expand dramatically in order to help AIDS patients. Since then, only seven people have retained the rights to consume marijuana legally under Federal law.
Fortunately, a new breed of biopharmaceutical companies are seeking Federal approval to deliver the medical benefits of cannabis without having to smoke or ingest the plant the plant. GW Pharmaceuticals (Nasdaq: GWPH), AbbVie (NYSE: ABBV), INSYS Therapeutics (NASDAQ: INSY) and Cara Therapeutics (NASDAQ: CARA) are among the most well-known.
And this week, NEMUS BioScience, Inc. (OTC: LGLRD) joined the foray by announcing its exclusive partnership with University of Mississippi (UM) for the further development and, if approved, commercialization of cannabis-derived products called cannabinoids that the university has been developing. NEMUS has entered into several license and research agreements with UM granting the company worldwide rights to the university's patents, formulations of the cannabinoid tetrahydrocannabinol, or THC, and several smoke-free delivery methods, including eyes drops.
When Robert Randall developed glaucoma in his teens in the early 1970s, an ophthalmologist told him that he would go blind within a few years. But Randall never lost his sight because he claimed cannabis lowered the pressure in his eyes and thus prolonged his ability to see.
Today, according to the National Eye Institute, over 2.7 million people in the U.S. have glaucoma but only half of those know it. It's not curable, and once lost, vision cannot be regained. "That's not acceptable," NEMUS CEO John Hollister told me,. "Cannabis has been shown in some studies to have benefits in the treatment of glaucoma by lowering pressure within the eye, but, because the existing approaches relied on systemic exposure, there can be unwanted negative consequences. That's why we are creating a new approach and treatment that allows for the delivery of drug by eye drops to multiple chambers of the eye resulting in absorption just where it's needed and will lower the pressure within the eye."
Hollister's strategy is based on a key research finding: traditional means of consuming cannabinoids (smoking or oral) for medical indications, can have significant bioavailability issues. NEMUS' Chief Medical Officer, Brian Murphy, M.D. explains, "Like other drugs, cannabis effects can vary from person-to-person based upon absorption and metabolism, resulting in no therapeutic impact and/or causing toxic side effects - that's why we're developing a drug pipeline of cannabinoid formulations, starting with Glaucoma, that deliver specific in what we anticipate will be a more predictable and safer way, compared to ingesting cannabis either orally or through inhalation."
But how do we know NEMUS's assumptions are right? Do we really need to pharmaceuticalize cannabis? It's a new question that will undoubtedly be debated in the next few years, but one powerful voice has already weighed in. Doctor Sanjay Gupta who was vehemently opposed to cannabis for medical reasons has recently switched positions after studying the issue, "There are very legitimate medical applications. In fact, sometimes marijuana is the only thing that works. We have been terribly and systematically misled for nearly 70 years in the United States, and I apologize for my own role in that."
From a distance, most people still view Cannabis as an illegal drug for hippies, drug addicts, or tuned out college students. But technology is allowing companies like NEMUS to fine tune the plant to focus on a legitimate and effective medicinal purpose that has been shown to help patients with Spasticity associated with Multiple Sclerosis and epilepsy.
Investors, of course, are paying attention and are lining up to invest in these companies. According to a recent survey by Investing.com, Mentor Capital and Forbes, 73 percent of investors and 60 percent of financial analysts are bullish about the potential to invest in cannabis-derived pharmaceutical companies.
According to another survey by GreenWave Advisors, (link opens a pdf), the medical marijuana industry will skyrocket to a $35 billion industry if the federal government changes its stance on the drug which is now considered a schedule 1 drug. That has many investors and analysts studying companies like NEMUS because the medical marijuana market is in its infancy and its potential upside is unlimited.
Robert Randall died in 2001 having never lost his eyesight. He never achieved his goal of legalizing cannabis for medicinal purposes. Still, in the next five years, and as the general public has become more accepting of cannabis and technology enables companies to develop cannabis-derived pharmaceuticals, we may see Randall's dream come true.
The question is: who, how and in what manner?
(Disclosures, The author does not have any stock positions in GW Pharmaceuticals (Nasdaq: GWPH), AbbVie (NYSE: ABBV), INSYS Therapeutics (NASDAQ: INSY) and Cara Therapeutics (NASDAQ: CARA) or NEMUS BioScience, Inc. (OTC: LGLRD). The author has conducted a survey with NEMUS (a client of his company Evolve!) Investing.com, and Mentor Capital which was mentioned in the article.)

Calling all HuffPost superfans!
Sign up for membership to become a founding member and help shape HuffPost's next chapter