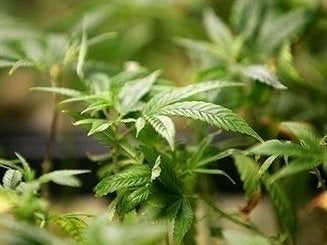 A bill to legalize medical marijuana narrowly passed the Illinois Senate Wednesday by a vote of 30 to 28, with 1 'present' vote.
That opportunity came late Wednesday afternoon, and passage of the controversial legislation was met with clapping in the Senate gallery.
"I'm very satisfied," Haine told the Huffington Post after the Senate adjourned. "It's a good bill, and it's on its way to the House. Realistically, I don't think they'll get to it this week, but it will be ready for them in the fall."
As the vote neared this week, Haine said he approached every senator and asked simply that each vote his or her conscience.
"I didn't do any arm-twisting," Haine said. "Nothing. I didn't put pressure on anyone."
The bill, which allows patients with diseases like cancer, multiple sclerosis and HIV/AIDS to use marijuana on their doctors' advice without the threat of arrest and incarceration, grew steadily more restrictive over the course of the legislative session in order to allay concerns of law enforcement officials.
The process for getting and filling a prescription for medical marijuana became more carefully controlled, the amount of cannabis plants that patients can have in their home declined and the State Police were given a more prominent role on an a state panel charged with monitoring the entire medical marijuana system.
During the nearly 45 minutes of deliberation, several senators rose to speak in favor of and in opposition to the controversial bill, with each side trying to characterize the bill as either an issue of compassion and common sense or as dangerous and reckless.
Sen. Dale Righter (R-Mattoon) called the bill a monstrosity and urged his colleagues not to start down the road to legalization.
Sen. Kwame Raoul (D-Chicago) teared up as he spoke about his father's painful death, for which he said pharmaceuticals offered little relief.
"You can pick over any bill that any legislator authors to divert attention away from the heart of the matter," Raoul said. "We can make this a political issue, but this is about compassion."
"Ladies and gentlemen of the Senate, John Adams, one of our founding fathers once said facts are stubborn things," Haine said right before the vote. "And the facts surrounding medical marijuana are that it does offer a benefit to those who suffer."
Sen. J. Bradley Burzynski (R-Sycamore) asked that the narrow vote be confirmed by a roll call, which it was.
After the recount, the gallery again erupted in applause.
Reflecting on the vote, Haine said he considered the bill's passage a milestone.
"We did something in the teeth of a preconceived notion of marijuana that there's nothing good to say about it, when the medical evidence is to the contrary," Haine said. "That's a sign of a mature society."
REAL LIFE. REAL NEWS. REAL VOICES.
Help us tell more of the stories that matter from voices that too often remain unheard.