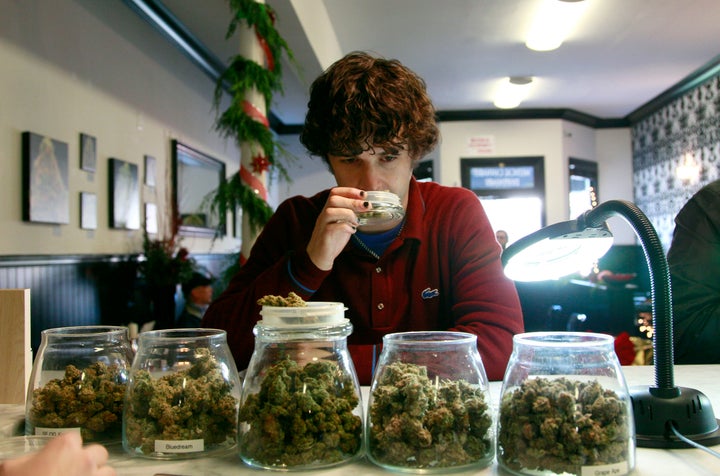 The one-of-a-kind cooperation between medical marijuana growers and the Mendocino County Sheriff's Department -- which legitimized cannabis cultivation in the eyes of the law and saved the jobs of deputies facing layoffs -- is at risk, pending the outcome of a court case.
Since 2010, Mendocino County marijuana growers with a doctor's recommendation have been permitted to license plants with Sheriff Tom Allman's department, under chapter 9.31 of the Mendocino County Code. Growers wishing to cultivate up to 99 plants must pay the Sheriff's Department an inspection fee and a $50 per-plant permit fee. In return, growers receive zip-ties that mark each of their 99 plants as certified legal, and the promise that the inspected medical marijuana crop won't be raided by local law enforcement.
But a court case out of Southern California could invalidate the program -- the first and only of its kind in California, according to Mendocinco County Counsel Jeanine B. Nadel.
In its opinion on Pack v. Long Beach, the state Court of Appeals ruled that state and local governments cannot issue permits for medical marijuana dispensaries or grows because in doing so, the government would violate the federal Controlled Substances Act.
"If the Pack decision stands, I think we would have issue with our permitting procedure," Nadel told SF Weekly shortly before the new year. "Our permit for 99 plants might be in jeopardy."
The state Supreme Court is expected to decide if it will hear an appeal from the city of Long Beach on the Pack decision sometime in February. If an appeal is heard, the 9.31 program can continue as normal while the case is in the courts, Nadel said.
If "the Supreme Court doesn't review it, or doesn't depublish [the lower court's decision], I think the county will have to look at re-evaluating the permitting portion of 9.31, because that's what Pack talks about," said Nadel, who added that she believes the voluntary zip-ties would be able to continue.
Growers with a crop of up to 25 plants are not required to obtain zip-ties, but may voluntarily choose to do so for $25 per plant.
The Pack decision has led cities and counties across the state to delay, rethink, or cancel outright laws permitting dispensaries and cultivation sites. In San Francisco, all new dispensary permit applications are on hold pending Supreme Court action.
A total of 91 growers participated in the Mendocino zip-tie program in 2011, according to Sergeant Randy Johnson, who oversees the program. That was good for $600,000 in revenue for the department, up from $60,000 in 2010, Johnson said.
The money saved the jobs of seven sheriff's deputies whose positions were identified for layoffs, Allman said last year. Most of Mendocino is unincorporated rural land, which means the Ukiah-based Sheriff's Department is the only law enforcement presence for an area about the size of Connecticut.
As much as two-thirds of Mendocino County's economy depends on medical marijuana, a 2009 CNBC documentary estimated.
Growers in Mendocino County were first informed of the Pack decision's potential impact in December, according to Chris Van Hook, an attorney who works as a third-party inspector for the 9.31 program in Mendocino County.
"It hasn't been suspended at the moment, but right now, everybody's paused," he said. "We're optimistic we can be up and running this year."
County supervisor John McCowen, who authored the law, did not reply to telephone messages seeking comment. Reached via cell phone, Allman declined to comment to SF Weekly.
Related
Popular in the Community