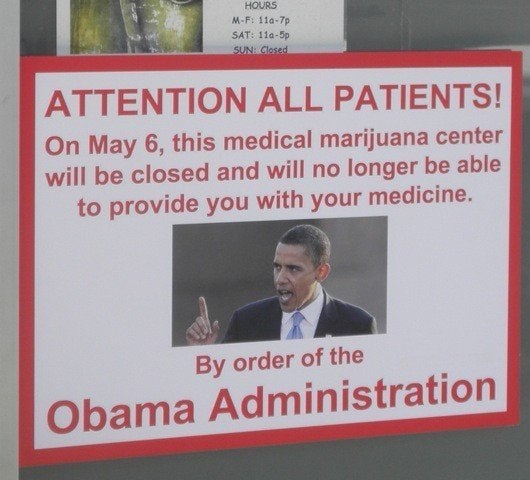 In its official party platform, the Denver County Democratic Party endorses the legalization of marijuana and the Colorado Democratic Party has announced its official support.
In March, 56 percent of the Denver County Republican Assembly voted to support legal and regulated pot, a question which will be on the November ballot.
The state has embarked on an ambitious effort to regulate its thriving medical marijuana industry. When it comes to marijuana policy, Colorado's voters, businesses, tax collectors, doctors and policy makers are moving forward. The lone holdout: President Barack Obama.
On Sunday, 25 medical marijuana centers across Colorado closed their doors in response to a Department of Justice crackdown which did not appear rooted in state or local law, as the administration had previously promised it would be.
The Obama administration, through U.S. Attorney John Walsh, ordered the centers in March to either move, shut their businesses down, or face criminal charges because, according to Walsh, they were within 1,000 feet of a school.
Although nothing in Colorado's medical marijuana law specifies the distance between a shop and a school, the decision, like most such zoning matters, is left to local communities.
"I can see no legitimate basis in this judicial district to focus the resources of the United States government on the medical marijuana dispensaries that are otherwise compliant with Colorado law or local regulation," Boulder District Attorney Stan Garnett told Walsh in a recent letter. "The people of Boulder County do not need Washington, D.C., or the federal government dictating how far dispensaries should be from schools, or other fine points of local land use law."
In mid-January, letters were sent from Walsh to 23 other medical marijuana businesses in Colorado. Those have since shut down, bringing the total number of shops shuttered as a result of Obama's coordinated effort to 47. (One center pointed out that the school it was near was no longer in use and the order was withdrawn).
The push against the Colorado businesses and the patients they serve is just the latest in the Obama administration's bizarre action against a plant that was at one point a cultural flash point, but which now religious leader Pat Robertson says should be legal.
The timing is also curious given the upcoming November election. Colorado's nine electoral college votes are up for grabs, and Obama's path to reelection gets very steep without the state in his corner. The legalization amendment on the ballot in November could drive otherwise complacent voters to the polls, but they may not end up backing Obama. Libertarian presidential candidate Gary Johnson is not ashamed to tout his support of pot legalization, threatening to syphon protest votes that otherwise would have gone to Obama.
The U.S. attorneys involved in the national crackdown, whether in California, Colorado, Rhode Island, Washington state or Delaware, insist that they are not participating in a national crackdown.
A spokeswoman for the DOJ referred questions to Walsh, but patients and shop owners are putting the blame squarely on Obama. "Attention All Patients! On May 6, this medical marijuana center will be closed and will no longer be able to provide you with your medicine. By order of the Obama Administration," reads a sign on one center shuttered Sunday.
In a letter to Garnett, Walsh reiterated his intent to close all dispensaries operating within 1,000 feet of a school, and noted these closures are "not at the direction of Washington, D.C., but [at Walsh's direction] as U.S. Attorney and as a Coloradan."
The reasoning behind the 1,000-foot boundary stems from federal law, which uses that measurement in drug-crime sentencing. There are many dispensaries in Colorado that were approved by state authorities, according to High Times, to be within 1,000 feet of schools
Marijuana, on the federal level is illegal, which gives the Obama administration every right to kick in the doors of dispensaries wherever it pleases -- raising the question of why it needs to use provisions not found in state law to target them.
Shortly after Obama took office, the DOJ, citing Obama's campaign promise, issued the Ogden Memo, vowing not to waste federal resources targeting patients and those who provide them medical marijuana as long as they remained compliant with state law. The memo led to the flowering of Colorado's medical marijuana industry. The DOJ now says people misinterpreted the memo.
During an April interview with Rolling Stone, the president tried to explain amid the ongoing crackdown, suggesting it is aligned with his original intent.
"What I specifically said was that we were not going to prioritize prosecutions of persons who are using medical marijuana," Obama said. "I never made a commitment that somehow we were going to give carte blanche to large-scale producers and operators of marijuana -- and the reason is, because it's against federal law."
The president continued: "I can't nullify congressional law. I can't ask the Justice Department to say, 'Ignore completely a federal law that's on the books.' What I can say is, 'Use your prosecutorial discretion and properly prioritize your resources to go after things that are really doing folks damage.' As a consequence, there haven't been prosecutions of users of marijuana for medical purposes."
The executive branch, contrary to Obama's assertion, has broad discretion over how it uses its limited resources. It is not forced to execute campaigns against medical marijuana shops based on the distances they are built from schools. It is free to reclassify marijuana as a drug to make it less restricted and more accessible, as several states have requested.
A December 2011 survey released by Public Policy Polling showed that a large group of Coloradans believe marijuana should not just be legal medically, but fully legalized. From the Public Policy report:
Coloradans are even more strongly in favor of legalizing marijuana, and they overwhelmingly believe it at least should be available for medical purposes. 49% think marijuana use should generally be legal, and 40% illegal. But explicitly for medical use, that rises to a 68-25 spread. Just five years ago, a referendum to legalize simple possession by people over 21 failed by 20 points. On the medical question, Democratic support rises from 64% for general use to 78%; Republicans rise from 30% to 50%, and independents from 54% to 75%.
Obama's war on medical marijuana also raises questions about job loss. "These are regular businesspeople who have invested a lot of money getting into this industry," Steve Fox, spokesperson for the Marijuana Policy Project, which is planning to invest at least $1 million in backing Amendment 64, said in an email.
"No one, as far as I know, is looking to be a martyr by directly challenging U.S. Attorney Walsh's order to close. Many of the medical marijuana centers are relocating, but some are unable and some others are just giving up and getting out of the business."
Related
Popular in the Community