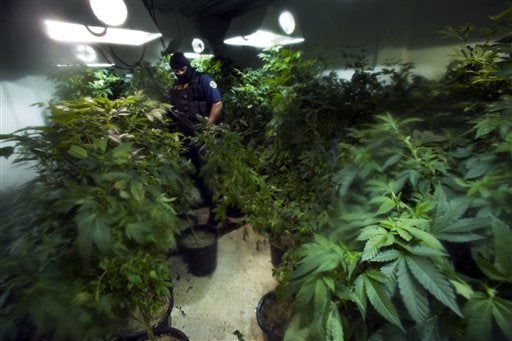 Medical marijuana advocates are hoping that a raid on a San Francisco club last week doesn't indicate a return to the Bush days and that President Obama plans to stand by his word to let such clubs operate as long as they are in compliance with state laws. But they've been burned too many times to be overly optimistic.
"This has a deeply suspicious feel to it, as if they're conducting business as usual with new rhetoric," says Kris Hermes, a spokesman for American for Safe Access, medical marijuana industry trade group and advocacy organization.
Drug Enforcement Administration agents raided a San Francisco cannabis club last week without the cooperation of local authorities, making no arrests but hauling out computers and club products. During the campaign, Obama pledged to end federal raids and Attorney General Eric Holder declared that promise to be law, but with the caveat that if clubs violated state law, the feds might intervene. Advocates note that the club in question, Emmalyn's California Cannabis Clinic, had a provisional permit from the city.
"We're concerned that the policy change that has been stated by the Obama administration has not actually gone into effect, because it appears that raids are continuing," says Hermes. "If there were state law violations - and that's certainly questionable - they should be the purview of local and state officials and not the federal government."
The DEA didn't inform the local police department it would be carrying out the raid, says San Francisco Police Department Sgt. Lyn Tomioka. "It isn't something we assisted them in," she says, adding that she has not yet heard from the DEA regarding and state or local violations. "I don't expect to hear from them."
Emmalyn's doesn't know much more than the police. "Basically, we don't know anything," says an employee reached by phone at the shop. "We won't know for another week or so."
The White House referred calls to the Justice Department, which referred calls to the DEA. The DEA said that state law had been violated but would not detail what law or how.
"It is disturbing that, despite the DEA's vague claims about violations of state and federal laws, they apparently made no effort to contact the local authorities who monitor and license medical marijuana providers," said Marijuana Policy Project California policy director Aaron Smith. "For an agency that for eight years said it couldn't care less about state law to suddenly justify raids as an effort to uphold state law simply doesn't pass the smell test."
The DEA says the evidence is under seal. "The documents relating to today's enforcement operation remain under court seal. Based on our investigation we believe there are not only violations of federal law, but state law as well. As of now we are prohibited from releasing further details of the case. Items of evidentiary value were seized and no arrests have been made. The investigation is currently ongoing," said DEA Special Agent in Charge Anthony D. Williams in a statement.
Holder, in announcing the policy of ending raids on legally operating clubs, said that shady owners shouldn't try to hide behind the new order. "[T]he policy is to go after those people who violate both federal and state law," he said. "And to the extent that people do that and try to use medical marijuana laws as a shield for activity that is not designed to comport with what the intention was of a state law, those are the organizations, the people who we will target. And that's consistent with what the president said during the campaign."
Chris Daly is the city supervisor who represents the area the club operates in. He says that the DEA, as far as he knows, didn't consult with local politicians or law enforcement. "My hope is that there's a communication disconnect between the new administration and the enforcement agents out on the street," he tells the Huffington Post. "Certainly the people of California have spoken. Cities like San Francisco have taken it upon ourselves to provide meaningful and sensible regulations on the dispensaries to both preserve the safe and adequate access to medical cannabis for those who need that medicine as well as to balance that with abuse and neighborhood concerns."
Daly has higher expectations of the current administration, he says, than he did of the last. "With an Obama administration, we'd like to think they'd respect the state of California and cities and jurisdictions like San Francisco," he says. "With the Bush administration, obviously, it was not the same kind of relationship or expectation."
Popular in the Community