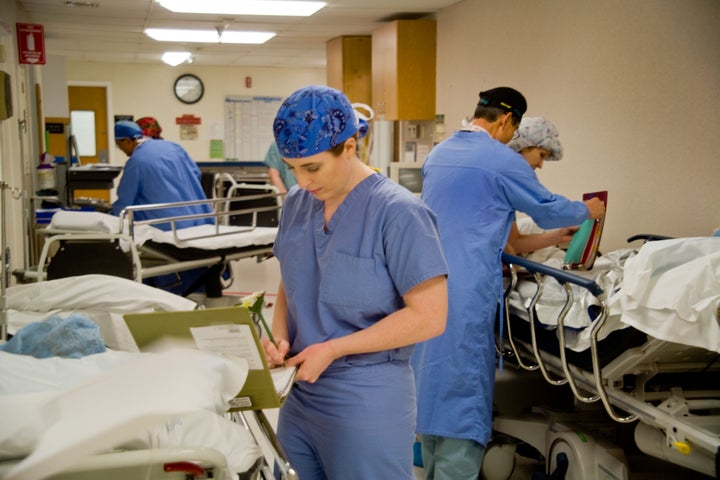 It's astounding to me how impressive the healthcare system can be one minute and how downright terrifying it can appear the next. Lives are on the line every second of every day in healthcare and still, despite its larger than life responsibility and mission, the healthcare industry struggles to achieve widespread effectiveness and efficiency.
Over the last few years we've heard a lot about electronic health records (EHRs) and rightly so considering what a central focal point they've been from a governmental funding standpoint. Now, as we begin to talk more about making EHRs user-friendly and smart, we need to start thinking about ways to pursue intelligent use of data, as well as ways to streamline the exchange and interoperability of data. It's time to simplify the transformation of patient data into actionable insight.
What I would like to challenge you to think about is how physicians can adopt enabling technology in order to make the leap to a smarter approach to capturing, understanding and using clinical data for patient and business good.
Simplifying a Patient's Complex Story
The question is, what are doctors supposed to do in the midst of their transition to EHRs to ensure they're providing first-rate care for patients while also taking steps to reimagine what once was a paper-based system (with little-to-no data insight and real-time analytics)?
This is a fascinating time for the medical community as many consumer-oriented technologies -- particularly mobile devices -- are playing a role in the clinical world. We've seen the adoption of smartphones, tablets and iPads increase over the last few years and in tandem, we've seen the level of frustration skyrocket for healthcare professionals who are irked by the inefficiencies associated with trying to leverage these devices as a means to capture patient information in the rigid, structured fashion required to support detailed, regulatory reporting requirements. In the end, what's needed is a balance between the structure to serve reporting needs and the 'unstructure' to express the essence of what's happening with each individual patient.
Many healthcare IT vendors (EHRs, RIS, PACS and mHealth leaders -- see one powerful example in the video below) have caught wind of the voice-powered trend (no, it's not just for Siri!) and have begun to mobilize and speech-enable their solutions to streamline clinicians' ability to capture the patient story via voice, no matter if their using a mobile device or a desk-top solution. This advancement is helping to drive a much needed data-capture efficiency and effectiveness chain of events -- patients' stories are captured faster, in a more complete manner, and as part of a natural workflow that many doctors prefer.
The Patient Story: Now What Do We Do With It?
The potential to use captured clinical data for complex insight into inefficiencies in business processes and/or big picture insight into large population health trends is not something we -- as part of the healthcare community -- can pass up. Today, clinical language understanding (CLU) technologies (a clinical-specific form of natural language processing) are available and already enabling healthcare professionals to process, interpret and then leverage what becomes meaningful data (knowledge) vs. a sea of data.
In addition to increased data insight afforded by the adoption of clinical language understanding-powered solutions, these technologies can make regulatory reform more realistic. When it comes to the transition to ICD-10 code explosion (albeit a delayed transition), there are solutions that can engage the physician as a gentle assistant of sorts by prompting for complete documentation if sufficient detail is not offered up at the time of clinician documentation. Moreover, considering the widespread frustration surrounding the cost of care, these same CLU technologies can enable physicians to concurrently address concerns while actually treating patients. In other words, CLU technologies can help enable smarter decision-making at the point-of-care, identifying patients in need of intervention and empowering care teams to make a difference - far better than retrospective review that may not catch potential issues because of a lack of real-time information and insight.
We are at a dynamic point-in-time in healthcare -- one where the capture of data (patient information) is critical. Beyond capture, we're faced with a rare combination of pressures (Meaningful Use, ICD-10, evidence-based medicine, quality performance, etc.) that demand deeper insight into clinical data and a better understanding of how this information can drive change and improvement. These pressures combined with the rapid pace of adoption of a more digital approach to care -- for patients and providers alike -- has created an opportunity for us to gain ground on healthcare effectiveness and efficiency moving forward.

REAL LIFE. REAL NEWS. REAL VOICES.
Help us tell more of the stories that matter from voices that too often remain unheard.