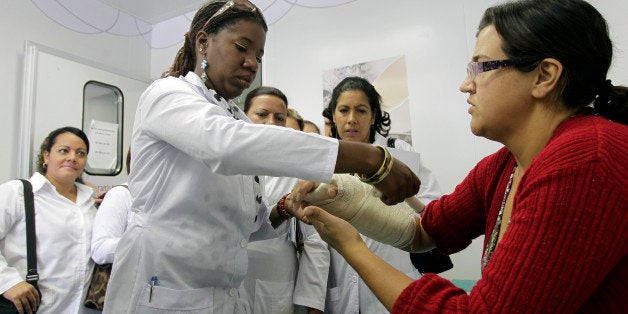 "What I will miss most about Cuba is waiting in the bread line."
So says a young Cuban doctor, displaying humor before leaving for Venezuela. The Medica is strikingly beautiful, resembling a young Gloria Estefan of Miami Sound machine fame. But there the resemblance ends. The women -- both Cuban -- are as opposite socially, politically and ideologically, as music is to medicine. Twenty-four-year old Dr. Yaquelin Manero Bastista believes that music may soothe the savage beast, but it takes a doctor to cure him.
Medicine propelled Dr. Bastista, from the tiny sugar-mill town of Baquanos to the University of Holguin, in the eastern province's capital city. There, after six years of intense study, she earned her medical degree with a specialty in physical rehabilitation.
"The most rewarding experience in my career so far was helping to bring a child into the world," she says, her dark eyes sparkling.
Tomorrow, Dr. Batista will board a bus to Havana, the first leg of a journey that trades her healing skills for oil.
Like the majority of Cubans, she's never been off the island. That changes next week when she boards a plane for Caracas, Venezuela. On the eve of her departure on a two-year mission, though nervous and excited, Dr. Bastista gathers with her cousins, economist Susan, and Tanya, the owner of a soon-to-open hair salon. The trio, close in age, are flowers from the same stem, raised together in the countryside as sisters, best friends.
Tanya -- my fiancée -- and I had rushed back from the beautiful beaches of Guadalavaca to attend this intimate gathering. We met last June in Havana, where I was competing in the Hemingway Marlin tournament. Now, I had flown from Miami to Holquin to arrange wedding plans. Upon my arrival, my soon-to-be-Cuban extended family had welcomed me like a prodigal son with a pig roast in the remote countryside of Baquanos.
The exchanges tonight are lively, full of remembrances punctuated with laughter. But, beneath the surface of the gathering, apprehension lingers. It's fear for Dr. Bastista's future. The young women are aware of how dangerous Venezuela has become, so concern for the dedicated doctor is real.
"I will miss the freedom of Cuba," she adds seriously. In Venezuela, she will be behind locked doors, from dusk to dawn, a necessity for her and her colleague's safety. "I like to walk the streets of Holguin, sometimes late at night. I will miss that."
Once in country -- after a week of orientation -- she will be assigned to one of the barrios or rural pueblos where she and other health professionals will treat Venezuela's poor. "Doctors for oil" it's called. And it's the most important exchange in Cuba today. Venezuela supplies the largest of the Antilles with 100,000 barrels a day in payment for these trained medical professionals -- a sweetheart deal, say some.
To Dr. Batista, the politics are unimportant. In serving, she sees only the chance to help and learn. Many of the health problems she will deal with in Venezuela have been eradicated in Cuba, so opportunity overshadows the danger of living in a country with one of the highest murder rates in the world.
Dr. Bastista describes the selection process with pride -- passing the interviews, background checks, and personal recommendations by neighbors, colleagues and teachers.
For her service, two-hundred convertible pesos (approximately two-hundred dollars) per month will be deposited in a Cuban bank. On her return, Dr. Bastista will be issued a debit card for the account, which also authorizes a 30 percent discount for purchases in government stores. Should she serve another two-year term, she would be eligible to purchase a late-model car at a substantially reduced price.
Oil for Doctors would appear a win-win situation for Cuba and Venezuela alike. But critics of the program exist in both countries.
Many complain the assignment of so many medical workers across South and Central America and Africa deprives Cubans themselves of sufficient doctors needed to staff its own highly touted free-health-care system.
On the Venezuela side, many criticize the cost of the medical service, believing it overpriced.
"Even though my group will total 70 doctors from Holguin province," Dr.Batista explains, "it will create no shortage. Each year, Holguin University graduates between 500 and 550 new doctors. Add those to the returning medical personnel and the care of our countrymen will not suffer."
"As far as the cost, what price can one place on a life, be it the birth of a healthy baby, the curing of disease or the relief of pain? Ask a poor Venezuelan mother or father what price they place on the health of their children."
The party breaks up finally, no one wanting to leave. These women have grown up together, sharing so much of their young lives and are fully aware tomorrow will bring an end to a chapter, one that will never be relived.
Susan will soon will leave the island to live with her new husband in Switzerland, Tanya will remain in Holguin and, with the opening of her business, join an emerging class of Cuban entrepreneurs.
It's a new story in Cuba -- young people heading off island, striking out, experiencing a world outside the revolution.
And today, thanks to the 2013 elimination of the hated "exit visa" by current president Raul Castro, most Cubans may come and go as they please -- or as their personal finances allow. No longer branded traitors to the revolution, now they retain their property and citizenship while traveling abroad.
Cuba currently claims some 80,000 medical personnel, who serve in more than 20 countries worldwide. In Brazil, arriving doctors have been met with protest and branded "medical slaves."
Told of this, Dr. Batista merely smiles. "Do I look like a slave to you?
This post is part of a Huffington Post blog series called "90 Miles: Rethinking the Future of U.S.-Cuba Relations." The series puts the spotlight on the emerging relations between two long-standing Western Hemisphere foes and will feature pre-eminent thought leaders from the public and private sectors, academia, the NGO community, and prominent observers from both countries. Read all the other posts in the series here.
If you'd like to contribute your own blog on this topic, send a 500-850-word post to impactblogs@huffingtonpost.com (subject line: "90 Miles").
REAL LIFE. REAL NEWS. REAL VOICES.
Help us tell more of the stories that matter from voices that too often remain unheard.