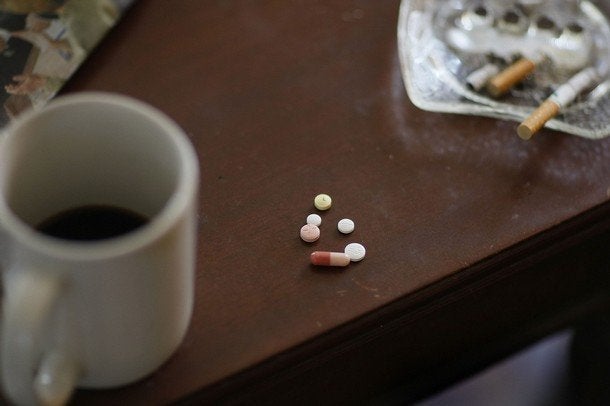 Curtis Smith is retired, but his body doesn't know it yet. The 72-year-old's eyes still pop open at five a.m. every morning, just as they did for decades. With no job to go to, he lays there.
"You're in the bed; you can't rest. You just lay there. And when it's time for me to go to work I get up and wander around like somebody lost, wanting to go," he says.
The rest of the day is just as empty. "Man, it's miserable," he says. "Television. Walk from room to room. It's too dangerous in Washington to do much walking around, especially old people. You walk around the street--you may come back, you may not. You know how this District is," says the longtime resident of Anacostia, a neighborhood south of the river in Washington, D.C.
The tedium was broken one morning this summer when a young woman knocked on his door. His wife told him not to answer. Nothing good could come from it.
"Most time she's right, I have to give her credit," he says. "If I'd have listened to what she said, I wouldn't be in the predicament I'm in now."
The next time Smith went to his pharmacy, he was told he was no longer covered. When he went to Howard University Hospital for a colon cancer procedure, he was told the same thing. His wife sent him to the local Legal Aid Society of the District of Columbia.
The woman who'd knocked was a sales rep from EverCare ("We care about healthcare"), a company that sells Medicare Advantage plans, which are privately run and can be more expansive - with vision and dental coverage - but have a smaller network of providers that participate. In practice, the extra vision and dental coverage is often of negligible benefit and doesn't outweigh what's lost by leaving traditional Medicare - but it looks good at first.
The sales rep told him her plan would be cheaper and would provide vision coverage, something Smith, whose eyes are deteriorating, had wanted. "She told me to sign it. It was a piece of paper just like one of these right here," says Smith, who can't read well. "A big piece of paper. And she had read me something about the benefits being better and cheaper and I signed it." (An EverCare spokesman said he couldn't comment on any specific case.)
If you or someone in your family have been tricked into joining a Medicare Advantage plan, send your story to submissions+medicare@huffingtonpost.com.

Medicare Advantage plans have long been targeted by Democrats, who argue that deceptive marketing practices trick patients into shoddy coverage that the government overpays for. The insurers don't explain what the holes in the benefits are or that they may no longer be able to go to their same doctor, pharmacy or hospital. But with Bush in the White House, the plans were safe.
On average, the government pays about 14 percent more for a Medicare Advantage plan than a regular Medicare plan. Obama hopes to wring billions in savings by reducing that premium. He'll then reinvest the savings - an estimated $177 billion over ten years -- in his push for universal healthcare. The plans cover some 11 million patients. The news that the profitable plans were under fire sent health insurance stocks tumbling.
On Tuesday, Office of Management and Budget chief Peter Orszag told a gathering of AHIP (the lobby for America's Health Insurance Plans) that the administration was set on cutting the program. "It won't be popular," Orszag told the insurers. And indeed it wasn't. A low level murmur and discontented rustling interrupted the otherwise polite meeting.
"Good thing there aren't tomatoes on the table," said an attendee sitting next to the Huffington Post.
But Orszag, who's leading Obama's healthcare reform effort, didn't back down. "Evidence suggests that each dollar provided under Medicare Advantage costs the government a dollar thirty in costs," he said. "I believe in competition. I don't believe in paying a dollar thirty to get a dollar."
Robert Zirkelbach, a spokesman for AHIP, said that Obama's cuts will mean less coverage for seniors. "We commend the president for prioritizing healthcare reform and for setting aside the resources that are needed. Unfortunately, the budget proposal would rely on seniors and Medicare Advantage to fund a disproportionate share of those costs," he said. "We believe that the entire Medicare program, including Medicare Advantage, needs to be looked at in the context of comprehensive healthcare reform."
The administration is not calling for an end to the plans, but rather that they be required to bid for the premium instead of simply being handed it. Reducing the premium could also reduce the fraud. Take the example of Curtis Smith: an elderly patient on a fixed income getting cancer treatments isn't any insurers idea of an ideal customer. But agents who sign patients up are generally paid a commission up front, so there's little incentive for them to do a longterm cost-benefit analysis. Once companies start doing that calculation under the new, reduced premium, tricking sick, old people into signing away their Medicare plan will be less profitable.
Instead, they'll likely do more of what Bill Vaughan found in February in Pinellas County, Florida. Vaughan, a former healthcare staffer with Rep. Pete Stark (D-Calif.) who's now with the Consumers Union, was on vacation and undertook a personal project. He noticed that Medicare Advantage companies were scheduling a number of meetings throughout the county in disproportionately wealthy and predominantly white areas. Unlike individual agents, the companies themselves have an incentive to sign up wealthier patients, who tend to be healthier on average.
Vaughan analyzed 70 meetings and found only six were in a census tract with a below average percentage of whites or above average percentage of African Americans. Twenty-five of the 70 were in areas with a below-average income. Vaughan called it "a classic case of skimming or seeking out healthier than average people."
"Medicare Advantage plans go out of their way to target patients with chronic conditions," countered Zerkelbach.
It was a moot point for Smith; he didn't stay on EverCare's rolls for long. Smith had two things most victims of such policy-switches don't: access to free legal help in his neighborhood and a wife smart enough to tell him to use it. His attorney at Legal Aid, Jennifer Hatton, pressed the Centers for Medicare and Medicaid Services (CMS) to rescind his enrollment in the Medicare Advantage plan, arguing that it was done fraudulently and was therefore illegitimate. CMS has long battled with shady marketing practices employed by Medicare Advantage companies. The agency has increasingly tightened what they're legally allowed to do, but policing against all situations like Smith's is a practical impossibility.
In late February, CMS apparently agreed that Smith had been enrolled under illegitimate circumstances. (The agency didn't return a call for comment.) CMS, as a result, agreed to retroactively disenroll him from EverCare and re-enroll him in traditional Medicare.
Arthur Delaney contributed reporting to this story.
Popular in the Community