Imagine yourself in this situation.
You're in your mid-40s. You've worked hard all of your life. You own a modest home. Like a good American citizen, you paid your taxes every year. You saved for your retirement in order to comfortably live out your golden years. Then, you acquire a serious health condition. Your savings are wiped out. You're forced to go onto disability. You lose your modest home.
Your medical condition is incurable and requires very expensive special medical procedures just to keep your health from worsening. And the long list of medications add to the expense of your survival. Eventually, your savings melt away like an ice cube in the hot July sun.
Perhaps you're already in this situation, so you don't need anyone to paint a picture in your head.
I have a friend who's currently living her own version of this nightmare. She's been in a struggle with the Social Security Administration (also known as the "SSA") and Medicare to get what is known as Extra Help from Medicare with her prescription drug costs. Her struggle has been with their written guidelines.
This past week, I watched her spend hours bouncing from one agency to another as she received information that contradicted their own regulations and documentation. She's been declined because she exceeds the income limit for the program. She doesn't make a lot, but I guess the line has to be drawn somewhere. She happens to be above it where she makes just enough not to be in poverty.
Without the Extra Help, this would mean she'd have to continue paying for those high medical prescriptions alone, along with her normal living expenses, such as food, shelter, and utilities.
However, according to their own documentation, she would automatically qualify for the program under certain situations.
This back-and-forth has been going on since September of 2013, made even more stressful because she's also on oxygen. And there seems to be no end in sight.
Medicare and You, the "official U.S. government Medicare Handbook", Section 7--Get Help Paying Your Health & Prescription Drug Costs states:
You automatically qualify for Extra Help if you have Medicare and meet any of these conditions:
You have full Medicaid coverage.
You get help from your state Medicaid program paying your Part B premiums (in a Medicare Savings Program). See pages 108-109
You get Supplemental Security Income (SSI) benefits.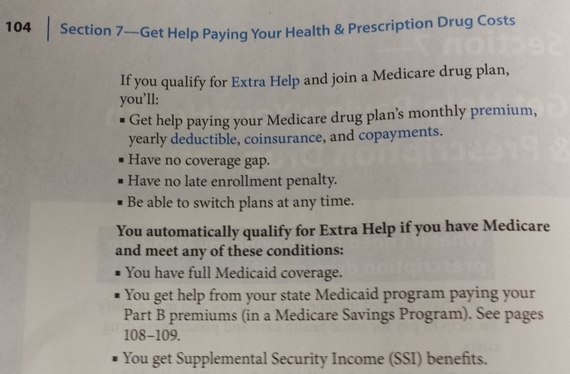 In addition, toward the top of their General Instructions for Completing the Application for Extra Help with Medicare Prescription Drug Plan Costs (Form SSA-10208-OCR-SM), it states:
Do you have Medicare and Supplemental Security Income (SSI) or Medicare and Medicaid?
If the answer is YES, do not complete this application because you automatically will get the Extra Help.

My friend has Medicare and Medicaid (known as Medi-Cal in California, her home state). Why can she not automatically qualify for the Extra Help from Medicare? Are there others who are falling through the cracks of this program? Or are we reading this completely wrong?
No matter what, no one has clarified why their documentation says one thing, while they're telling people something completely different. Is this any way to run such an important government agency?
Popular in the Community