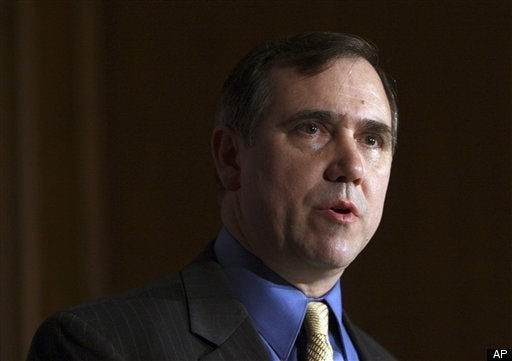 Democrats in the Senate may not have a filibuster-proof majority for the latest health care compromise after all.
Sen. Jeff Merkley (D-Ore.), expressed deep concern on Thursday that a new proposal to expand Medicare to those as young as 55 would seriously exacerbate health care-related problems already existing in his state.
"The basic challenge for Oregon is that a program that expands Medicare using existing Medicare rates would be of very little use in our state," the senator told the Huffington Post. "And the reason why is because the reimbursement rates are so low in the state of Oregon that doctors aren't taking additional Medicare patients... They can fill their agenda and their schedules with higher-paying patients."
One of the leading young progressive voices in the party, Merkley would not discuss how the Medicare buy-in provision will ultimately affect his position on reform, saying he had to wait for more details before making up his mind. But his objections complicate the notion that Senate Democrats now stand on the doorstep of historic legislation. The Oregon Democrat said he is going to work to make sure his state and others aren't disadvantaged by the newest wave of health care reform compromises. Medicare expenditures by the federal government, he noted, are 25 percent more (per person) in California and 38 percent more (per person) in Florida than they are in Oregon.
"We must succeed in repairing this broken system. But it doesn't get repaired by creating a major program that does not help states like Oregon," Merkley said.
Merkley complained about other aspects of reform negotiations, adding that many questions remain unanswered. The senator said that he was "enormously frustrated" by the unwillingness of his party's more conservative members deal with its progressive members on a public option for insurance coverage.
"There should have been the possibility to strike a deal given the flexibility that was expressed and obtained over opt-in and opt-out or the other issues," he said, in reference to the compromises he and other progressives were willing to make. "And no deal came forward."
And in light of the dropping of the public plan, he stressed that Democrats had to try and improve the negotiating power of the health care exchanges being structured in individual states.
Merkley also echoed concerns aired by Sen. Russ Feingold (D-Wisc.) that dropping the public option from the Senate's version of legislation could mean a drastic loss of potential savings in the health care system (the public plan could save roughly $25 billion over the next decade, according to the Congressional Budget Office).
"That would be a big problem," Merkley said, when asked if the CBO gave the Medicare buy-in a poor scoring, compared to the public plan.
Merkley, like others in the Senate, said he would reserve final judgment on the bill until that CBO score was final. Until then, he was relatively tight-lipped about his vote.
Popular in the Community