 We hear a lot about how Medicare spending is out of control and will bankrupt the federal government and devour the economy if left unchecked. When Congress returns from its pre-inauguration recess and renews its debate on raising the debt ceiling and preventing steep across-the-board cuts to Medicare, defense and other programs, the noise level will only increase.
During the fiscal year that ended Sept. 30, 2012, the amount Medicare spent per beneficiary rose by just 0.4 percent. That's three percentage points less than the economy, as measured by gross domestic product, grew during that same period.
To put that in context, escalating Medicare spending per beneficiary outpaced GDP growth by 2.7 percentage points between 1970 and 2010. Since then, per-person Medicare spending went up an average of 1.9 percent.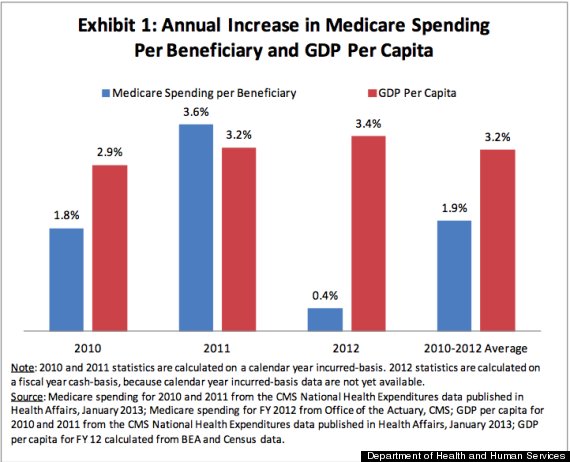 The Obama administration says health care reform is a big reason why. Considering the law cuts $716 billion in Medicare payments to health insurance companies, hospitals and other medical providers, that makes sense. The law has a slew of other provisions that might slow down spending, too, such as payment penalties for hospitals that have high rates of infections among their patients.
Health care spending growth overall has been relatively modest recently. From 2009 through 2011, government, business and household spending on health care increased just 3.9 percent each year, the lowest inflation since independent actuaries at the Centers for Medicare and Medicaid Services started tracking these data more than 50 years ago.
This broader trend is largely attributable to the Great Recession and the sluggish recovery. In other words, more people lacked health insurance and money so they went without medical care they may have needed, the actuaries' audit concluded. Thursday's report acknowledges this factor but suggests it applies less to Medicare beneficiaries since most of them have supplemental health insurance plans and are less exposed to out-of-pocket costs.
Does any of this mean Medicare is doing just fine so Obama and Congress should leave it alone? Not really. Medicare spending per person grew only a little but the program's total spending is still going up. As the Department of Health and Human Services notes, the Baby Boom generation is just starting to retire so Medicare will be covering many more people over the coming years and thus spending much more money. That's one reason why Obama proposed an additional $400 billion in Medicare spending cuts in his last budget.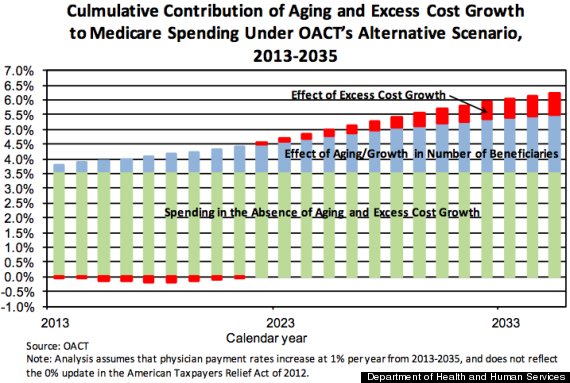 Popular in the Community