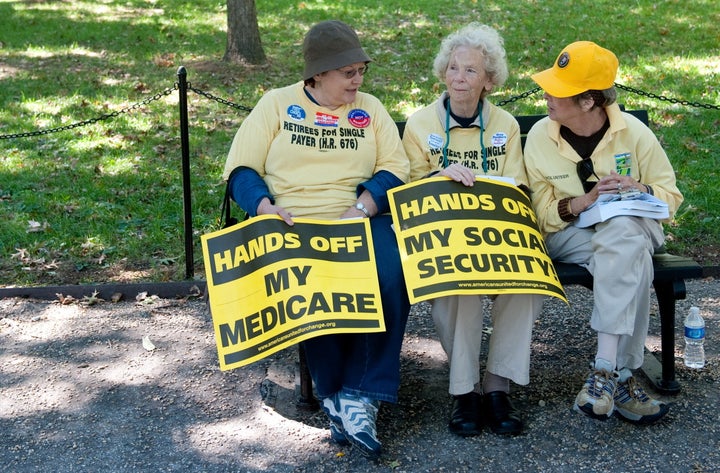 WASHINGTON -- A coalition of progressive groups is warning swing state Democrats to think twice before embracing parts of the Republican budget plan that would privatize Medicare and cut Medicaid.
Armed with a stark set of polls they plan to release this week, the groups -- Progressive Change Campaign Committee, Democracy for America, MoveOn.org and Credo Action -- are telling Democratic Sens. Sherrod Brown (Ohio), Claire McCaskill (Mo.), Jon Tester (Mont.), and Amy Klobuchar (Minn.) to stand tall on the popular social safety net programs.
"Democrats need to say firmly that any tampering whatsoever with Medicare and Medicaid benefits is off the table," said Charles Chamberlain, Democracy for America's political director.
All four of the senators are up for reelection in 2012.
McCaskill's Missouri shows the largest divide in surveys done by the Democratically friendly Public Policy Polling, especially on Medicare. When asked, "In order to reduce the national debt, would you support or oppose cutting spending on Medicare, which is the government health insurance program for the elderly?" just 19 percent of respondents said they would, while an overwhelming 77 percent said they would oppose cuts.
Similarly, 20 percent back cuts in Brown's Ohio, while 76 percent oppose them. In Tester's Montana, it's 24 percent favoring cuts and 71 percent against. Just 26 percent of Minnesotans would want Klobuchar to vote to cut Medicare, while 69 percent say to vote against.
Brown's spokeswoman, Meghan Dubyak, said there was no chance her boss would bend on Medicare, pointing to a letter he wrote recently defending the program.
"Sen. Brown strongly believes that any effort to dismantle Medicare as we know it to give extra tax cuts to millionaires is a non-starter," Dubyak said. "That's why he led 50 of his colleagues in a letter expressing solid opposition to Medicare privatization."
The numbers are almost as sharp on support for cutting Medicaid in all four states: Ohio is 33 percent in favor to 61 percent against; Missouri is 32 percent to 63 percent; Montana is 36 percent to 59 percent; and Minnesota 33 to 62 percent.
The GOP budget proposal penned by Rep. Paul Ryan (R-Wis.) released in April advises turning Medicaid into a grant program run by the states, while the federal government would subsidize retirees buy Medicare plans themselves in the private health insurance market. The Congressional Budget Office estimates that seniors' medical costs would rise twice as fast under the GOP Medicare plan as they are rising now, hitting more than $12,000 in out-of-pocket costs in 2021.
Democrats have been pounding the GOP relentlessly on the issue, and it's become a central issue in Tuesday's special election in New York's Republican-leaning 26th Congressional District, where the Democrat took the lead over the weekend.
The Democratic Party is showing no signs of letting up, but the progressive groups wanted to remind the swing-state senators that moving toward the GOP position could hurt them as they head into their campaigns.
"Democrats are right to blast Republicans for supporting Paul Ryan's plan to eliminate Medicare," said Stephanie Taylor, the co-founder of the Progressive Change Campaign Committee. "This polling shows that Democratic incumbents facing re-election in 2012 will have overwhelming support if they defend Medicare and Medicaid -- and will have serious problems if they vote to cut either program in any way."
Some critics have downplayed the results of PPP polling as favoring Democrats, but the questions in these surveys were modeled on the well-regarded ABC News/Washington Post survey, which found similar results nationally in late April, with just 21 percent supporting Medicare cuts and 30 percent supporting Medicaid cuts.
The PPP surveys had margins of error ranging from 2.6 percent to 3.1 percent.
This story was updated to add a comment from Sen. Sherrod Brown's office.

Popular in the Community