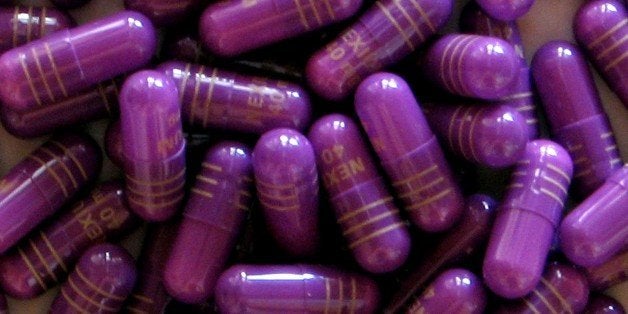 Medicare spends more than $100 billion on drugs a year, with medications for high blood pressure and high cholesterol among the most commonly prescribed, according to a trove of data released by the federal government Thursday.
The Centers for Medicare and Medicaid Services published 23 million pieces of data detailing the prescribing habits of more than 1 million medical providers in 2013. The information includes $103 billion in drugs, prescribed to 36 million people. It's the latest initiative by the agency to make public previously unavailable information about the massive federal health care program for senior citizens and people with disabilities. The information could prove useful in efforts to reduce program spending and uncover improper or fraudulent prescribing by physicians and others.
The new data highlight a fact understood by practically any American who has ever picked up a prescription at the pharmacy: brand-name drugs are much costlier than generic medications. The drug with the highest number of Medicare billings, lisinopril, cost the program $8.33 per claim, while the medicine that was Medicare's highest expense, Nexium, cost 37 times as much at $308.37 per claim.
"We know that there are many, many smart minds in this country that can help us see these data in new and better ways. We're excited to unleash those minds and see what they can find," Sean Cavanaugh, director of the health care agency's Center for Medicare, said during a conference call with reporters Thursday.
The 10 prescription medicines Medicare paid for most often -- all generic -- generated 306.6 million claims at a cost of $4.14 billion dollars in 2013, or $13.50 per billing to Medicare. Ten brand-name drugs made up the list of the most expensive medicines, and the 4.6 million claims for these drugs cost $18.78 billion, or $343.96 per prescription filled. Those 10 branded pharmaceuticals accounted for almost 5.5 percent of the total spending by Medicare Part D, the program's prescription drug benefit, in 2013.
Nexium, a heartburn treatment known as the "purple pill" that's manufactured by AztraZeneca, cost Medicare the most, totaling $2.53 billion in 2013. Nexium became available as an over-the-counter medicine last year. The Food and Drug Administration approved the predecessor to Nexium, Prilosec, for sale without a prescription in 2010. Nevertheless, Medicare paid 32.3 million claims for omeprazole, the generic version of Prilosec, at a cost of $643 million in 2013.
In addition to Nexium, Medicare spent more than $2 billion on three other prescription drugs in 2013: GlaxoSmithKline's Advair Diskus for respiratory illnesses; AstraZeneca's Crestor for high cholesterol; and Bristol-Myers Squibb's Abilify for depression, schizophrenia and bipolar disorder.
Crestor remains a top expense for Medicare, despite the availability of similar cholesterol medications in the "statin" family as lower-cost generics, including simvastatin (sold by Merck under the brand name Zocor) and atorvastatin (sold under Pfizer's brand name of Lipitor). Medicare paid 36.7 million claims for simvastatin at a cost of $433.7 million in 2013, making it the second-most prescribed drug in the program. Atorvastatin ranked seventh.
A high blood pressure medication called lisinopril accounted for the largest number of Medicare claims in 2013, 36.9 million, and the program spent $307 million on it. Medicines to treat thyroid disorders, pain, diabetes and heart disease rounded out the list of drugs with the most claims. Pharmaceuticals for respiratory ailments, depression, high cholesterol, diabetes, Alzheimer's disease, anemia and cancer made the list of the costliest drugs.
The new data from Centers for Medicare and Medicaid Services includes the total cost of each claim, including the amounts paid by the federal government and the patient, along with any supplementary insurance coverage a beneficiary had. Claims include new prescriptions and refills. These figures do not include spending for pharmaceuticals administered to patients by physicians in their offices, which are covered by Medicare Part B, another component of the program.
The Medicare agency also highlighted patterns in the ways physicians and other medical personnel prescribe drugs. For example, internists and family doctors issued the most prescriptions, followed by nurse practitioners, neurologists and psychiatrists. However, the cost per claim of the drugs prescribed by the latter three types of provider was higher than that of the medicines prescribed by internists and family physicians.
Calling all HuffPost superfans!
Sign up for membership to become a founding member and help shape HuffPost's next chapter