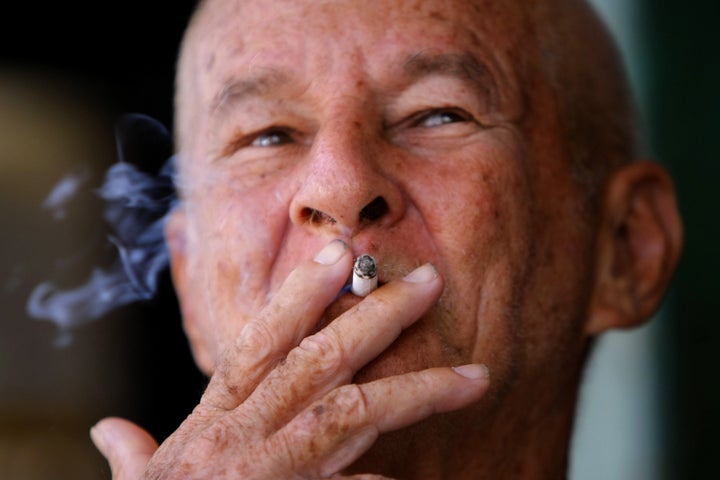 Medicare coverage for seniors trying to quit smoking has been expanded to include those who have not already been diagnosed with a tobacco-related disease, the Obama administration announced Wednesday.
Previously, Medicare only offered coverage for tobacco-related counseling for patients already suffering from a tobacco-related illness.
The new rules will cover up to two tobacco-cessation counseling sessions annually and as many as four individual sessions per attempt.
"For too long, many tobacco users with Medicare coverage were denied access to evidence-based tobacco cessation counseling," said Health and Human Services Department Secretary Kathleen Sebelius in a statement. "Most Medicare beneficiaries want to quit their tobacco use. Now, older adults and other Medicare beneficiaries can get the help they need to successfully overcome tobacco dependence."
The policy represents another step in the Obama administration's larger effort to push the nation's health care system toward preventative measures. The strategy is particularly important for tobacco users since once a patient has been diagnosed with cancer or heart disease, it is often too late for tobacco cessation treatments.
The 1-year relative survival for lung cancer increased from 35 percent in 1975-1979 to 42 percent in 2002-2005, largely due to improvements in surgical techniques and combined therapies. However, the 5-year survival rate for all stages combined is only 16%, according to the American Cancer Society's Facts & Figures 2010.
Meanwhile most patients with coronary artery disease show no evidence of the disease before experiencing a sudden cardiac arrest. Early prevention -- quitting smoking preemptively, that is -- is the most effective way to reduce the risk of what's been termed "sudden death."
Another report by the ACS found that minorities and those with low socioeconomic status have disproportionately lower access to effective cessation treatments. "Improving access to these services by promoting coverage for these treatments through government health programs, including Medicaid and Medicare, and private health insurance mandates can help reduce these disparities," the study found.
Now HHS is following that advice, but it won't be cheap. Tobacco-related diseases are set to cost Medicare roughly $800 billion between 1995 and 2015. Still, it's cheaper than letting seniors develop cancer, not to mention more humane.
Of the 46 million Americans who smoke, an estimated 4.5 million are Medicare beneficiaries older than 65, while less than 1 million are younger than 65 but covered under Medicare due to a disability.
The new rules will alter Medicare Parts A and B, which affect physician services and hospital care. Medicare Part D already covers smoking-cessation drugs for beneficiaries.

Popular in the Community