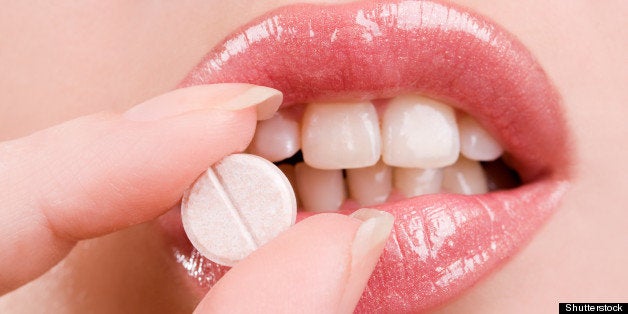 When researchers asked a group of more than 1,000 men and women if they have occasionally neglected to take their medications as prescribed, they uncovered significant gender differences: 45 percent of women said they had not taken their medication, compared to just 36 percent of men.
Further, nearly one-third of the women admitted that they had, at some point, decided not to fill a prescription written by their doctors or simply stopped taking a drug for a chronic illness or serious medical condition, versus just 20 percent of men. That gender gap could have serious implications for the health of women in the United States, researchers claim.
"People who are not adherent have poor health outcomes," said Dr. Katrina Firlik, a neurosurgeon, co-founder and chief medical officer of HealthPrize Technologies, a company that devises strategies to boost medication adherence and that published the survey.
For example, she said, heart disease is "the number one killer of women and high cholesterol, hypertension. These are [risk factors] where it's hard to get people to stick to their meds."
Researchers hypothesize that many factors play a role: forgetfulness, cost issues and confusion about how a medication should be taken. Some people may quit a medication because they feel they no longer need it or because they are experiencing side effects.
The question of whether women avoid their prescribed medicines is both relatively new and complex. Much of the research that initially posed the question came from companies within the pharmaceutical industry that have a vested interest in getting both women and men to take their drugs. There is also the fundamental problem of distinguishing between occasional forgetfulness and more serious patterns of neglect.
"Where things start getting murky is when talking about what 'poor adherence' is," said Jennifer Cocohoba, a clinical pharmacist and associate professor at the University of California, San Francisco's School of Pharmacy, who was not involved in the research. "Most studies arbitrarily pick 80 percent, and that probably works for many chronic diseases, like diabetes and hypertension. [But] others will argue, 'is that really the appropriate threshold?'"
Yet a small, growing body of research suggests the gender gap in drug compliance is real, and not just a problem invented by pharmaceutical companies.
According to a sweeping 2011 review, nearly 70 percent of the studies analyzing HIV medication adherence found that women were less likely than men to take their antiretroviral therapy drugs, which halt progression of the virus. A 2009 study that looked at nearly 7,600 heart failure patients found that women also were less likely to take their prescribed meds. A May review in the American Heart Journal -- led by researchers with Brigham and Women's Hospital, and CVS Caremark -- found that women were 10 percent more likely than men to be non-adherent.
But the findings are not completely consistent across various conditions. Just last month, a study published in the Journal of the American Geriatrics Society found no differences in adherence among more than 2,000 men and women prescribed anti-hypertensive medicines.
"Adherence is complex, and gender may be one of the factors that influences how someone takes medicine -- there may be different barriers for women than there are compared to men," said Cocohoba.
For now, explanations for why women may be less likely to take their medications are simply conjecture.
"We definitely have theories," said HealthPrize's Firlik. "One would be the whole caretaker issue. If a woman is a mother who has high cholesterol, it's likely that [her] child's asthma or her own mother's cancer takes precedent. She's less likely to pay attention to her own chronic issues."
That theory is not just rooted in stereotypes about women's priorities and roles in the home. The company's survey found that women do have a tendency to put others' health before their own: 20 percent of women said they were more likely to follow the prescription plan for their pet than for themselves.
"In general, women are much more likely to research medication side-effects on the Internet and from their friends and relatives," said Dr. Marianne Legato, a professor of clinical medicine at New York's Columbia University and director of the Foundation for Gender-Specific Medicine, who said women are often "self-appointed guardians of their family's health."
But women also express fears about how medication could affect them. "Many of my female patients report, 'I am being very sensitive to medications and fear that the dose you might prescribe will be too strong for me,'" Legato continued. "I have never heard this from a male patient."
However, she cautioned that data on adherence is "very hard" to come by because patients often report taking a medication when they have not.
Though the impulse might be to wait to act on non-compliance until more data is available, the potential consequences of non-adherence are serious for individuals and for the health care system at large. Non-compliance is responsible for at least 10 percent of all hospitalizations in the U.S., according to one estimate, and costs the health care system up to $289 billion per year.
"I think it's OK to be critical of seeing things like this," said Cocohoba, of the HealthPrize survey. "But I do think that when [we're] talking about big, chronic diseases, like diabetes and high blood pressure, the data is clear that Americans are pretty bad at taking their medications the way they should."
Popular in the Community