It's dark, chewy and protein-packed. It's fruity-sweet and studded with nuts. Sticky on the inside but smooth on the outside, it travels well.
It's panforte, a traditional Tuscan spiced fruitcake so dense as to be almost candy. Invented in medieval Siena, where monks baked it for local Crusaders enroute to the Holy Land -- hey, Crusaders need comfort food too -- this flour-sugar-citron-almond-hazelnut-clove-cinnamon-nutmeg-honey melange is made to last. Its very name means "strong bread" -- strong-tasting and more durable than donuts.
It's history's first energy bar.
And it's back. At the 37th annual Fancy Food Show in San Francisco last week, no less than three different companies debuted brand-new versions of this glorious relic from an age when Istanbul was Constantinople, and sultans paid bounties for every severed Christian head.
"When friends decided to have a 'Bake Back the White House' fundraiser for Obama" in 2008, they suggested that I make something different to sell," says Marjorie Caldwell, whose company Napa Cakes Panforte supplies many wineries and restaurants.
Having grown up eating European spice cakes, she pondered panforte -- but created her own formula, using "ingredients that I like, that were natural and local" and whose sweet marriage would produce something "not as hard as a hockey puck."
Suzanne Carreiro discovered panforte after discovering its bittersweet-chocolatey, black-peppery Umbrian cousin, panpetato, while living in Italy and researching her cookbook The Dog Who Ate the Truffle.
"I kept thinking about how I'd never seen Umbrian-style panpepato in the States" -- or panforte either, for that matter says Careirro. Back home in California, she filled that gap by launching a homemade-Italian-style-delicacies company, From Napa.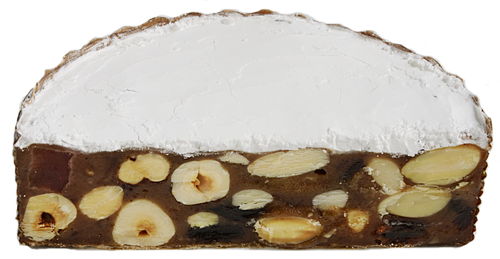 "Panforte is a really unique recipe. First honey and sugar are cooked to the hardball candy stage, and then the super-hot candy is stirred into a mixture of nuts, dried fruit, flour, and spices. Then it's baked like a cake ... I watched Italian videos that artisan panforte producers had put on YouTube. I couldn't really catch the recipes -- they spoke too quickly in Italian -- but I saw what the dough looked like when they touched it, and how it handled."
She wanted to use all natural products, but because traditional candied citron can be found only in Italy at great expense, she sought alternatives.
"It surprised me, but the perfect fruits ended up being California dates and dried tropical papaya. The papaya reminds me of the candied melon used in some Italian confections."
Chelsea Britt of the Panforte Company learned about panforte from her father, a farmer who baked it avidly and sold slabs of it in zip-lock bags at his local farmers' market:
"My dad always loved panforte. ... He naturally started experimenting with recipe variations showcasing our local dried fruits and nuts. After much tinkering with different ingredients and baking times, his apricot-almond panforte was born," Britt remembers.
After he passed away in 2008, she grew the business in his honor and continues developing new varieties, such as a new-this-month fig-walnut panforte.
She recommends including her panfortes on cheese or charcuterie platters.
"Served as an aperitif, dessert, or tasting accompaniment, it delightfully balances the flavors of full-bodied reds, crisp whites, champagne, ports and Vin Santos."
Suzanne Carreiro suggests slicing her panforte a quarter-inch thick and serving these slices with aged Tuscan pecorino, Spanish manchego, blue cheese, dry Jack, and hearty fruit such as apples, pears, and figs.
"I love the contrast of sweet and salty. The platter makes a great appetizer or dessert."
Or you could just stow a wodge of the stuff in your knapsack and set off to raid Byzantium.
Images courtesy of Kristan Lawson and Suzanne Carreiro.
Calling all HuffPost superfans!
Sign up for membership to become a founding member and help shape HuffPost's next chapter