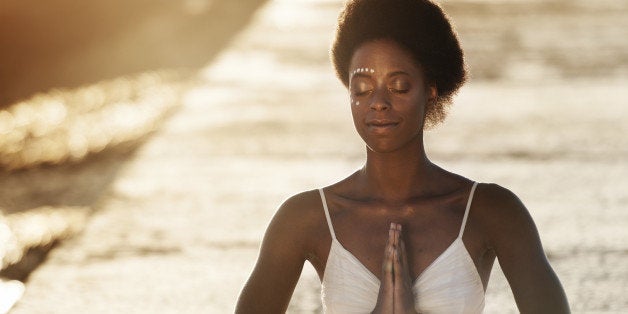 My business, Never Liked It Anyway is all about breakups and moving on, so I hear a lot of sad tales. And meditation is known as one of the best ways to help relieve stress, anxiety and general feelings of sadness. Because let's face it, after a breakup, blues are at an all-time high.
If you had been together for a while, the breakup is like losing a best friend in an instant, and usually permanently. Short-term relationships are often easier to recover from, but there are really no rules. And sometimes, it's easier to let that sadness fester and turn into full-blown depression. If you feel like taking some of the recovery into your own hands though, consider meditation.
Transcendentalists believed that becoming in tune with your spirit and nature is the only way to ensure happiness and prosperity, but you don't have to go sit under a tree to find your happy place. Try out some these apps wherever you are, and embark on your journey to wellness again!
1. Insight Timer- Meditation Timer
This app is perfect for those new to meditation, as it includes introductory guided meditations, as well as sessions by experienced and celebrated teachers. In addition to a journal you can keep, there's a whole community of like-minded people to help and support you, if needed. Plus, it's free!
This another great free app that allows you to select what your ultimate goal is (lose weight, quit smoking, cure insomnia, etc.) as well as your current worries (being controlled, being forgotten) to help customize and personalize a meditation session just for you, and maximize results. You can choose your music, set wake-up timers, and earn points- which makes meditation that more rewarding.
This app is $2.99, but may just be worth it. Possibly the simplest to use and look at (sometimes all those bells and whistles just stress you out more), this app features voice-guided meditation sessions that you can store in a log to check your progress, which you most definitely will make!
This isn't exactly a meditation app, but it's a great short-term anxiety reliever. This app is a simple game of sorts involving two cartoon faces- one happy, one angry. Next to the happy face, you're required to highlight the trail of grass leading towards it, which draws your eyes away from the unhappy face and negative feelings. Something about the visuals and the music forces you to slow your breathing, and you'll soon find yourself with a clear mind and less stress- and over time, without the help of this app, you'll find the things that used to scare you are conquerable.