When he was fleeing his home country of Vietnam, the Zen teacher Thich Nhat Hanh had a direct revelation of the real power of meditation practice.
"When the crowded Vietnamese refugee boats met with storms or pirates, if everyone panicked all would be lost," he said. "But if even one person on the boat remained calm and centered, it was enough. It showed the way for everyone to survive."
Showing the way for everyone to survive. It's a rather dire way of painting the picture, but it feels timely. Because the times feel rather dire and chaotic. Do they not?
A lot of people approach meditation like a self-improvement project. Meditation's going to make me feel better, make me more focused, make me more productive, make me more happy, make me less crazy, make me more chill. Me, me, me.
But look around you. The world is on fire. People are hurting. They are freaking out. Have you noticed? Maybe you see it from a distance: things that are happening in the news, rifts that are opening up in the fabric of society. Maybe you feel it closer to home, in your circle of friends and loved ones: the ways they are being challenged, and the ways they are falling down and getting back up again. Maybe you feel it in yourself: the growing sense of malaise that gnaws from the inside, and occasionally erupts into full-blown panic.
"As individuals, we feel helpless, despairing," Thich Nhat Hanh wrote. "The situation is so dangerous, injustice is so widespread, the danger is close. In this kind of a situation, if we panic, things will only become worse. We need to remain calm, to see clearly. Meditation is to be aware, and to try to help."
That puts your personal meditation practice in a rather different light, doesn't it? It's not really about you. It's about your whole world, and all the people in it, and the way your presence helps them. Sure, maybe it helps you become more chill, more focused, more productive, more blissful, more calm and centered. But what do you do with all that calmness and centeredness? What is it for?
It's to be aware, and to try to help. The real benefits of your meditation practice will only become apparent to you when you find yourself in the role of offering them to others.
A few weeks ago one of my friends went through brain surgery to remove a large tumor. Before his diagnosis, he was never really into things like meditation, but being diagnosed with a brain tumor and undergoing radical surgery has a way of shifting your perspective on a lot of things in life. My friend began to ask for guided meditations and breathing techniques to help calm his fear. I don't mean garden-variety anxiety, I mean real existential fear: the bone-chilling, "Will I survive?" kind of fear. But he knew that if he panicked, it would only make the situation worse.
And so he began to meditate, and at the hospital he restricted his visitors to friends who could bring that kind of calm and centered energy into the room—people who could help him find his way calmly through the most difficult situation he had ever faced, one challenging moment at a time. We were there when he woke up from the surgery, doing what we could to hold the space around him.
My friend is now back on his feet, and I'm happy to report that he's still meditating regularly. And we are closer now than before, as people tend to be after they've gone through something very difficult together.
And that feels like where we all are right now. I don't mean my friend, but you, me, all of us. We are all going through something very difficult together. And let's acknowledge, to be fair, that it's more difficult for some than for others; some need help more urgently than others. And there are no credible reasons to believe that it's all magically going to get easier any time soon. It might get even more difficult before it gets easier. Those of us who are in a position to help, whatever that means in our particular case, should do what we can.
What I'm describing is in no way theoretical. I'm talking about matters of life and death, and how the effects of meditation play a very concrete role in helping us navigate through the most challenging situations.
"Humankind has become a very dangerous species," says Thich Nhat Hanh. "We need people who can sit still and be able to smile, who can walk peacefully. We need people like that in order to save us. Mahayana Buddhism says that you are that person, that each of you is that person."
It would be easy for someone to come along and say, "All this Buddhist crap about sitting still and smiling and being peaceful! It's like fiddling while Rome burns. We need everyone to panic, and scream, and freak out! We need action!" But that would be a misreading of Thich Nhat Hanh's words. If you know anything about his history of peace activism, you know that Thich Nhat Hanh has been no stranger to action throughout his life. His practice was never disengaged from the world. Quite the opposite.
Action is necessary. Storms need to be navigated safely. Pirates need to be dealt with. Injustices need to be addressed. Brain tumors need to be removed through surgery. Meditation by itself will never fix any of these problems. But all these things become so much more challenging when we freak out. Action can be taken more skillfully when it comes from a place of clear seeing. And I know from personal experience that it's much harder for me to see clearly when I'm in panic mode.
As I look towards 2017, I'm recommitting to my own daily meditation practice—not because of what I think I'm going to get from it, or how it's going to help me feel better, or even how I think it's going to help me become spiritually liberated (whatever that really means). No, I'm recommitting to it because I know there are more storms brewing, and more pirates gathering, and more difficult situations ahead for all of us, and it will be more necessary than ever for me to keep showing up and helping people see the way to survive.
I hope you will join me in recommitting to your own practice, and know that its benefits will extend far beyond your little yoga mat or meditation cushion. The world is on fire. We need people like you to save us.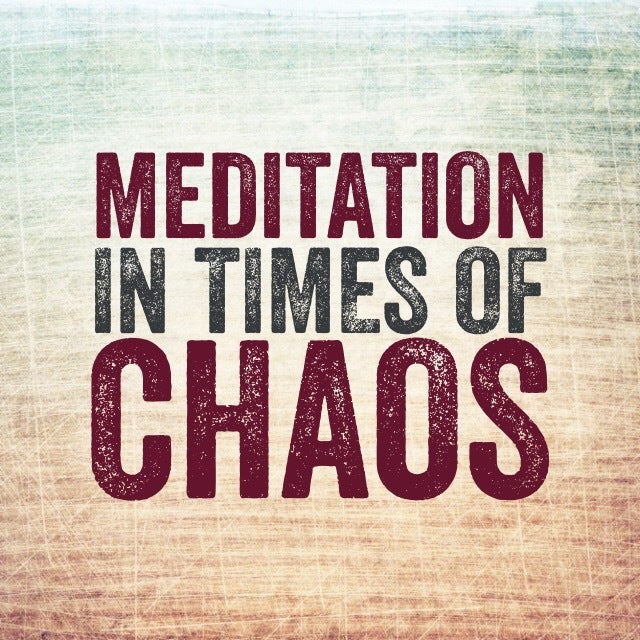 Calling all HuffPost superfans!
Sign up for membership to become a founding member and help shape HuffPost's next chapter
This post was published on the now-closed HuffPost Contributor platform. Contributors control their own work and posted freely to our site. If you need to flag this entry as abusive,
send us an email
.