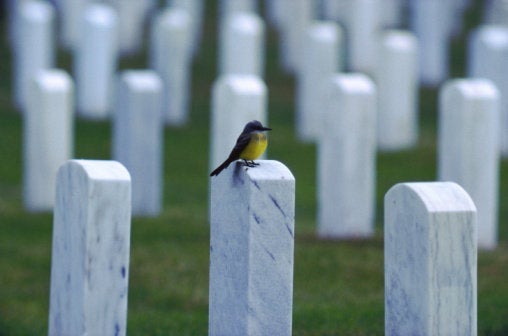 Call me dark, odd, or a bit of a mystic, but I've always been drawn to cemeteries. Far from feeling gloomy or morose, I find meandering among gravestones strangely calming. Stepping out of the mad rush of life and onto the hushed burial grounds of the dead is like crossing a threshold between worlds. Secluded within these sanctuaries of resting souls, the pressing problems of life become muted to stillness.
No doubt this ease among the dead comes from the private cemetery just up the road from the house where I grew up, and where I used to play. This plot of mostly old graves set among oaks and persimmon trees was, to my child's mind, a place of haunted magic. On a summer's afternoon, there was nothing I liked better than to run up the hill, nestle my back against a sun-warmed headstone, and lose myself in daydreams. I was rarely scared. Instead, I felt secure in my own enclave, entertaining the captive audience who lay beneath the ground with my adolescent poetry.
This habit carried forward into adulthood when, confronted with some insoluble dilemma, or simply seeking escape, I'd head to a cemetery. Recently, in between appointments, I found myself near a burial ground on the outskirts of Washington, D.C. It was mid-afternoon, and as I stepped through the arched gate, not a single living soul was about. Even the caretaker was out to lunch. Taking off my sandals, I walked barefoot on a grassy carpet of gentle slopes lush with flowering trees and bushes. Gravestones of every size and shape marked the landscape for acres in every direction. Off in the distance, I could hear the distant roar of traffic; within the confines of the cemetery, all was quiet, save for the birds and insects.
Oak Hill is one of Washington's oldest cemeteries, dating back to the mid-1800's. An example of the 19th-century romantic movement, when cemeteries served as rural parks for city dwellers, it's botanical gardens call to mind the Greek origin of the word "cemetery" as a sleeping place for the dead in their transition to the next world.
"And one of us tired and lay down to rest," read the inscription on one headstone topped by a whimsically sculptured tree-branch. The granite headstone of another spouse was inscribed with these words: "She died in the fiftieth year of her married life; ever loved and loving, her life was a constant beauty." Another grave was etched with these fading, poetic words: "Until the day breaks and the shadows flee away." Exploring the far corners of the cemetery, I came across the weathered mausoleum of John Peter Van Ness, one of Washington's early political figures, a congressman who lived in a mansion across from the White House, and who at one time commanded the city's militia. Other colorful characters from American history are buried at Oak Hill, such as Lt. Col. Uriah Forrest, who served on George Washington's staff during the American Revolution. As I left, I nearly missed the modest, flat stone set into the ground marking the grave of Katherine Graham, the once-powerful publisher of the "Washington Post."
That's the thing about cemeteries: rich or poor, powerful or powerless, known or unknown, all our lives come down in the end to a resting place in the earth. If we are at all sensitive, this kind of proximity to death has an instant centering effect. Like a good meditation practice, visiting a cemetery focuses our attention on what really matters; helping us to discriminate between what is true and lasting from what is transient, and of little importance. In many traditions, in fact, "death meditation" is a powerful practice. "Meditations on death," writes Phillip Kapleau, "are a means of purifying the mind in order to gain a crucial revelation of the meaning and significance of life." (The Zen of Living and Dying). It was a practice among ancient Sufis to gather at graveyards to meditate as a reminder of the eternal reality behind life.
As far as sacred places go, a cemetery may seem off the beaten path. But just like the serene field of energy created by a church, yoga center, meditation room or temple, cemeteries are hallowed areas set apart from the mundane world. The invisible presence of the departed creates a kind of vortex of deep tranquility, silencing the ten thousand things clamoring for our attention. For whether one believes in an afterlife or not, spending time at a burial ground inevitably stirs thoughts of our own mortality -- what life means, whether we are living the life we are meant to be living, and what comes next.
Indeed, sitting among the graves at Oak Hill Cemetery that bright day, my soul felt washed clean of petty complaints. Bills, house repairs, work stress, relationship issues, even the world's larger problems -- it all seemed part of the great, messy miracle of existence that I'd been blindly overlooking. As I listened to the boundless silence, it seemed to me that I could hear echoes of symphonies playing: the harmonic scores of those who'd passed on, leaving only the music of their lives behind. For a brief moment, I caught the faint chords of my own soul's melody. Leaving the cemetery, I thanked the dead for returning to me the gift of life.
If you have any favorite cemeteries you like to visit, or similar experiences, I'd love to hear about them.
Related