I walk to my spot and sit down, a mat beneath me and two cushions under my bottom. I'm comfortable now but I know it won't last. Within ten minutes the aches will begin. Dull and annoying to start and then as time drags on they will intensify. Ten days of silence, meditating eleven hours a day. Why do I do it? You'd think once would be enough. And yet I have returned time and time again to sit for ten days in silence and in pain.
Must of us live a life of fear and reaction. We do too much in order to impress, or hide so no one will expect anything of us. Tossed on the vagaries of emotion, it's an exhausting and wasteful way to live. When I sit in silence I experience all emotions, all feelings, all states. I experience them knowing they will change. Everything always does. Even the pain. And during this time, when I'm supposed to be meditating where does my mind go? Everywhere. It dives into the past, raking over the embers. It plunges into the future, inventing scenarios. And when it's done regretting and worrying it makes up possibilities of increasing drama and intensity. After a while I tire of all of this. But am I ready to do the work? Am I ready to meditate properly? Not quite yet.
1. Meditation clears the mind clutter and allows your creativity to blossom.
When all the whys, wherefores, he saids, she saids, he dids, she dids, blaming, reactions and catastrophes are done, creativity is free to roam with characters, stories and adventures that are pure imagination, often not of this world. It's fascinating and freeing to allow yourself to follow where creativity leads. Meditation breaks down that very thin membrane between the conscious and the subconscious. And let's face it, the subconscious is where all the interesting stuff happens.
I'm not a very good meditator it's true, but there comes a time when the meditation takes over, when my mind finally stills, when I get the essence of what I'm here to do. Come out of all suffering, be liberated from all misery. Stop reacting and resenting. Stop being so afraid. I'm not perfect, not even close, which is why I keep meditating. I meditate because it helps in my day to day life, literally. I saved my job and found a husband through meditation. I also meditate because it helps my writing.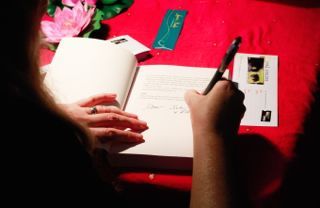 2. Meditation gives you the kind of detachment a writer needs.
Meditation is creative, not only because my restless mind supplies me with endless plots and characters. It's creative because it helps me to write, no matter what mood I'm in, no matter what's happening around me. It's not selfishness, it's just knowing that what ever the problem or drama is, it will pass without you meddling or trying to fix it. And if it doesn't? Then it's time for a different approach but an approach that's tempered by thoughtfulness not desperation.
3. Meditation allows you to write with courage and honesty. To stop judging.
With the loving detachment that meditation brings you're better able to step aside and let the story glow and burn without the temptation of modifying it to make yourself look better. Judgement is a hinderance to life and to creativity. It carries the weight of expectation. Impossible to meet. The more I meditate the less I judge myself and my work. Other people may judge. They will think what they like. It's none of my business. Besides, what they think will change. Everything does.
I have returned to the meditation center seven times. Seven times I have spent 10 days sitting in silence and in pain. Seven times I have reaped the benefits. Am I suffering for my art? Some say life is suffering and the art is to overcome that suffering. For me meditation is the art of living. And writing. It is the art of creation.
Mary-Lou Stephens' meditation memoir, Sex, Drugs and Meditation, is the true story of how meditation helped changed her life, save her job and find a husband. You can buy it here.