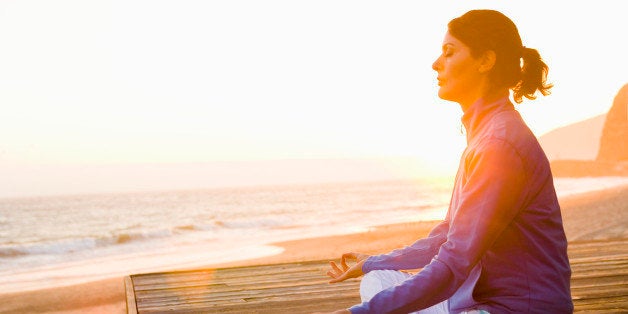 We had arrived. After two flights, over 4,000 miles, four meltdowns, and a two-hour car ride, my three small children and I were home. Our new home. I had two months of freedom to look forward to -- time to travel, explore our new city, our new country, our new continent -- without the pressure of packing, organizing, paperwork, research, house-hunting and saying good-bye. And a husband! After two months of herding these little people around on my own I finally had my partner back to play defense.
It turns out that I was so tightly wound, so rigorously scheduled and addicted to my to-do list that I had spent no time processing this change. I had landed in a new country with no support network, no childcare, a work-at-home job and a work-out-of-the-country husband. I was on an emotional roller coaster. We were traveling to gorgeous places and visiting some of the most interesting and diverse cities of the world. The "ups" were so high up and the "downs" were so far down that I was having trouble coping. I had been handed this exciting opportunity, and I was squandering it because I couldn't make the changes that I needed to make in order to capitalize on the experience. I was floundering emotionally.
I flailed around looking for an outlet for stress. I tried running, but the British weather is not conducive to my exercise schedule (meaning that it rains... every day). I tried to keep a journal, but my moods dictated my productivity. Then I tried meditating. I had been interested in Buddhist meditation since college when I was introduced to it in a well-being course I took as an elective in my last semester. We practiced types of meditation in class, but more as a relaxation technique, visualizing colors and tensing and releasing muscles. This technique works for some people, but not for me. But because I love to read, and I use books and articles as an escape, I dove into Hermann Hesse's Siddhartha, which led me to other writers of Buddhist philosophy and other writers who practice Buddhism.
Being Buddhist does not preclude a specific idea about meaning in the world. It is a practice -- a way of thinking about and living life. And meditation is the core practice.
For me, the act of meditating is not about relaxing. Meditating does some alchemy to my brain, body and spirit, but it's not because I feel so relaxed while I do it. I feel at peace when I complete it. It is one space in my life where I do not analyze. I don't critique it or try to explain it. I don't even try to understand it or give it meaning. There is a quote from Douglas Adams' The Salmon of Doubt: "Beauty doesn't have to be about anything. What's a vase about? What's a sunset or a flower about? What, for that matter, is Mozart's 23rd piano concerto about?" This is the essence of my meditation practice.
I meditate for 20 minutes every day. It's like getting dressed or brushing my teeth. Meditation makes me a better mother, wife, daughter, sister, writer, teacher, friend and citizen of the world. This summer we have planned a few more trips to a few more exciting cities, and I will take my 20 minutes to meditate in each of them, with my three little ones in tow.
Related