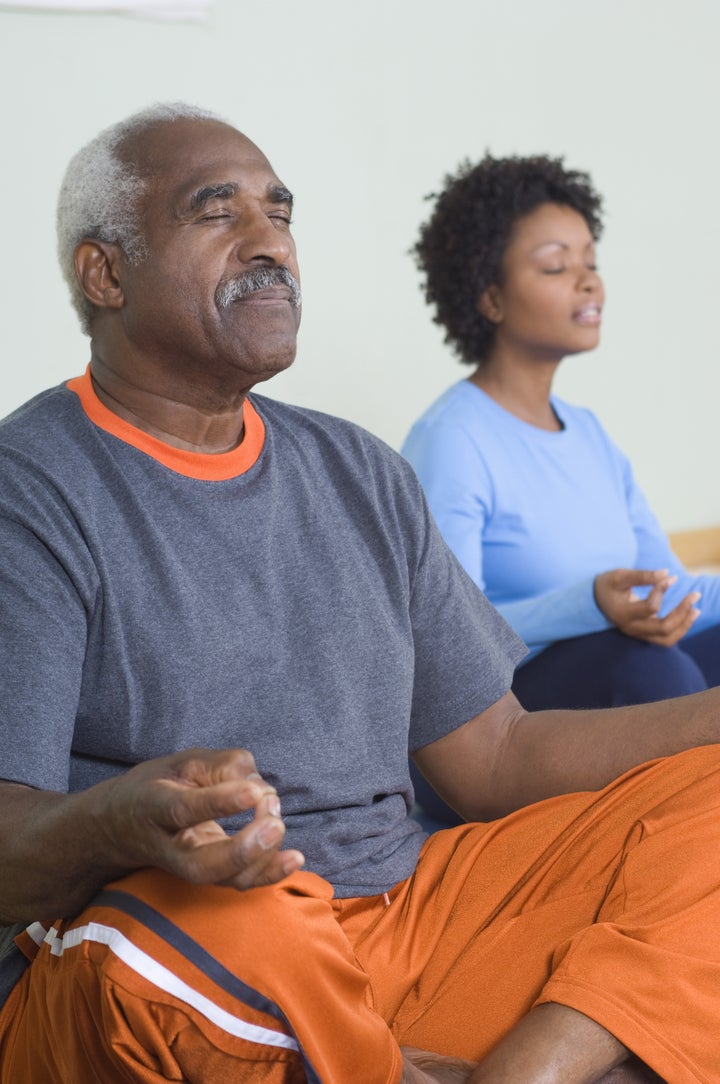 Now new research shows that African-Americans with heart disease who regularly practiced transcendental meditation were 48 percent less likely to have a heart attack, stroke or die from all causes compared with African-Americans who attended a health education class over more than five years.
The research, published in the American Heart Association's journal "Circulation: Cardiovascular Quality and Outcomes," found that those practicing meditation also lowered their blood pressure and reported less stress and anger. And the more regularly patients meditated, the greater their survival, according to researchers who conducted the study at the Medical College of Wisconsin in Milwaukee.
Schneider, who noted that the average age of those participating in the study was 59, said he recommends practicing trascendental meditation 20 minutes, twice a day.
"I also would recommend transcendental meditation to white patients or to any other race/ethnicity," Schneider said. "The reason is that the data from other studies indicates that transcendental meditation practice taps into neurophysiological mechanisms present in every human physiology. After all, stress effects everyone's mind and body."
Introduced to the world by Maharishi Mahesh Yogi in 1957, transcendental meditation is designed to bring the mind to a state in which there are no thoughts.
For the study, researchers randomly assigned 201 people to participate in a transcendental meditation stress-reducing program or a health education class on diet and exercise.
Those in the meditation program sat with eyes closed for about 20 minutes twice a day, practicing the technique and allowing their minds and bodies to rest deeply while remaining alert. Those in the health education group were advised, under the instruction of professional health educators, to spend at least 20 minutes a day at home practicing heart-healthy behaviors such as exercise, healthy meal preparation and nonspecific relaxation.
Researchers evaluated participants at the start of the study, at three months and every six months thereafter, for body mass index, diet, program adherence, blood pressure and cardiovascular hospitalizations. The trial required approximately 10 years to complete, with the longest follow-up for any one subject being nine years. In the end, researchers found:
Blood pressure was reduced by 5 mm Hg and anger decreased significantly among transcendental meditation participants compared to controls.
Both groups showed beneficial changes in exercise and alcohol consumption, and the meditation group showed a trend towards reduced smoking. Although, there were no significant differences between the groups in weight, exercise or diet.
Regular meditation was correlated with reduced death, heart attack and stroke.
Cardiovascular disease is the leading cause of death worldwide, Schneider notes. But death from heart disease is about 50 percent higher in African-American adults compared to whites in the U.S. To find a local certified transcendental meditation teacher, go here.
Calling all HuffPost superfans!
Sign up for membership to become a founding member and help shape HuffPost's next chapter
BEFORE YOU GO
PHOTO GALLERY
Natural Ways To Reduce Anxiety And Get Better Sleep