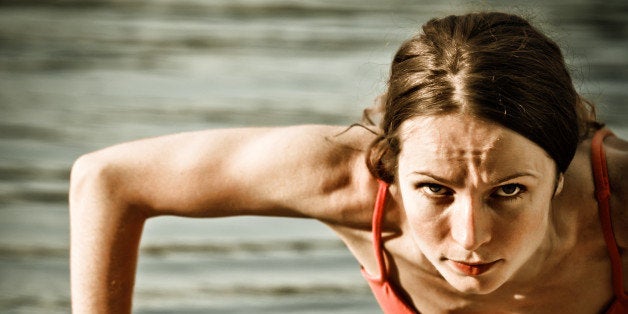 The pushup has been a standard part of being American. If you grow up in America and go to school, one of the first things you're taught in gym class is how to do a pushup. Millions of Americans do pushups before work, during their lunch break, and at the gym. Because of pushups, we've mastered getting ripped pectorals, deltoids, and triceps.
However, we've done horrible at managing stress.
Stress costs American businesses around $300 billion a year. Stress is one of the most common long-term absences in the workplace. NBC's chief medical editor, Dr. Nancy Snyderman, recently said: "Stress is a huge factor when we look at medical problems such as obesity, hypertension, diabetes, cardiac disease."
Millions of people in America are paying for an overstressed lifestyle: More than 25 million American suffer from diabetes, and some 74 million have high blood pressure. Stress shrinks our brains, may cause depression, and people who are stressed have higher risk for a stroke.
Several of my friends are driven business-savvy men and women with Type A personalities; they like to tease me about how I do meditation. Until one day, on a Friday night one of them pulled me aside and said, "Hey, I have really bad stress problems. Can you tell me about meditation?" He wasn't the first of my friends to do this; I've heard the same line from a few of them. I stopped over at one of my friend's house, who lives in an expensive high rise in Chicago and works 100 hours week. When he opened the door, he was grinding his teeth, and looked like he hadn't slept in a week. My first words were, "Stressed out?" He responded, "Yeah, terribly stressed."
This seems to be the culture of America; everything is go, go, go! No wonder the majority of heart attacks in America is on Monday morning. Another guy I know had band aids on his thumbs, from typing so many emails on his BlackBerry keyboard. He types more than 100 emails a day on the thing -- the skin on his thumbs were actually peeling off. He was so stressed; it was difficult just to have a conversation with him.
It seems like this fable of The Lion and Gazelle is installed into the psyche of American culture, "Every morning in Africa, a gazelle wakes up, it knows it must outrun the fastest lion or it will be killed. Every morning in Africa, a lion wakes up. It knows it must run faster than the slowest gazelle, or it will starve. It doesn't matter whether you're the lion or a gazelle -- when the sun comes up, you'd better be running."
We don't have to live like this; we can still be successful and relaxed at the same time if we incorporate meditation into our culture. There's nothing wrong with a culture full of ambitious men and women; I just want to see more people relax.

I teach meditation to a lot of very wealthy Type A personalities, and one of the things I see with Type As is a lot of them have forgotten how to breathe. The first thing I teach them is to breathe naturally.
Simple mindful breaks throughout the day will do wonders to the culture as a whole. If we all looked at our breathing and checked in with ourselves throughout the day, we would feel a lot better.
Here's a simple meditation that anyone can do.
1. Find a comfortable place to sit in a chair, close your eyes, bring your awareness to your breathing.
4. Again inhale, bring your attention to all the feelings in your body in a non-judgmental way.
5. Exhale out, focusing on all the feelings in your body in a non-judgmental way.
6. Repeat those steps above. As you progress, work on bringing your breathing to its natural state.
7. Then, open your eyes and carry that feeling with you for the rest of your day.

America is a culture that loves to win. If Americans want to continue to win, they better figure out a way to incorporate meditation into their schedule. Because as the statistics show, stress is cleaning house. To continue winning we have to incorporate meditation into our culture. Meditation is the new pushup.
Related