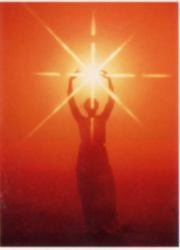 We are always looking for different techniques for meditating, but realistically, if we stay in awareness and in a consciousness of being a peaceful soul while we are walking and moving around, then life starts to unfold a lot smoother. In order to be in love with life and the world we need to love ourselves. While we may say I love myself, truthfully, the quality of the love you have for yourself is reflected in the quality of love you have for others. If you are in your self respect you respect others. If there is something about someone you don't like, it is likely triggering you to look inside to check if you have it too. If you get angry because people act out maliciously or unjustly, then you are simply adding to the energy of anger that is present in society -- the energy you dislike most.
To help us stay "soul conscious," try living your days by a quote or a mantra. "Speak less, speak softly, speak sweetly" is one of my favorites. When we communicate with people, our words carry a vibration. Words carry the energy of the feeling behind it. For example, even if you say "sure, okay" as a response to something, if you say it with sarcasm, or anger, you will feel the difference of what the words actually convey based on the energy, or shall we say intent, behind them.
If I stay in a consciousness of communicating with people sweetly and practice being a much better listener, then I am in a consciousness that is not full of ego but is rather full of the energy of giving. When we give, we actually receive.
Treat yourself to a healthy vegetarian meal, look at someone from a distance with pure feelings and good wishes, smile a little more, especially at yourself, or just take a nice quiet stroll down the road. Sit and breathe in the goodness that is you. There is nothing wrong with you, and nothing wrong with anyone else. Everything is exactly as its supposed to be. Are you going to be happy, or are you going to be sad? Give yourself love today. It's your choice.
Popular in the Community