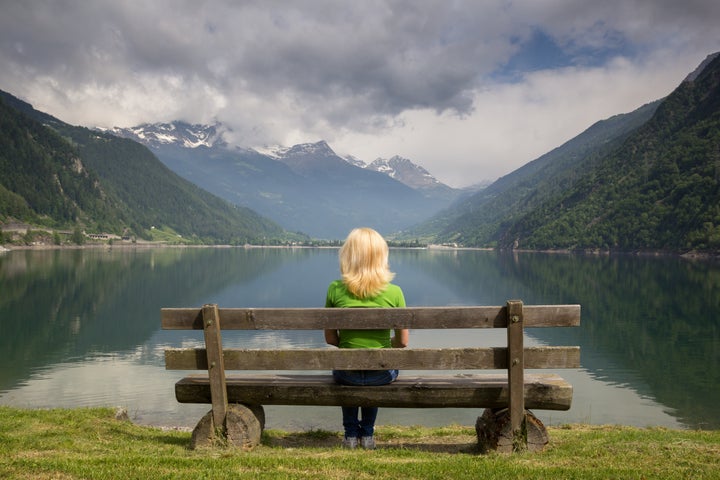 The demands of daily life often require too much of us, and I've noticed how many of us try to meet those demands as though our reserves are endless. But they aren't.
Our energy, our mental focus and our sense of balance need time and space to replenish themselves. Most importantly, we need a daily quiet space to process. Many people don't take any quiet time for themselves until they fall ill, or until their life is a mess; by then the window for a proactive approach has passed.
We need a daily quiet space to process our experiences and to find meaning, direction and inner peace. Some people process quickly, their minds well-practiced in the art of emotional intelligence, their experiences are met with perspective. Others process slowly or perhaps not at all proactively, absorbing and hoarding their experiences without perspective like the proverbial bathtub that fills with water. Without taking quiet time to process and gain insight, the water overflows and you become a reactive mess of anger, frustration and victimhood.
There isn't a a natural time in our waking hours when we can be quiet, notice and allow insight to bubble up from within. There are simply too many distractions. You have to deliberately carve a place for quiet in the midst of your busy days. Quiet, oddly enough, requires emotional maturity, a deliberate choice, and discipline. Our minds can be like children that continually crave excitement, distraction and needless input. They need to be told "no," at least twice daily, and for 30 minutes each time.
If you have a hard time making time to meditate or process, remember that this quiet time is not time to do nothing. It's time reserved for a very empowering activity.
In order to live life proactively, you have to take time to to tune in and let go. Ironically, you need to pull back and close your eyes in order to see things more clearly. Like the tide that rolls in and then retreats, like nature that blooms and then withdraws, we must also recognize that as we take time to flow forward, we must also take time to retreat. Your retreat helps to ensure that what's next will be more fruitful and enjoyable.
Motherhood and age have given me the gift of being an early riser. I enjoy waking up in the wee hours of the day, well ahead of everyone else. At four or five in the morning, I tiptoe through my still quiet house, my boys and dogs lost to their dreams -- unaware that I'm up and about. The phone doesn't ring, and nature lies quiet beneath the still, shining moon and stars. No one needs me at this time of day, and I'm grateful to be awake in the stillness.
What to Do With the Quiet.
1. Begin With Gratitude. Though a quiet walk can sometimes be just as beneficial, I find that meditation is a powerful protective practice. Morning is my favorite time to meditate. Sometimes I begin without moving out of bed, thanking God for the many blessings in my life, one at a time.
2. Make Sure You Have the Right Setting. Other mornings, concerns tumble over in my mind like whitewater over river rocks, and I have to get up and move downstairs for a change in energy. Life always looks better once I get into the half-lotus position. Lying in bed somehow keeps the thoughts endlessly circling.
3. What to Do When Your Mind Is Busy. My goals for meditation differ from day to day. Ultimately I'd like to have a quiet mind, a serene sense of inner peace and a clear sense of direction. Some days, those things come more naturally than others. Some days, thoughts and concerns present themselves to me, nudging me for their attention. So some mornings, the goal is clarity. Concerns pulling at your mind are not worries to be watered with emotion, but elements of life that need to be figured out. Use them as the basis for your morning meditation, by transforming them onto a path of spiritual awareness. Rather than feeding your concerns with worry or trying to suppress them, ask God what you need to be aware of, what you need to learn in order to heal and move beyond the situation. Be prepared to take responsibility.
4. What to Do When the Mind Is Still Busy. If the answers won't come, or if perhaps your frustration is too prevalent to let go and open a space for them, try remembering that these thoughts are just thoughts. As they come up, acknowledge them and then let them go. Release them to God, the angels or some other higher power to help release your attachment. As you release them, say a quick prayer to receive the insight and resolution you need. Sometimes letting go is all you need to do.
One morning last week I spent about 30 minutes meditating before I got out of bed. I then went about navigating the morning chaos of making breakfasts and lunches and getting my kids off to school, an exercise that is akin to nailing Jell-O to a tree. When I walked toward my yoga class a few hours later, a man spoke to me just before I got to the studio door. "You're absolutely serene," he said. "You have this peacefulness about you that just radiates." Though it's not necessary, it is nice when your internal practice shows up on the outside as well.
Making the time to process is a protection exercise for your mind. Without it, you will become overwhelmed and angry, and ultimately feel depressed. Rather than allowing yourself to be harmed in that way, protect yourself by making time to process, and empower yourself to live life proactively.