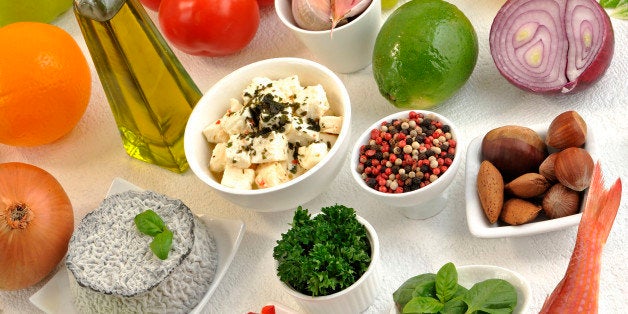 Consuming healthy fats, fish and perhaps even the red wine associated with the Mediterranean diet could help prevent a certain artery disease, according to a new study.
Built on a foundation of fruits, vegetables, whole grains and fish, the Mediterranean diet has been associated with everything from increased longevity to reduced cancer risk. The most recent findings, published in the journal JAMA, add to a wealth of evidence about the diet's health benefits.
Although the Mediterranean diet has been linked to a lower risk of certain cardiovascular conditions like stroke, its effect on peripheral artery disease, which involves plaque buildup on arteries that can restrict blood flow throughout the body, has not been previously investigated, according to the study's authors.
"The role of nutrition in preventing peripheral artery disease (PAD) remains elusive," Dr. Miguel Ruiz-Canela of the University of Navarra in Pamplona, Spain, who led the study, said in a press release.
Ruiz-Canela's study, conducted from October 2003 to December 2010 in Spain, followed 7,436 participants -- men aged 55 to 80 and women aged 60 to 80. None suffered from PAD or heart disease, although some did have risk factors for heart disease.
The participants were randomly divided into three groups. One group followed a Mediterranean diet supplemented with extra-virgin olive oil, one followed a Mediterranean diet supplemented with nuts, and one group received counseling on how to follow a low-fat diet.
After an average of 4.8 years of follow-up, 89 cases of PAD were identified. Those in both Mediterranean diet groups exhibited a lower risk of PAD than those in the low-fat group.
"To our knowledge, this is the first randomized primary prevention trial to suggest an association between a dietary intervention and PAD," wrote Dr. Ruiz-Canela. "These results are consistent with previous observational studies and relevant from a public health perspective."
What do you think? Is it time to put more emphasis on produce, olive oil, fish, nuts and red wine?
Calling all HuffPost superfans!
Sign up for membership to become a founding member and help shape HuffPost's next chapter
BEFORE YOU GO
PHOTO GALLERY
Six Things You Should Never Eat (And What To Eat Instead)