While pundits bemoan the demise of U.S. investigative journalism (http://www.huffingtonpost.com/russell-wild-and-margaret-engel/the-demise-of-investigati_b_174438.html), Francophone Mediterranean media still carry the mantle and seek to boost its practice in coming years.
"We, 40 professional journalists of the Mediterranean basin countries...gathered during the Menton Media Méditerranée (MMM), agree on these bases of journalistic practice: accuracy, systematic verification of information, differentiation between news and views, and support for investigative work," said participants at a conference in the southern French city of Menton.
The declaration by journalists from 17 countries acknowledged differences but underlined common ground and urged Mediterranean-focused organizations, governments, and associations to uphold the right to freedom of information for the 450 million residents of their countries.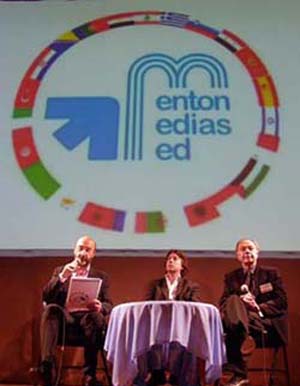 MMM wrap-up session (Abu-Fadil)
It also called for the ability of journalists to practice their profession "in all freedom and security" as well as "the need to ensure equal opportunities, equal pay and access to positions of responsibility for women."
The "Menton Declaration" followed two days of heated debate on issues ranging from journalists barred from coverage of the recent Israeli onslaught on Gaza, to harassment and assassination, living with dictatorships, protection of sources, conflict of interest, pressure from advertisers and dealing with new media.
Reactions to the declaration were mixed, notably on the definition of press freedom and the listing of countries that violated it.
"The Kurdish question always leads to some form of censorship and political Islam is another debate causing bipolarity in Turkey," said Erol Onderoglu, a Turkish activist and editor for the IPS Communications Foundation's website (www.bianet.org/english).
Veteran Croatian journalist Silvia Luks said she was a war correspondent in numerous places but could not perform the same way in her own once war-torn country that was part of ex-Yugoslavia. "I didn't want to betray the profession and my country Croatia," she said.
Compatriot Visnja Staresina, meanwhile, said she gave up daily reporting to become a freelancer and work on a documentary.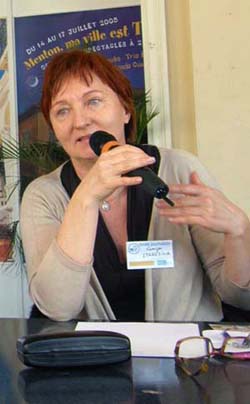 Croatia's Visnja Staresina (Abu-Fadil)
Egyptian Randa Achmawi said since the presidency of the late Gamal Abdel Nasser (1953-1970), Egypt hasn't known real press freedom, and pointed to a roller coaster ride for the media since President Hosni Mubarak took over in 1981.
"There are countless journalists who have been jailed when they've run afoul of the government," she said. "There are over 30 laws to trip journalists in Egypt. If they don't pay the fines, they end up rotting in jail and opposition papers suffer from lack of information access."
Achmawi, of Egypt's French-language weekly Al Ahram Hebdo, was awarded the first Menton Media Med prize in recognition of her journalistic efforts to promote Mediterranean values. French freelancer Caroline Poiron received the photography prize.



On the other side of North Africa, Cerise Maréchaud said Morocco faced similar legal problems to Egypt's, where lawsuits serve as a deterrent to journalists.
"The main problems are God, country and king," she explained of the no-go zones. "You can tackle previously taboo subjects but red lines exist and there are twisted means to strangle media economically, if not politically."
Journalists spoke of common concerns like how to protect one's sources, the need for codes of conduct, and ways to overcome low education and training standards in many countries.
"There's been a degradation of content quality," lamented correspondent Juan Pedro Quinonero of the Spanish daily ABC about cutbacks of full-timers and international coverage. "Content is produced on-site but edited remotely by journalists who may be clueless and whose linguistic skills leave a great deal to be desired."
For Abdelkader Ikhenache, Algeria has moved from a pluralistic system and open media to a restricted situation since 1992. "Now we're mood-reactive, the media are controlled by the government, there are countless taboo subjects and several journalists have been assassinated."
Despite discriminatory attitudes in various Mediterranean countries, the situation for women in Algeria and Morocco has improved in private media in recent years, conferees were told. But women still haven't penetrated the glass ceiling to the higher editorial echelons where decision-making tends to be a male bastion and lower salaries are common.
Women also tend to cover more social issues although they have earned their stripes in conflict zones and other traditional "male" areas. Further complicating matters are stereotypes of women journalists using their charms to obtain what they want.
In host country France, a representative for the Paris-based advocacy group Reporters Without Borders (www.rsf.org) pointed to conflict of interest in French media thanks to the influence of President Nicolas Sarkozy and reports of top positions being filled by his cronies. "We worry about the freedom to inform given the current situation," he said.

Participants expressed concern over the education of journalists by academics who are seeped in theories and have no professional experience in the field, but agreed on the need for regular training workshops.
Lebanon has several universities turning out media graduates for Arab markets but hasn't yet included investigative journalism as part of the teaching tradition, although workshops for professionals are available through training programs (http://www.huffingtonpost.com/magda-abufadil/yemenis-fight-taboos-corr_b_174192.html).
New media illustrated the disparity between Mediterranean countries: some media are not yet online, Internet access is uneven, certain countries block sites and stifle bloggers, and editors are becoming more demanding of journalists as convergence proliferates.
"We've been surpassed (by new media)," said French journalist Christian Chesnot of the blurred line between online information producers and traditional journalists. Which brought up the existential question of who a journalist is, and if he/she should be an activist.
The Menton Media Med at the Palais de l'Europe was organized by the Club de la Presse Méditerranée 06, with support from Sciences Po, an Ivy League-type French university that has graduated noted journalists and politicians, and the city of Menton.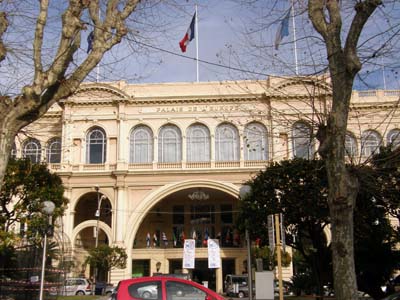 MMM venue at Palais de l'Europe (Abu-Fadil)
The Club de la Presse Méditerranée 06 organizes journalistic events, defends ethical standards, strengthens ties between members, answers questions on the profession, encourages contacts between the media and public figures, and facilitates better communication with journalists.

REAL LIFE. REAL NEWS. REAL VOICES.
Help us tell more of the stories that matter from voices that too often remain unheard.