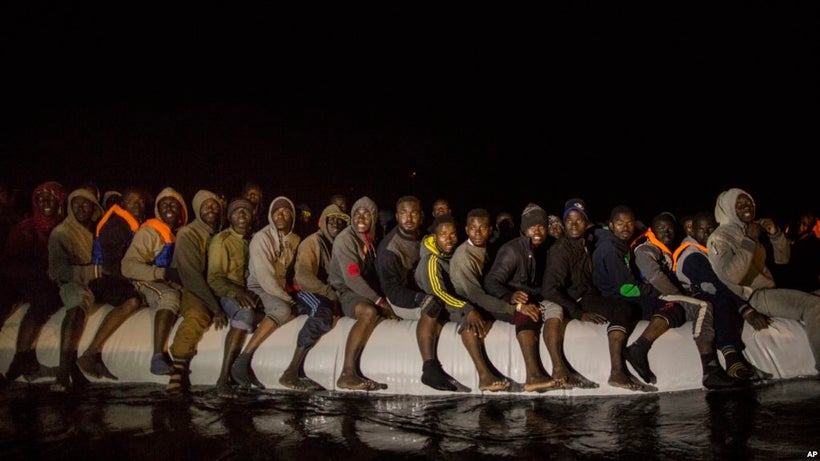 Earlier this week the UN's Migration Agency, International Organization for Migration (IOM), reported that 31,993 migrants and refugees have entered Europe this year, by sea, through the first week of April. More than 80 percent of those migrants and refugees arrived in Italy.
According to IOM Rome spokesperson, Flavio Di Giacomo, over 2,100 rescued last week were taken to Italy. Di Giacomo reported figures from Italy's Ministry of Interior indicating over 11,000 migrants and refugees arrived in Italy by way of the unforgiving Mediterranean in March. That figure eclipses what is on record for March 2016 or March 2015. Officials estimate 27,000 migrants and refugees this year have fled Libya for Italy in the year's first 99 days - over 7,000 more than the number arriving through the same period last year.
For many migrants and refugees that make it to Italy, and other European countries, the journey is often harrowing with hundreds perishing in the face of 'morte' on the Mediterranean.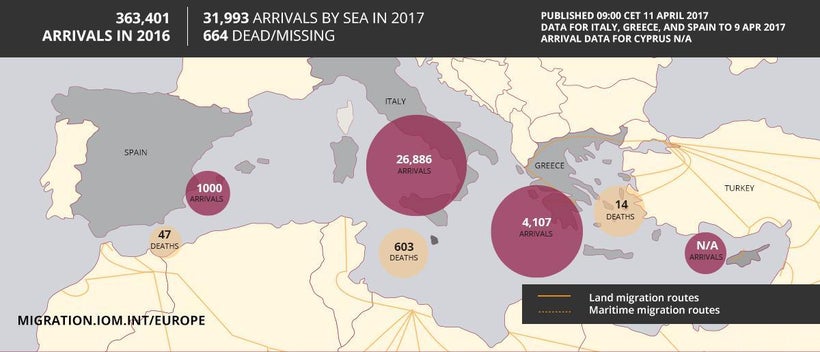 "We must always remember the role played by many of our countries – including my own country of Portugal – in carrying out the largest forced migration in history and in robbing so many millions of people of their dignity and often also of their lives," UN Secretary-General António Guterres stated last month.
Only hours before his fellowship engagement with distinguished guests, the UN chief was informed, by colleagues from the United Nations Refugee Agency (UNHRC), of deeply alarming reports. There were at least two shipwrecks off the Libyan coast.
"It seems clear that they sunk," said Spanish NGO Proactiva Open Arms spokeswoman, Laura Lanuza. "We don't think there can be any other explanation than that these dinghies would have been full of people," Lanuza told AFP news agency.
Packed on 'dinghies,' makeshift inflatables used to battle the Mediterranean seas, hundreds of Africans did not make it to their intended destinations. Five floating bodies and two partially submerged rubber dinghies were reportedly discovered about 15 miles directly north of the Libyan port of Sabrata.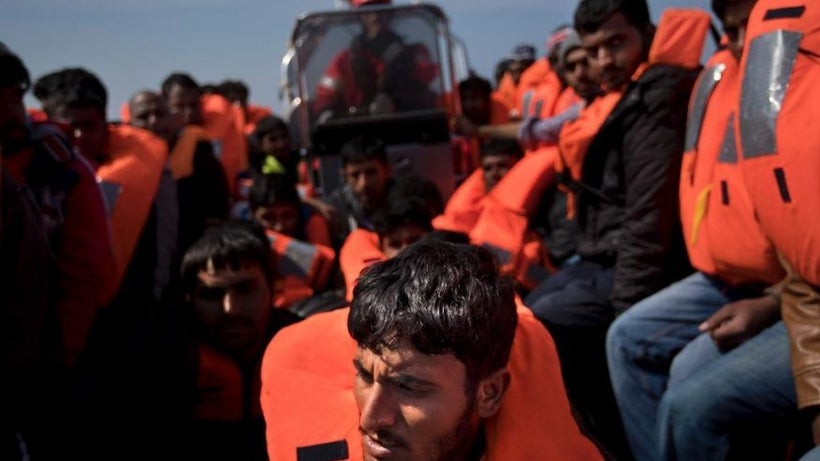 According to Proactiva's medical staff, the bodies recovered were African men, estimated ages between 16 and 25 years. The UNHCR estimated the death toll was well over 200 people, given the capacity of the sunken vessels.
That incident occurred after an intense week of migrant and refugee arrivals, with almost 6,000 rescued in just five days. A more modern human rights crisis has been waged against those seeking refuge from troubled spots throughout the mother continent.
"The legacy of slavery resounds down the ages, and the world has yet to overcome racism," Farhan Haq stated during an Office of the Spokesperson daily press briefing last month. Deputy Spokesman for UN Secretary-General Guterres, Haq addressed a few of Africa's daunting problems.
"While some forms of slavery may have been abolished, others have emerged to blight the world, including human trafficking and forced and bonded labour. Heeding the lessons of yesterday means fighting these ills today," he said.
Fears the sea route to Europe could soon be closed to traffickers, international aid groups believe the accelerating exodus of African refugees into Italy is being driven by worsening living conditions for migrants in Libya and other deprived African nations. More people died in the Mediterranean over the first nine weeks of 2017 compared with the same period in 2016, accordingly to the IOM. From January 1 to March 9, at least 520 people drowned while attempting to cross the rough waters compared with 471 in the same period a year ago.
More than half a million made it to Italy between late 2013 and the end of last year. LIMBO, a Villanova University student-produced documentary provides riveting insight to the lives of a few African migrants and refugees being detained by the Italian government after having braved and survived crossing the sea.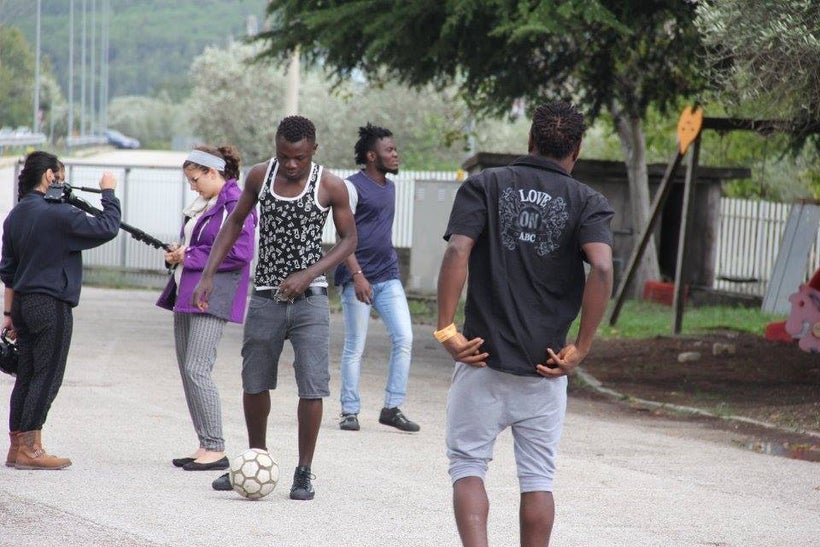 Last month, European leaders signed a controversial plan to help stem the flow of African migrants to Europe. As part of the deal, the European Union has pledged $215 million to Libya's fragile government to step up patrol and enforcement efforts in the country's territorial waters.
"It's a shame that in 2017 people lose their lives in trying to find a better condition of living, or, in most cases regarding African immigrants, trying to get to other nations," said Province of Caserta resident, Crescenzo Barone. "The Italian bureaucracy is so slow that in other cases it takes YEARS to find a regular job, so it happens that these immigrants run away from a political slavery, or war, in their nations just to become new working slaves in other nations."
Referencing the ghettos of Rignano Garganico, Barone said "The U.N. and the [world] governments would spend 1/4 or even less of the money [currently spent] in keeping the immigrants and refugees in their countries and teaching them how to use the new technologies to improve their quality of living."
"But it has become such a big business to let them cross the Mediterranean Sea, that nobody does anything to stop it."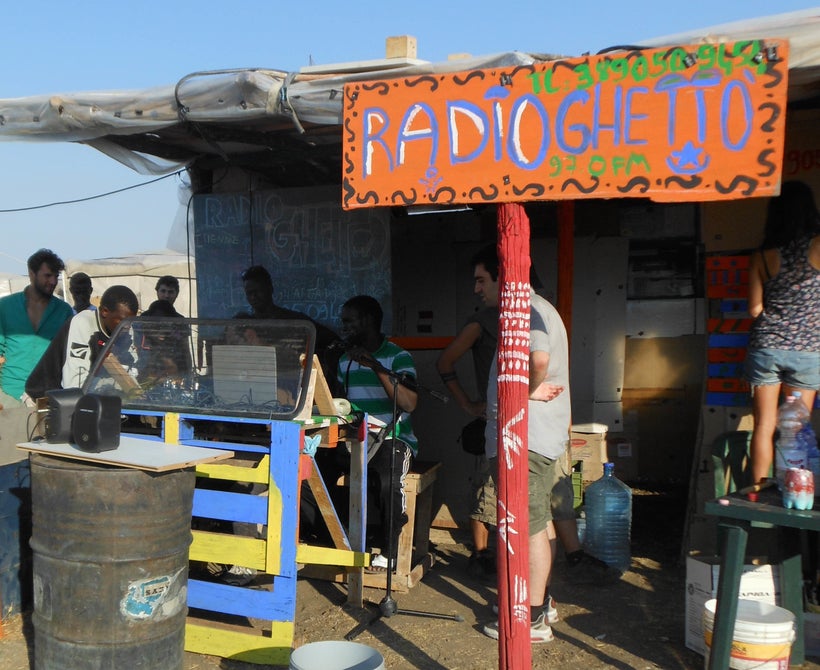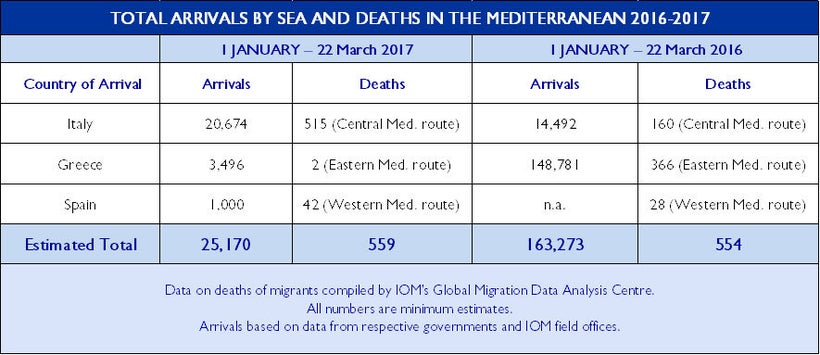 Calling all HuffPost superfans!
Sign up for membership to become a founding member and help shape HuffPost's next chapter
This post was published on the now-closed HuffPost Contributor platform. Contributors control their own work and posted freely to our site. If you need to flag this entry as abusive,
send us an email
.