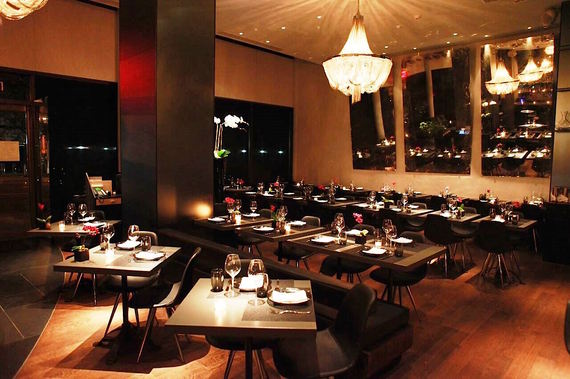 Just three months old, and despite one change of chef and a re-casting of the menu, Theo's has emerged as one of the best seafood restaurants in Manhattan. That it is owned by a good-looking 21-year-old Greek named Theo Katsihtis (his father is in the upscale café business) makes it all the more remarkable and lends the spacious, swanky restaurant a youthful vibe, which includes a DJ later in the evening. The interactive open kitchen (with a few counter seats for a tasting menu each night) adds light and some dramatic cooking pyrotechnics. The waitstaff is fleet-footed and very attentive, as is Theo himself, who visits all the tables to make sure all goes well.
The high ceilings, shades of gray and silver (despite what the photo above shows), antique acid-etched mirrors, slate-topped bar and tables set with tulips and votive candles make a stylish, comfortable ambiance, perhaps a bit more like Las Vegas than the East Side of Manhattan. Of course, there is the requisite long list of "signature" cocktails ($14), and the adequate wine list has a number of bottlings at decent prices that go with the kind of food served.
While Theo's is described as a "Mediterranean restaurant," the menu now includes a number of meat dishes that don't quite fit that description. But, by sticking with the seafood, you will have no doubt that Theo and Chef Nicholas Poulmentis are trying to stay true to their commitment to seafood, from the array of East and West Coast oysters (market price), glistening in a splendid presentation, to a Spanish brown turbot, a species that almost never shows well in transport across the Atlantic but that here is as fine an example as I've had in NYC.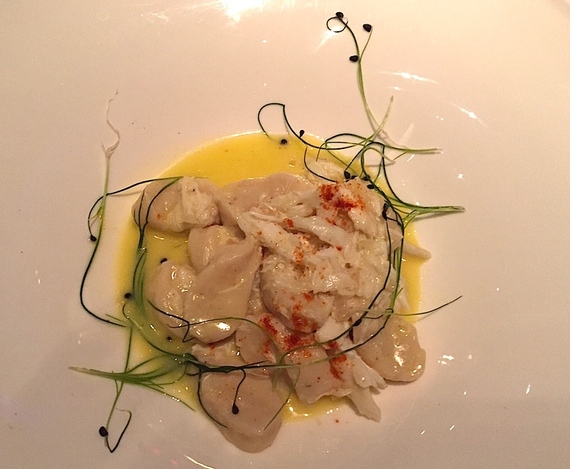 Poulmentis, from the island of Kythria, had been Executive Chef at Kellari Taverna, and the TV show "Greek Kitchen," so you know where his heart lies.
You'll receive small popovers instead of bread; unfortunately, ours came dried out, with no butter on the table.
To begin, my party enjoyed a lovely carpaccio of octopus dotted with caviar, and skewered grilled shrimp that had a good briny flavor to them. Light, generously proportioned lobster and citrus salad came with creamy avocado, frisée, fines herbs and red leaf sorrel ($22). We had a choice that evening of either Manhattan or New England clam chowder ($17), and I thought the latter would be a better test of the chef's talents. I was rewarded with a textbook version of what New England chowder should be: creamy but not thick, seasoned but not over-spiced, with the right amount and size of tender clams with diced purple potato, bacon, celery leaf and purple shiso. Equally impressive was a pretty dish of crab and ricotta gnocchi ($24), al dente as they should be, with a touch of aji amarillo pepper, basil and a little paprika for color (above).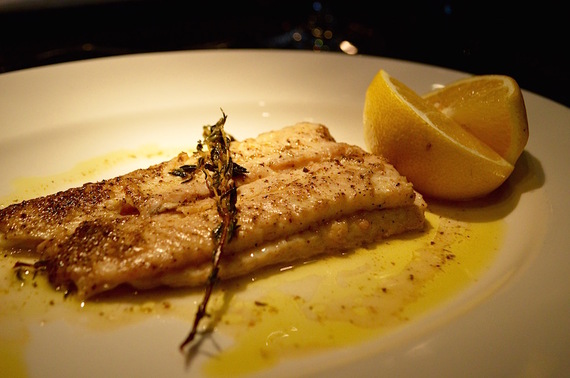 I have already mentioned the fine turbot, whose excellence was clearly due to its freshness; it was a special, indicating it was the day's catch, not always on the menu. A tuna steak ($28) was nicely cooked and rendered but lacked fatty flavor and richness. But a Dover sole (above) revealed just how delicate a difference there is between a too-meaty, overcooked example and the tender, juicy, buttery one at Theo's, where all the plates are heated to keep the food warm, essential for a fish like sole that is best filleted at the table. I prefer to perform that function by myself, and the kitchen smartly removed the boney edges, which facilitated the flesh to come off the spine with ease. I haven't had Dover sole this good in this country in quite some time. Also, at $48 it was a bargain by comparison with what you may pay elsewhere in NYC.
Prices for meat dishes at Theo's can be very high, however, almost as if they'd prefer you didn't order them. And it is a shame, given the high quality of the rest of the ingredients on the menu and given his Greek background, that Katsihtis is serving inferior Australian lamb.
But even the French fries ($9) were close to the way they make frites in Europe, triple fried and cooked through, golden brown and crisp outside. Brussels sprouts ($9) were all right but nothing special, as if the chef felt he had to have them on the menu without really wanting to.
Desserts ($11-$14) were far from the usual: rosewater-flavored panna cotta; avocado semi-freddo with cream caramel and crushed pistachios; and gold-foil brushed chocolate cake with layers of chocolate soufflé and vanilla semi-freddo; and an English pie called banofee, with caramelized bananas and a waffle cup.
My friends and I were gone before Theo's got into its post-nine p.m. swing, but while we were there, the noise level was wholly conducive to good conversation, and it's worthwhile to have one with Theo himself. Within seconds you'll sense how proud he is of what he's trying to accomplish here, and his youthful exuberance is as fetching as the conviviality of a night at Theo's.

Theo's is open for dinner seven nights a week; Lunch is served Mon.-Fri. ; brunch Sat. & Sun.


THEO'S
1048 Third Avenue (corner of East 62nd Street)
917-475-1721
theosny.com