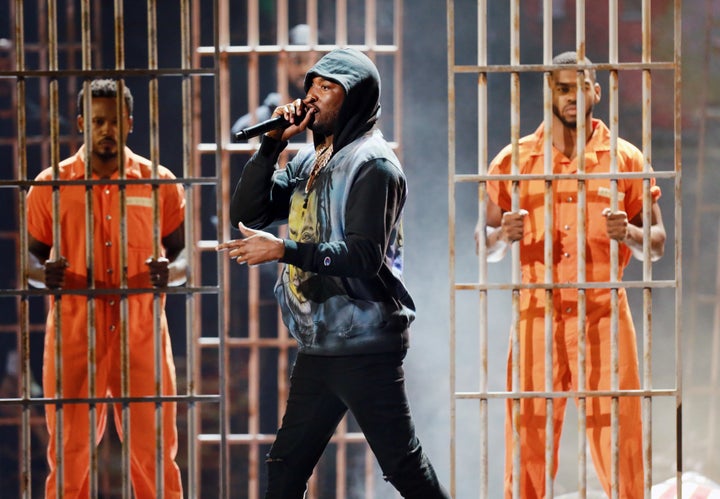 Rapper Meek Mill made a powerful statement about mass incarceration and systemic racism during his 2018 BET Awards performance on Sunday night.
Introduced by fellow Philadelphia natives Kevin Hart, Black Thought, Questlove and Lil Uzi Vert, as well as Philadelphia 76ers player Markelle Fultz, Mill debuted his new single "Stay Woke" with Miguel.
"How can I pledge allegiance to the flag, when they killing all our sons, all our dads? I come from a place where you kill your own brother, you can brag," he rapped while scenes of black life in his hometown played out in the background.
Young black kids played in the streets while several adults interacted on the corner until cops swarmed the block and fatally shot a kid. An American flag was placed over the kid's body while black men in orange jumpsuits walked onstage carrying prison bars in front of them.
During his performance, Mill wore a hoodie in tribute to XXXTentacion, the 20-year-old controversial rapper recently killed in Florida.
Mill, whose real name is Robert Rihmeek Williams, was released from prison in April after serving a nearly five-month sentence for violating his probation. Celebrities and fans alike had protested what was originally a two- to four-year sentence for a probation violation along with charges stemming from a fight and popping wheelies on a dirt bike in 2017. Protesters called the judge's ruling unjust and cited it as an example of racial injustice. 
Watch his performance below.
REAL LIFE. REAL NEWS. REAL VOICES.
Help us tell more of the stories that matter from voices that too often remain unheard.