In celebration of the launch of HarperCollins and Zondervan's new book -- The Mother and Child Project: Raising Our Voices for Health -- created in partnership with Hope Through Healing Hands, I wanted to share a personal story of why I am so passionately behind this book.
When public health touches the head and the heart, change happens! We are all stirred to greater action when we understand the data behind a particular condition, but the data becomes most compelling when connected to real-life people and situations behind the numbers.
In my years of public health work, I have never experienced this quite so powerfully as I did on a recent visit to a maternal and newborn health program that the Bill and Melinda Gates Foundation funded in Uttar Pradesh, India. I learned several sobering lessons that day.
On a beautiful spring day in 2011, I had the opportunity to go with Melinda Gates to visit the home of Meena who had delivered a baby boy just two weeks earlier. The walls and floor were plastered with mud and her quarters was essentially empty but for a few items of clothing and a few cooking utensils (see photo). Meena is the wife of a daily wage earner, and cares full-time for her family. She had delivered her first four children at home, but was proud to explain that her most recent childbirth had taken place at the local community health center. The project had engaged her participation in a women's self-help group, where she had learned that institutional delivery by a skilled birth attendant is safer than home delivery, because many emergencies cannot be adequately addressed there.
In addition, a government conditional cash transfer scheme was now paying about $30 to poor women who delivered at health facilities instead of at home, and furthermore, Accredited Social Health Activists (ASHAs) -- an entirely new cadre of public health-workers -- had been placed in each village to help women adopt healthy household practices and access care through the governmental health system. Whereas in her previous deliveries she had given water and goat's milk to her newborn babies, this time, based on the new information she had learned through the project, she fed her baby only breastmilk.
She credited these changes in practices with keeping her newborn baby alive and healthy. It all seemed very positive. This appeared to be a great example of how health system changes alongside interpersonal communications between healthcare workers and mothers could rapidly change behaviors and improve maternal and child health. Until Melinda asked a telling question: whether Meena wanted to have more children?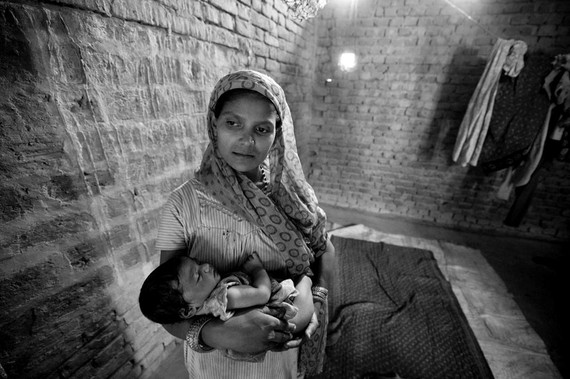 Suddenly, the conversation took a radical turn. Meena's countenance dropped and she cast her eyes downward, onto the newborn boy she held in her arms and then to her 2-year old son who clung to her leg. After a period of prolonged silence, she looked up and responded, "No, I do not want to have any more children. I did not even want to have these two children. I do not know how I will feed them. We are very poor. I have no hope of feeding or educating my children." Then she paused again and implored, "My only hope for a future for these children is if you take them home with you. Will you please take this baby back to your country? And... will you please take this boy (pointing to the child at her feet) too! It is my only hope for their future."
Melinda asked whether she had ever practiced family planning -- whether she had used contraception so she could plan the spacing of her births and the number of children she had. Meena explained that her husband worked very long, hard hours for very little money and frequently upon arriving home, drank alcohol and demanded sex. She had no way to protect herself -- no way to refuse without risking violence, and no way to avoid pregnancy. She had never heard of birth control until very recently. "You never told me about it in your program, and now it is too late for me!"
Meena's stunning response -- her agonizing hopelessness to the point of wanting to give away her children for the chance for a brighter future -- cut to my core. I'll never forget that moment. While our maternal and newborn health program had achieved its objectives to promote institutional deliveries and improve early newborn care and feeding -- and was seemingly "successful" by the project's standards -- we had completely failed to address Meena's fundamental need to plan her family and thus had denied her the control this could bring over her and her family's future. If only we had taken more time and care upfront to fully appreciate, and then designed a program to address, these fundamental needs.
Meena's story continues to haunt me. But consider that today an estimated 222 million women around the world -- 160 million in low and middle income countries -- know enough about family planning to say they want to practice it, but for a variety of reasons cannot gain access and use contraceptives. Imagine the tragedies -- like Meena's -- that are behind these numbers!
In 2012, the London Summit on Family Planning made a courageous and historic call to put family planning back at the center of the global health agenda. Leaders from around the world committed to work together to ensure that by the year 2020, 120 million of the women and girls with unmet need for contraception could use them, free of coercion or discrimination (1). Achieving this goal would satisfy approximately 75 percent of the unmet need that existed in 2012 in the world's 69 poorest countries.
If this can be accomplished, the benefits for women, their children, families, communities, and nations would be astounding. Between now and 2020:
•210 million fewer women would die in pregnancy and childbirth; 30% of all maternal deaths could be avoided by fulfilment of unmet need for contraception (2)
•2.8 million fewer infants would die from complications in the first year of their life. Children born within 2 years of an elder sibling are 60 percent more likely to die in infancy than are those born more than 2 years after their sibling; 18 percent of all newborn deaths could be avoided if women were able to properly space their pregnancies
•There would be 115 million fewer unintended pregnancies and 50 million fewer abortions
•Families would become healthier, wealthier and better educated, and country budgets would go farther. It is estimated that every US$1 invested in family planning services yields between $2 and $6 in subsequent social sector cost savings in Sub-Saharan Africa and up to $13 in South Asia. Family planning is one of the best investments for improving health and achieving other national development goals.
Meena and the data on family planning together tell a compelling story. Public health programs need to understand the needs, preferences and perspectives of the people they aim to serve. Had we taken a more holistic approach to the maternal and children health program that we supported in Uttar Pradesh, Meena's plight -- representative of the plight of millions of other women worldwide -- could have been avoided.
Family planning is a fundamental building block of programs aimed to empower women and girls and to improve health and development of poor communities throughout the world. I hope to never again experience the shocking and agonizing mix of sorrow and regret that I did when hearing Meena's story. There is no reason that we need to, especially when the world has united around a goal aimed to prevent this. We all have a part to play, however, to ensure that the goal is achieved.
Are you ready to play your part?
1.Brown W, Druce N, Bunting J, Radloff S, Koroma D, Gupta S, Siems B, Kerrigan M, Kress D, Darmstadt GL. Developing the "120 by 20" goal for the global FP2020 initiative. Stud Fam Plann 2014;45:73-84.
2.Ahmed S, Li Q, Liu L, Tsui AO. Maternal deaths averted by contraceptive use: an analysis of 172 countries. Lancet. 2012 ;380(9837):111-25.
Related
Popular in the Community