"A true Queen Boss is woman who can build a solid foundation with the sticks and stones others have thrown at her, including society." ~Lucinda Cross
This quote is the story of our lives. This is a reflection of our truth as women. I believe that this purpose driven life we are living starts with a choice. We can choose the thoughts that we entertain about any situation, or we can let the outside world choose our thoughts for us.
The results in our life are the results of the choices that we've made about what to think, in every little encounter of our life.
I am excited to share this interview I had with the beautiful and fabulous Adriyan Rae who is running in hot pursuit towards her passion and purpose. She is boldly sprinkling her Black Girl Magic in Hollywood, and making no apologies about it either.
Meet my woman crush Adriyan Rae.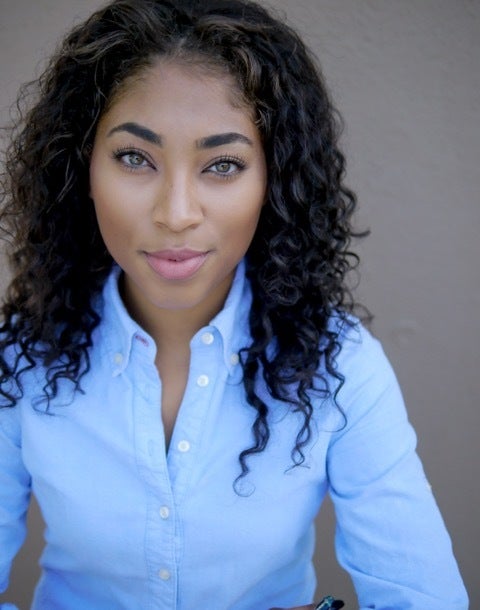 Who is Adriyan Rae? and what imprint does Adriyan desire to leave on the world?
A small town girl, who despite the statistics and odds followed her dreams. The imprint I want to leave on the world is you can rise above ones environment or the strongholds society may place on you and promote that to others. I want to spread the message that in a dark cold world keep your heart warm and full of light, don't let the evils of this world taint your spirit.
Talk about one of the pivotal moments in your transition to becoming an actress that gave you strength and tell us how did you find that strength?
The moment that changed me most during the transition to becoming an actor was when I left my 9 to 5 job ad a scientist completely. I always had a plan B, a back up if you will. I knew that I needed to give 100% to acting or I wouldn't get 100% back from it. That lack of stability, sudden change in employment status, just overall picture scared me tremendously. However, I knew I had God on my side and that was how I found strength to get through. Through prayer and knowing my best intentions were being taken care of by the most high.
Tell us about your brand and your passion for doing the work you do?
My brand and everything I stand for is Love and Light. I want to spread love and be a light to others. For me acting is everything. And I do it for the art. There is nothing like taking a thought, a simple idea; turning that into words on a piece of paper, then turning those words into living breathing people and scenarios that AFFECT people. Makes them laugh, cry, and think, relate to, bond over, etc. That's the daily contribution to the world that I strive for, to do what I love and to change lives for the better while doing it.
What inspired you to get into the acting business and share your story? Was there any opposition from family and friends?
After moving to Atlanta for modeling and singing I was asked to be the lead in a music video that was more like a short film, therefore I needed to act a bit. While on set everyone kept saying "Are you sure you don't act? You don't want to act? You should really look into acting!" That was the moment I even thought acting was possible for me. From there I met Mr. Carl Payne who took me under his wing and taught me all the fundamentals. As eager as I was to get on set and book roles he wouldn't let me step foot on a set until he thought I was ready.
I trained and trained extremely hard all while juggling two medical laboratory scientist jobs. When the time came, he sent me out to audition for Life Twirls On. I remember leaving the audition and calling him saying "Kenya hated me… I definitely didn't book it." The next day he called and said "You have a table read tomorrow with Kenya, congrats kid… booked your first job." Originally, I didn't have much opposition from family or friends. Most of them didn't understand what I was trying to do exactly. It wasn't until I started acting full time that they started to worry, but now they understand completely and are full of support.
What is the message we can hear you shouting or whispering from the mountaintop to those on the climb?
YOU GOT THIS, I BELIEVE IN YOU!
What is your favorite quote and why?
"Ten years from now make sure you can say you chose your life and didn't settle for it." This quote is the epitome of actually living. Everyone is given a purpose and so often society tells us to not worry about finding or following our purpose; to instead, get in line, do the job or trade the world allots for us, and be happy just to get a paycheck no matter how big or small; or how miserable you are at work trying to get that paycheck. I believe we all have the right to ACTUALLY live, and pursue whatever makes us happiest.
You have such a unique signature brand and style how did you embrace your uniqueness?
How do I embrace my weirdness? Ha ha! Well, that took a while for me to do actually. I'm such a mash up of Delaware, Philly, Atlanta, LA, city girl, country girl, white, black, etc. I just had to sit back and actually figure out WHO I was and what I liked, what interested me, etc. and from there I was able to say "Hey this is me… and I love me therefore I love all the quirks that come with me." From my signature look of wearing glasses with no lenses, to the extreme curl of my hair, I've learned a lot about self love so that helped me embrace my uniqueness for sure!
Who would you like to sit down and have lunch with (dead or alive and why?)
There are so many amazing people in my field of work whom I would love to pick their brains during a lunch. I would choose someone who knew very little about the business. I would choose my grandfather, who passed right before I started transitioning to the entertainment business. Just to tell him how grateful I am of his raising me, how many of his ways I embody and didn't realize until I got older, how much the lessons he taught me about being grounded and humble has impacted me and stuck with me throughout the years, and to tell him I love him one last time.
What's next for you and your brand?​
Next for my brand and I, honestly is to make my talent, what I stand for, and my face something people are well aware of. I'm just hitting the scene and the breakthrough is amazing but next it's time to grow!
Leave us with one last piece of advice.
You cannot be loyal to your growth, while being loyal to someone who's not growing.- IN order to be better there will be times when you need 100% honorable selfishness towards yourself, your craft, your progression. There may be a moment when you just have to say "Look I have to do this for me" and that's okay! Regardless of relationships, friendships, etc… Never stop growing and progressing. Be Great! Be so great that the world can't ignore it!
Where can our readers connect with you?
I would love to connect with each and every reader! You all taking the time out to read my interview is so humbling and I'm so grateful.
Contact me on Instagram or Twitter @AdriyanRae. There will be a hashtag #AdriyanRaeHP for people to make Q&A videos and ask me whatever they want (respectfully) and I'll respond!
Popular in the Community