Last August, the Ebola crisis, which had been simmering for months, erupted into headlines across the U.S. as the World Health Organization declared the Ebola outbreak in West Africa a humanitarian emergency. Now, more than a year into the epidemic, tremendous progress has been made to halt Ebola's spread, but the risk of resurgence remains until there are zero cases of Ebola.
The progress in stopping Ebola is due to the courage of organizations and individuals who were willing to stretch their capacities to the limit and rise to the challenge of helping Liberia, Sierra Leone and Guinea end the disease. Above all, we must recognize the people who took the largest risks -- those who applied medical science, demonstrated safe health practices, and engaged in community outreach all while losing close relatives and friends to the disease.
George Woryonwon is Liberian. Through a USAID-funded program implemented by InterAction member Global Communities, he was trained as an environmental health technician and even became a trainer himself within the Liberian Ministry of Health and Social Welfare. As the Ebola crisis intensified in July 2014, Global Communities worked with the environmental health technicians to transform them into burial team leaders. In this harrowing position, George and his team worked to ensure that those who succumbed to Ebola received the safe and dignified burial that they deserved. "Uncle George," as he is known, led this program from his seat within the Ministry before joining the Global Communities team to expand the burial teams and provide assistance in all 15 counties of Liberia. George received InterAction's 2015 Humanitarian Award for his work.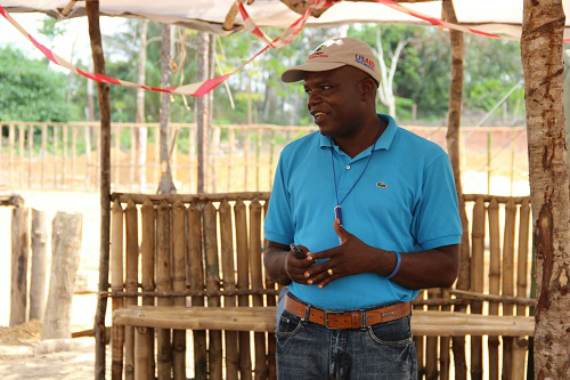 George Woryonwon out in the field
Photo Credit: Global Communities
I had the opportunity to ask George some questions about this experience. Here is what he said.
Joel Charny: How did you become trained as an environmental health technician? How did this training and experience help you respond to Ebola?
George Woryonwon: I have a passion for preventive services in the health field, and so I attended the School of Environmental Health Technology at the Tubman National Institute of Medical Arts and graduated as an environmental health technician. My training and experience helped me fast track the identification and selection of environmental health technicians who served as team leaders and community volunteers as members of the safe burial teams. My experiences also help me connect easily to community and traditional leaders in mobilizing manpower and seeking their cooperation for the tasks we have to perform.
Joel Charny: The last year was a challenging year for Liberia. What stands out for you as you reflect on the past year?
George Woryonwon: One memory in particular remains with me today. As advisor to the burial team, I led teams into a home nine different times to pick up dead family members from a family of 13. Each time the team picked up a dead body, the facial expressions of the living ones spoke of their hopelessness.
Joel Charny: You worked tirelessly throughout the Ebola crisis while taking extraordinary risks, along with the members of your safe burial team. What was it like for your friends and family in Liberia?
George Woryonwon: I was physically separated from my friends and family. We could speak on the phone most times, but could not conduct the traditional handshakes, kisses and hugging. Additionally, there were text messages from friends asking me to be careful and sometimes asking me to quit the exercise. My children were not accepted in other homes and so they had to remain home. This added a financial burden to me, as I had to purchase more fuel to generate electricity, to keep the children at home entertained.
Joel Charny: Traditional burial practices, unsafe in the context of the Ebola crisis, are integral to Liberian society. How did you navigate the balance of respecting tradition and adhering to safe burial practices?
George Woryonwon: Compliance to new rules or norms depends greatly on trust. Our engagement with local and traditional leadership is intended to breed trust and confidence with the people. So as I engaged the local leadership in understanding the consequences of the Ebola Virus Disease, trust was being built. Our next step was to explain the entire process and ask for support in terms of witnessing the process. Clear communication involving the traditional and local leadership and understanding the traditional burial practices were crucial in ensuring implementation of the safety measures, as well as respecting the traditions and customs.
Joel Charny: Is there anything from your experience from the last year fighting Ebola that you will bring with you in the future?
George Woryonwon: Responding to Ebola requires teamwork. Teamwork involves respecting the major roles of the community on whose behalf we intervene. We need to build a system with the locals playing a key role and view them as partners, not as clients or victims. They are the true heroes and first responders. The health system must be built around the existing community structures so as to breed ownership. The environmental health technicians are trained to facilitate this process and as such, their roles must be recognized by those who lead the system through appropriate placement, provision of logistics, and compensation that is commensurate with their workload and training.
This post is part of a series produced by The Huffington Post and the NGO alliance InterAction around World Humanitarian Day, August 19. This series highlights the inspiring and heroic stories behind the Ebola crisis response in West Africa. Click here for more posts from the series, follow along on Twitter with #WHD2015 and #ShareHumanity.
REAL LIFE. REAL NEWS. REAL VOICES.
Help us tell more of the stories that matter from voices that too often remain unheard.