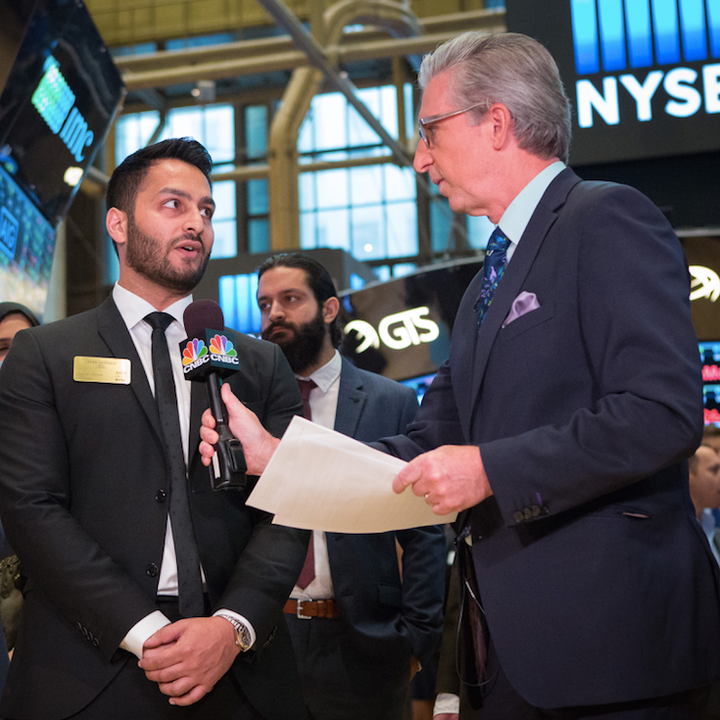 Asad Saddique knew nothing about entrepreneurship.
The only thing the 25 year old London native was sure of was his business idea. "I was watching the news and kept seeing stories on these self-balancing hoverboards" Asad said. "I just knew there was an opportunity."
Little did he know the hoverboard opportunity, coupled with common sense design and some savvy marketing, would lead to him to becoming a Shopify Build A Business Competition winner.
This past week Shopify treated him and other contest winners to a week of yachting, fine dining and world-class business mentoring from the likes of Tony Robbins, Tim Ferriss, Daymond John and others. It all started a year ago when Asad was watching the news.
"Every channel was talking about hoverboards blowing up" said Asad.
He recognized a window of opportunity that was closing, so he had to get moving. Problem was he had limited money, limited business experience and didn't know the first thing about code.
Despite that, in September 2015 he withdrew $6000 from his savings and got to work. A string of setbacks earlier that summer had him down to his last bit of savings, so he decided to validate the idea further before investing into it.
1. Test And Validate Everything
He turned to Google. Using their keyword research and trend tool, he determined there was an unmet need in the marketplace. There was also a healthy level of competition but not enough to scare him away. He felt confident he could corner the market and take over the rankings.
First thing was first: find an e-commerce platform. He decided on Shopify. "It was the quickest solution I found and I needed something that would be ready to go off the shelf" Asad said.
He signed up for a Shopify trial and immediately got to work. Next, Asad hired freelancers using People Per Hour to help with his website design while he set up a drop shipping arrangement.
2. Use Common Sense Marketing and Design
He started with the obvious: making sure his website had a working phone number, forwarding address, a trust-promoting interface and accessible customer service. Sounds obvious, but it's something he says his competitors weren't doing. He knew customer service would also be important, so he set up ZenDesk on the site because how easy it was to setup and customize.
"I got a lot of silly emails at first. Questions like is it safe? How do I reset my board? Stuff like that. But I took [all the questions] seriously" said Asad. He repurposed this information into a comprehensive FAQ and into the product descriptions. Over the long-term this helped increase customer service resources, increase time on site (a huge part of ranking well as per the Google algorithm) and increase conversions.
Clean, bold design was important too.
"As a savvy buyer, I switched roles and put myself in the shoes of the consumer. What would I look for to validate and determine a sites trustworthiness?" he said. So he had his designer create a corporate-looking Shopify theme full of bright colors and third-party logos (i.e., credit card companies and media outlets).
Speed has always been another big strength of the business.
He did all of the above in just 2 weeks. As a result of the speed to market, he was able to capitalize on the storm of hoverboard press coverage through "newsjacking". This is the process of inserting your ideas into breaking news, creating company credibility, awareness and sales in the process.
3. Buy Out Your Competition
On the SEO side, instead of chasing high-competition keywords at first (i.e., "swegway") he began to optimize for color variations (i.e., "black swegway" or "blue swegway"). This, coupled with keyword dense but customer focused copy, helped him climb the rankings over time.
Come January, after moving into his third office, he decided to acquire a hoverboard blog that outranked his site. It was an old looking site chock full of sloppy text. But, as counterintuitive as it sounds, he left it exactly the same.
"My developer was shocked at the quality of the site. He asked me to make a million different changes. But what he didn't realize is that Google tracks the user, not just the site. If the bounce rate is high (they visit and leave shortly after) it will negatively impact ranking. It was an ugly blog but the bounce rate was low so I left it the same and just linked back to our site on it" said Asad. That March he acquired another site in the niche: an affiliate site that also outranked him.
Just like with the blog, he left it exactly the same. The only change was making sure competing links were removed and replaced with links back to his site. He sells boards regularly through those two sites now as well.
The best part? Asad is entirely self-taught.
When I asked if he had any books, blogs or resources to recommend, he couldn't think any. As he puts it, he was too lazy to even read them nor did he take anyone text as gospel. "A lot of people think there's one source or magic bullet, one book or blog that will have a winning lottery ticket in it. It's better to believe in your own choices and take the action instead."
Related
Popular in the Community